Robotics, Automation & Business News Index: 2020
Robotics | Automation | Artificial Intelligence (AI)
Advanced Manufacturing | 3D Printing
Welcome to our Article Index. Encounter Serendipity. Specially prepared with you in mind. It's the kind of physical space where visitors can encounter something that they didn't think they were interested in until they actually stumbled upon it. Browse, explore, and connect with Amazing Asia!…and beyond.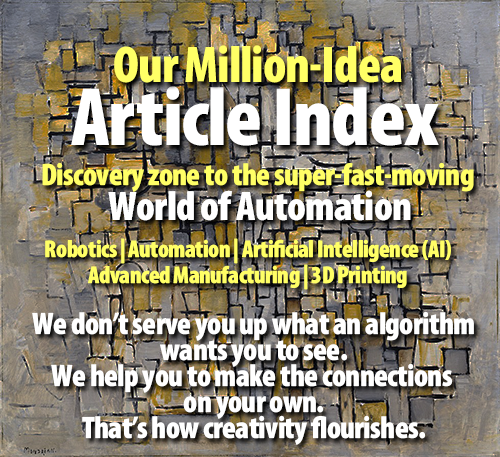 OVERVIEW: ASIA
The Asian Century & The Xi Effect
Asia's Rendezvous with the Future Is Arriving Fast
The world's showcase and continent-wide laboratory for robot-driven automation in this The Fourth Industrial Revolution
East Asia Bears Watching
Something very big is going on here: Seoul, Shanghai and Tokyo
OVERVIEW: ASEAN
Southeast Asia: The Bounty & Promise of ASEAN
Food, consumers and industry in exchange for investment and automation technology
OVERVIEW: CHINA
China's Big Push: Xi, Robots and Productivity
Leap to manufacturing economy based on invention and technology demands increased productivity
OVERVIEW: JAPAN
Emperor of All Robots Put to the Test
Saving Japan from itself with robotics: Competition and productivity 
for a shrinking workforce

OVERVIEW: KOREA
Korea Awakens, Reacts…and Accelerates
Economic urgency spurs demand for advanced manufacturing robots
OVERVIEW: TAIWAN
Crunch Time for Taiwan: Robotics and Automation
Aware of its limitations and very tardy, Taiwan hurries to catch up with East Asia
OVERVIEW: INDIA
Robots for India: Industry's Troubling Headwinds
Robots, automation, Gandhi and "premature de-industrialization."
Why Asian Nations Lead Industrial Robot Adoption?
Elusive Level 5
Way Not Ready for Prime Time: Self-Driving Cars
Could it be that Level 5 self-driving vehicles may not be the solution we really need? What happened to all the research that says computers, AI, and humans "together" are the best-of-all teams?

Can Welding Robots Fill Fastening Void?
40% of manufacturers declined new contracts because not enough skilled welders were available. Global shortage of qualified welders 1.2 million by 2022. Greatest need: U.S., China, India, South Korea, Japan, and Thailand.

Enabling "Extreme Manufacturing"
Robots in Manufacturing: Enterprise View
In taking an endeavor to achieve near-complete automation and linking all business processes to manufacturing gives rise to hard questions.



Clueless or Inept?
Feds Clueless About Impact of Automation
After six years of media frenzy and taxpayer concern over automation, still no action…or even a plan.

Does America Need a Czar of Reskilling?
How should America go about reskilling millions of workers whose jobs are being targeted by automation and artificial intelligence?



Cobotics World's Top 5 Grippers
SCHUNK, Robotiq, OnRobot, Piab, New Scale
The Gripper Guys from Genoa Pick Most Innovative Grippers for 2019



E-Commerce at Work: Humans Beware
The churn in e-commerce warehouses is challenging humans to keep pace. Can they for very long?

Japan: Frontlines of "Robo-Conversion"
Many businesses could shutter completely if robots don't step up and fill the mountain of available jobs. With big change comes big opportunity…and Japan knows it.

New Decade, New Vibe: Robotics 2020
Cobots and mobile robotics to lead. Legacy, industrial robotics in for rough ride unless it has a "cobot moment" or two.

Taming bedlam
Making CES 2025 Better Than CES 2020
Why not "smart" events? AI and digital disruption could profoundly change the $650 billion global event industry from the inside out.

Cobot Revolution Continues
New Cobots to Consider for 2020
New kids on the block display next-gen cobotics: FANUC CRX, Jaka Zu, and Flexiv's Rizon challenge the status quo.

New Column:The Gripper Chronicles
The Rise of the Smart Gripper
What next for the all-important, business end of every robot…the gripper?

New Column, New Columnist
Dr. Hu on Artificial Intelligence & Machine Learning
How do we get to next? Dr. Albert Hu navigates the crosscurrents of artificial intelligence and machine learning (AI/ML)

Littler: The Emerging Workplace
Legal Risks Using AI to Make Hiring Decisions
What are some of the legal risks & pitfalls when using AI technology to make hiring decisions?


Webcast: Great Ideas in Robotics
Conversing with Robots the Hanson Way
Interview: David Hanson on building humanoid robots in Asia

Return to the Good Old Days of 2017
Forecast 2020
Industrial robots, cobots, grippers & EOATs, logistics robots, mobile robots: AGVs, ASRS & AMRs

Asia-Pacific to Skyrocket in 2020!
Global Industrial Robot & Cobot Market 2020-2025
Doubling Sales! $20.24B 2019, expected to reach $42.34B by 2025

"Giant sums of money spinning into Canada"
Canada: AI Giant's Moment of Truth
How much of Canada's AI wealth—critical tech for robotics and automation—will be gobbled up by foreign interests?

Speculative Robotics
Can Robot Sentinels Warn of Viruses?
Mobile robots bristling with sensor tech and AI—like an electronic "smart nose"—might provide early warning enough to prevent Wuhan-like disasters

Some Things Bear Repeating
Airports as Virus Carriers
A chilling threat of epidemics and pandemics lurks within every airport during a virus crisis. Before future viruses get out of hand, wouldn't an army of virus-busting robots patrolling airports help in the alert process? As of 3 February 2020, there are zero. Airports worldwide: 41,000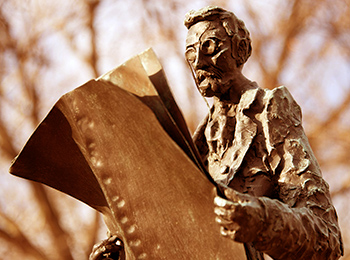 "What a newspaper needs in its news, in its headlines, and on its editorial page is terseness, humor, descriptive power, satire, originality, good literary style, clever condensation, and accuracy, accuracy, accuracy!" 
—Joseph Pulitzer