Robotics, Automation & Business News Index: 2021
Robotics | Automation | Artificial Intelligence (AI)
Advanced Manufacturing | 3D Printing
Welcome to our Article Index. Encounter Serendipity. Specially prepared with you in mind.
It's the kind of physical space where visitors can encounter something that they didn't think they were interested in
until they actually stumbled upon it. Browse, explore, and connect with Amazing Asia!…and beyond.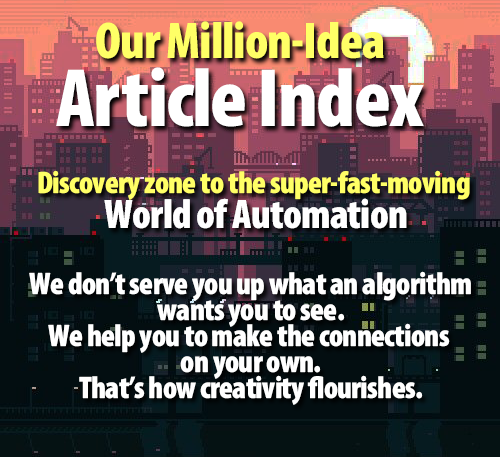 The Gripper Chronicles
Touch Blind: The Quest for Grippers That Feel
Australian haptics developer endows robot grippers with the ability to feel, which might lead from factories to logistics to prosthetics to connecting with dementia patients.



Outlook for Piece-Picking Cobots to 2025
$1.7B forecast for cobots getting easier to see from my apartment window, but is automation really ready?


What's up with Europe?
Why Is the EU the World's AI Laggard?
With barely 5k AI patents, the EU is getting squeezed into AI irrelevancy.

Help Wanted: Creativity & Flair
The CES2021 Event Experience "Sans" People
CES says bye-bye for now to the tens of thousands of people who, every early January, tramp the aisles to gawk in person at 4,500 booths stuffed with tech gear.


Canadian Journalists Take On Canadian Robotics
Seven young journalists from Lethbridge College explore and report on Canadian robotics from coast to coast


Shaking up a monopoly!
Under the Hood: China's Robot Parts Industry
China challenges the foreign robot parts monopoly's 75% market share



Hazards, Testing & Standards
Mischief Makers: When Robots Cause Accidents
Hazard-free robots and cobots can keep you out of court, if you know where to look for the hazards


ABB Finally Births Two, New Cobots. Now What?
The GoFa and SWIFTI cobot twins debuted. Will we forget about them as quickly as YuMi?



Careers in "Smart" Robotics
Career Idea #9: Go Have Dinner with Aaron Prather

Looking to Buy a Few Shares of Robotics?
The coast is clear again



Smart Factory vs. Not So Smart
Upping the robot ante: When preventive maintenance and non-stop work are not enough.


"Demand Soars" for Industrial Robots in China
High Gear for China's Automation "Bonanza"—Nikkei Asian Review



Can China Reskill 220M Workers?
Unlocking the talent resident in 220M potentially more important than Belt & Road; plus, legacy-building for President Xi Jinping.


27 March 2021
This Is Robotics: Radio News
What's going on in the world of robotics?


Robots, Retail & $1T Gone AWOL!
Can robots help stem retailer losses from out-of-stock goods? Retail needs something…and fast!


Robotic Material Removal
Higher Efficiency Due to Automated Deburring
With the CRT, RCV, and CDB, SCHUNK has developed three units for different deburring tasks providing an optimal tool for any application.


U.S. Scrutiny Over China's Robots
How politics and great power intrigue are already influencing the global robotics industry, and what the consequences might be.



The Best of the Best for 2021
Top 20 Rankings in Engineering & Technology


What Automation Needs to Flourish
Why Is Southeast Asia So Investment Worthy?
Four charts, one booklet and a video explain it all!


New Breed: "Collaborative" Service Robots
Service Robots & The Pandemic Next Time!
Will service robots make the deadline? They need help in order to help us.


Out of China
Robots in Southeast Asia: The Big Next!
Industrial robot sales in Southeast Asia poised for rapid expansion as trade war tariffs drive low-end manufacturing south earlier than expected.


It's as Simple as: More Industrial Real Estate Equals More Warehouses Equals More Robots
There's a boom in industrial real estate going on in the U.S., and it's getting ever more frantic. All of which means great times ahead for logistics robots


Oceans 2050
Jacques Cousteau's Oscar Just Turned 65
Marine robotics: Heir apparent to "The Undersea World of Jacques Cousteau



Young Canadians on Canada
From Farm to Fork, AI Is Speeding Up the Process
Technology continues to advance, and the agriculture and food processing sectors have evolved along with it.


The Hard & the Soft of Robotics
It takes an interesting mind in engineering to excel at the "hard" in grippers and the "soft" in grippers as well.


Robotic Goods-to-Person to Quadruple!
"Through 2023," says Gartner, "demand for robotic goods-to-person (G2P) systems will quadruple." That's a hefty increase…


ELITE ROBOT Launches New Sales and Customer Support Office
ELITE Robot, a China-based developer of award-winning collaborative robots (cobots), is pleased to announce the official opening of its North American sales and support office in Knoxville, TN


Micro-fulfillment and the last mile
Warehouse "Anywhere" Gets $2.8B from Softbank
AutoStore's cube tech gets lots of attention from Masayoshi Son's SoftBank. Asia/Pacific tabbed for major growth.


Young Canadians on Canada
Cybersecurity Practices: Post-Secondary Institutions


Waterloo: "Out Where the Robots Roam"
Seeing one's future in the city that remade itself


Marketing Cobots as Heavy-Duty Consumer Tools
Cobots as "Guardians of the Factory"


Researchers Develop First Robotic Surgery System in Peru
A team of Peruvian researchers is working on the development of the country's first robotic surgery system.


SRT Announces Four New "Soft" Grippers
SRT kicks the "soft" revolution into high gear with the release of four new "intelligent end-effector (i-EOAT)" soft grippers.


New technology behind "going soft"
Keeping Safe with Soft Robot Grippers


Another April
Top News Stories for April 2021


New Paradigm for Buying Industrial Robots & Cobots
So, you want to buy an industrial robot or cobot, do'ya? Here's a new way



Robot-Supported Surface Finishing
Perfect Finish Through Automated Surface Finishing


Young Canadians on Canada
Artificial Intelligence: Online Shopping Aid or Manipulator?