The Soft Robot Tech Co. , Ltd. (SRT)
SRT Announces Four New "Soft" Grippers
SRT kicks the "soft" revolution into high gear with the release of four new "intelligent end-effector (i-EOAT)" soft grippers.
"Our four new products not only fill the market void in the field of sorting and packaging of specially-shaped
and vulnerable goods in the industry, but also extend commercial application scenarios."
—Gao Shaolong, Founder and CEO of SRT (Soft Robot Tech Co., Ltd.)
Four new ways of gripping
SRT is launching a series of four, new products simultaneously:
SFG soft gripper – N series
MSF micro gripper
IEG series electric gripper
VFC Van der Waals pad
The new series of four products further expands SRT's product line of  "intelligent end-effector (i-EOAT) family," providing SRT i-EOAT solutions for diversified applications and demands from customers across a wide range of industries.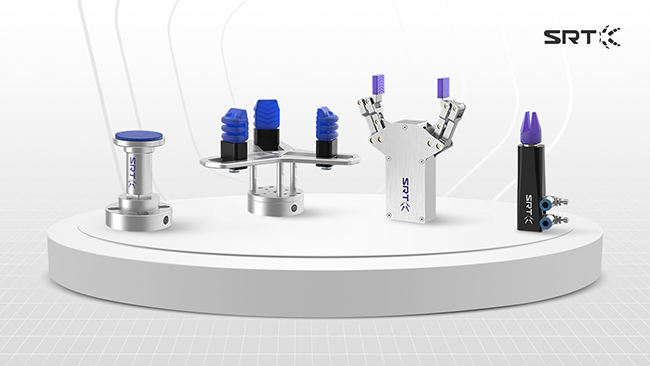 Break through the limitations of product performance and provide multi category end effector solutions
In the increasingly complex business application scenarios, it is urgent for enterprises to iteratively upgrade their automatic production. Facing the frequent grabbing of fragile and irregular shaped items, completing a series of difficult operations such as automatic sorting, packaging and so on.
SFG soft gripper - N series
It is easy for the new SFG flexible gripper – N series launched by SRT to handle the problems. Compared with the previous SFG soft gripper M&T series finger module, the N series can meet the various needs of customers due to its flexible installation mode, and realizes the safe and stable gripping of fragile and irregular shaped items placed in matrix under more stringent production scenarios.
It is widely used in industries such as food, fresh and uncooked products, 3C electronics, auto parts, daily chemicals, logistics, storage, medicine etc.

MSF series micro gripper is a kind of innovative soft gripper which is designed bionically by imitating the driving form of crab claws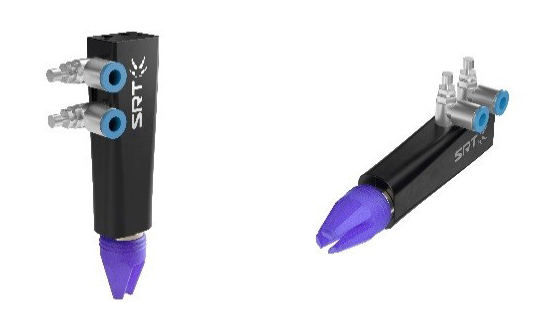 According to different production gripping needs, it can provide quick solutions for various sizes and special-shaped workpieces, and is widely used in scenarios such as 3C small capacitors/ batteries, chips, medical test tubes, jewels, rings, batteries, springs, mobile phone headphones, plastic gears etc.

IEG series electric gripper
With the continuous upgrading of the global manufacturing, automation and digitization have become the driving force to improve the enterprise productivity.
The third new IEG series electric gripper boasts innovative linear drive design, which can precisely deploy the control functions such as position, speed and force without the need of replacing the end effector of the robot, actively adjust and adapt to objects of various shapes and sizes. With the integrated software module, it is easy to install and program.
Due to its easy setting of production site, it customizes the fingertips for customers to achieve "multiple purposes with one gripper" and "plug and play". The product is suitable for processes such as sorting, gripping, placing, assembling, packaging and palletizing, and can greatly improve the user's production efficiency and shorten the time cost and operating costs.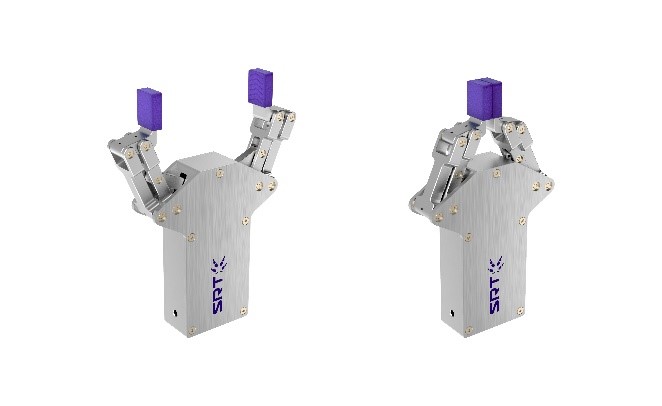 The last new product on the stage: VFC Van der Waals pad is also known as "gecko traceless adhesive gripper". It does not need external power and air source, and features compact structure, flexible and light operation.
Due to its strong adsorption capacity and traceless gripping technology, it can easily and properly handle the gripping operation of smooth or rough, bright or abrasive, smooth or porous objects, and is highly competent to absorb the workpiece with holes, acrylic board, or polished steel, PCB board, smooth wrapped packaging.
In practical application, the near zero programming design reduces the operation threshold and greatly improves the production flexibility. It is suitable for front end and back end packaging, small palletizing, sorting, taking and placing fields.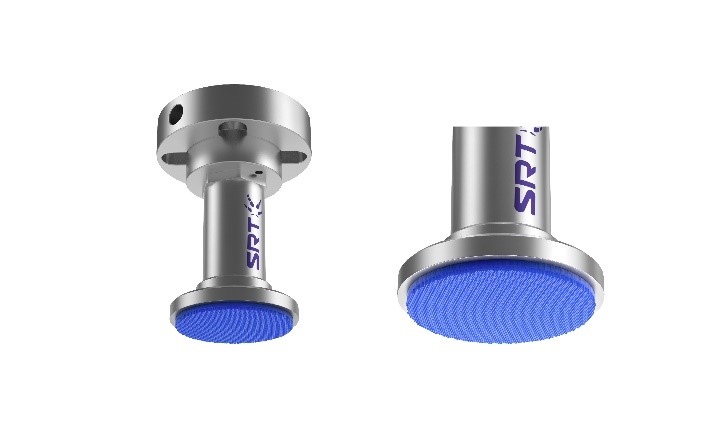 Continuously explore technological innovation, help the digital upgrading of traditional industries
As we all know, China's new infrastructure built by hard and core technology has brought great changes to the physical economy. Robotics and intelligence are the general trend of China's manufacturing industry in the future.
As a pioneer of new technology and the drafter of industry standards, SRT has been continuously cultivating technology, empowering the traditional machinery industry and manufacturing industry through constant innovation.
SRT strives to make an effective breakthrough in the field of intelligent end effector (i-EOAT), and has been dedicated to the fine vertical field of soft robot refinement to make the products more widely used in various industrial scenarios.
Through intelligent and flexible overall solutions, SRT can meet more application demands, and drive productivity improvement with technology, so as to enable the users to easily reduce operation and maintenance costs and achieve efficient productivity growth.
About SRT
Soft Robot Tech Co., Ltd. (SRT) was established in 2016. The company has a complete set of manufacturing equipment and related process equipment for soft robots in the world. It has obtained national high-tech enterprises, Zhongguancun high-tech enterprises, etc., and has nearly 70 intellectual property rights at home and abroad. 
Products are exported to the European Union, the United States, Japan, South Korea, Hong Kong, Taiwan and other places, serving Foxconn, Delta, Schneider, BYD, CATL, KFC, Yasui Foods, Huamei Mooncake, Virginia, Valeo, Bosch, etc. 3C,  Leading enterprises in power battery, food, auto parts and other industries.
Contact Person:
Isabel Zhu
isabel@softrobottech.com
Tel. +86-13913614902