Background
One of the production lines of Zhuhai Gree Electric Co., Ltd. needs to push out the air conditioning fan blades molded in the injection molding machine and then grip them for unloading.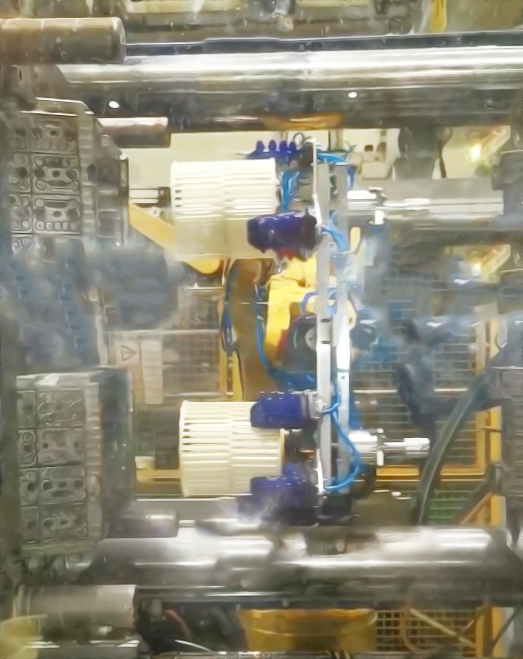 Challenge
The fan blade is hot when it is freshly removed from the injection molding machine and is also soft and easily deformed, so it is difficult to grip manually. Moreover, the air conditioning fan blade has no suction points and the surface is extremely easy to scratch, which cannot be perfectly addressed by traditional rigid grippers and suction cups.
Solution
The SRT's flexible grippers are made of silicone and will not scratch the surface of the product when gripping. It can be operated at 150 degrees Celsius and is an effective alternative to manual labor.
Achievement
SRT's flexible gripping solution has successfully automated the production of high temperature products without causing damage.
Successful Case
GREE air conditioner fan blade loading and unloading, unloading of plastic shells for VTech (Dongguan) plastic products and electronic toys.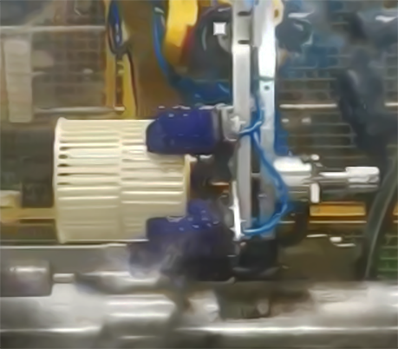 For more information, please contact:

Soft Robot Tech Co., Ltd. (SRT) was established in 2016. The company has a complete set of manufacturing equipment and related process equipment for soft robots in the world. It has obtained national high-tech enterprises, Zhongguancun high-tech enterprises, etc., and has nearly 70 intellectual property rights at home and abroad.  Products are exported to the European Union, the United States, Japan, South Korea, Hong Kong, Taiwan and other places, serving Foxconn, Delta, Schneider, BYD, CATL, KFC, Yasui Foods, Huamei Mooncake, Virginia, Valeo, Bosch, etc. 3C, Leading enterprises in power battery, food, auto parts and other industries.