Under the Hood: China's Robot Parts Industry
China challenges the foreign robot parts monopoly's 75% market share
"We aim to increase the market share of homegrown servomotors, speed reducers
and control panels in China to over 30 percent."
—Qu Xianming, National Manufacturing Strategy Advisory Committee (China)
Eyes on the prize
If you are going to contend as a builder of industrial robots with the world champs, mainly the Japanese and Germans (and by extension, the Schweizerdeutsch), you better know how to make robot parts, or else. And high-quality robot parts at that.
Parts-making is what separates a long-lived, profitable industry from one that lives at the supply and price whims of those who can and do. Look under the hood of any industrial robot or cobot and you'll be amazed at the wonderworks of gears, without which industrial robots are just hunks of steel with motors. It's generally understood in the biz that a robot's gearworks represents nearly 70 percent of the cost of the robot.
If a country can domestically build not only quality industrial robots but also quality robot parts, then supply interruptions from shortages or trade wars are more easily mitigated, while the nastiness of foreign-producer price gouging can be offset by homegrown competition.
China, over an exceedingly short time—as compared to its Japanese and German rivals—has elbowed its way into contention as a builder of world-class industrial robots and cobots. For example, Qu Daokui founded Siasun Robot & Automation in 2000, and now its exporting world-class robots worldwide. Other of China's newbie robot makers are similarly exporting their tech. China's stable of cobot makers, the newest of the newbies, has a dozen or so first-class cobot arms with some amazingly sleek product designs and top-notch tech inside.
See related: China's Cobots: Big Job Ahead
The stage is set for a wave of cobot automation to sweep across China's factories.

Long maligned as inferior to their foreign competitors, some Chinese robots have improved markedly. Siasun's robots, for example, have won rare praise from Japan: Kazuhiro Kosuge, a robotics professor at Tohoku University's graduate school, says they are "on a par with those of Japanese and European manufacturers."
The government's plan calls for raising the share of domestically made industrial robots to 70 percent by 2025, up from just over 30 percent in 2017.
However, it's under a robot's hood, where its actuators, servos, reducers, joints and cabling reside, that sets Japan apart from all others, making it the kingpin of precision robot components. And it's exactly under a robot's hood where China has plans to upset Japan's long-held parts monopoly.
"We aim to increase the market share of homegrown servomotors, speed reducers and control panels in China to over 30 percent," said Qu Xianming, an expert with the National Manufacturing Strategy Advisory Committee, which advises the government on plans to upgrade the manufacturing sector.
That will be a very tough climb, but China has already made considerable headway.
The kingpins
The robot parts industry is a business that's squarely in the hands of a few; and the kingpins are only four in number: Nabtesco, Nidec (and its subsidiary, Nidec-Shimpo), Harmonic Drive, and Sumitomo Heavy Industries. All are Japanese. There's a lone, newbie Chinese parts builder, LeaderDrive, which has 20 percent of China's market.
Erica Li, overseas business developer of China's HSOAR Precision Motion, calls it an "oligopoly" that commands over 75 percent of the world's market. "As a result, she says, "the robotics industry has few speaking rights on the reducer price negotiation table."   
To Li's point, according to a white paper released by China Center for Information Industry Development: "Domestic players have to spend four times as much as their foreign counterparts to buy speed reducers and twice as much for a servomotor."
Robot parts is a multi-billion-dollar business that, in most cases, is working 24×7 to meet the needs of the marketplace, and falling short of the mark. More capacity is needed, and all of the kingpins are racing to make that happen.
Back in 2017, China planned to begin breaking foreign dominance of core robot components in a couple of years with a 30 percent market share of robot parts. Intervening with that plan came the slowdown of 2019, followed by the Sino-American trade war, and then a global pandemic. The goal has yet to be met, but China is well on its way to building high-quality robot parts and closing the gap in sales.
"We believe the gap [between China and Europe in the robotics sector] is narrowing," reports Swiss-based F&P Robotics CFO Michael Früh, citing a large number of recent engineering graduates with robotics training and gains made by Chinese robot component manufacturers with quality and price. "Europe still has a competitive advantage through a deeper understanding of robotics and all its aspects," he added.  
China is now moving to wrest away some of the parts supply business for the tens of thousands of robots the country annually buys; and it's making some progress in producing reliable speed reducers, servomotors and control panels.
Cycloidal gears
One of the best leading indicators that a country is mastering the parts trade is if it can build high-precision cycloidal gears, which are used for robots as well as CNC machines (see photo).
There are basically four types of gearboxes: spur, planetary, worm, and cycloidal. When best-in-class accuracy, efficiency, load, backlash, and lifetime are specified demands, which for robots and CNC machines is always the case, then cycloidal is always the top vote getter. Designing and building cycloidal gears is the penultimate in gear-making art.
Meikel Quaas, president of US-based gear maker Diequa, calls cycloidals simply the best for zero backlash, extremely torque dense, and can take a very high radial load. Perfect for robots, he adds.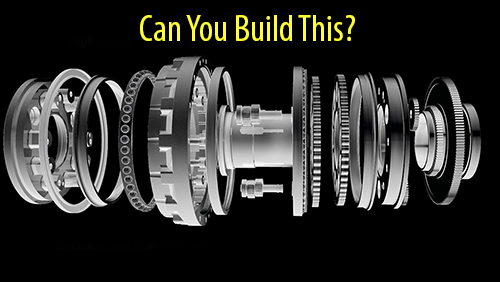 In addition, cycloidal gears also experience lower friction and less wear on the tooth flanks due to their rolling contact and lower Hertzian contact stress. "And their good torsional stiffness and capacity to withstand shock loads make them ideal for heavy industrial applications that also require servo precision and stiffness."
China has a rising cohort of gear makers that specialize in cycloidal gears. HSOAR Group Robotics, ZD Drive (Ningbo Zhongda Leader Intelligent Transmission Co., Ltd.), Nantong Zhenkang Machinery Co Ltd., and Shaanxi Qinchuan Machinery Development Co Ltd., and are but four, with all four now exporting their cycloidal gears worldwide.
Getting to this point has been anything but easy.  Martin Wang, an engineer who formerly worked for a Shenzhen-based tech start-up as a robotics integrator, said his team spent years studying and dismantling robot-related core parts in the hope of understanding them.
"But we failed and could not even re-assemble and restore [the robot's] function because it's not simple – it takes technological know-how and talent accumulated over decades," Wang said.


Luo Jun, chief executive of the International Robotics and Intelligent Equipment Industry Alliance, a government think tank on smart manufacturing, concludes: "We lack original research and have already tried to catch up by copying advanced technology. But neither technology-related mergers and acquisitions nor copycat [production] can close the gap in the short term."
There's no substitute for years at the workbench. For Diequa's Quaas, lack of time spent building things is a deficiency he sees in many automation engineers. They are fine when it comes to electronics or programming computers, he adds, but hands-on mechanical skills go wanting.
Fortunately, groups like HSOAR Group Robotics have acquired bench skills in mechanics over time. HSOAR, around since 1993, founded its precision parts group in 2006, and then in 2017 produced its cycloidal gear. Other cycloidal producers like ZD Drive, also around since the 1990s, are recent cycloidal producers as well. It's time well spent. They now not only craft top-flight gears but also boast overseas customers like Maersk, Sumitomo Heavy Industries, and others.
No time to rest
Luo makes a very interesting point that what's new today in core robotics parts, like the cycloidal gear, could well be old tech before too long. Luo warns that "most robot makers and local governments in China were pursuing short-sighted plans that focused on investing in existing technologies or setting up industrial estates to attract foreign robot manufacturers, rather than supporting original core research on the next generation of robots."
"In the near future, new technologies for AI robots will begin to emerge at leading [foreign] tech companies," Luo said. "That's the real direction of smart manufacturing."
Kai-fu Lee's recent Economist piece, where he says that China's great AI skill is in adapting AI to practical applications, could mean a lot for China's robot parts business in getting a leg up on its competition.
With artificial intelligence /machine learning (AI/ML) seeping into general robotics in the form of "smart" robotics, so too might the robotics parts industry benefit from AI/ML. Might AI/ML help to design a new configuration for cycloidal gears, or a different type of gear entirely? Could AI/ML help cycloidal gears perform better? It could well be that developers like HSOAR Precision Robotics and ZD Drive will need AI/ML to add to their skillsets, if they haven't already.
To Luo's point about new technologies pushing part's tech ever forward, the advent of direct drives has appeared on the scene from the likes of Genesis Robotics. Then too, there's SRI Robotics and its latest breakthrough in robot transmissions: the award-winning Inception Drive, an "ultra-compact, infinitely variable transmission that is an order of magnitude smaller and lighter than existing technologies."
Most assuredly there will be others.
China has a more than even shot at gaining ground in the global gear wars, both in terms of new technology, especially with AI/ML, as well as increased market share.
The country's 14th Five-Year Plan (2021-2025), scheduled to roll out in March (2021), once again, as with the 13th Five-Year Plan before it (2016-2020), has robotics and core robot parts earmarked for five years of emphasis and increased investment.
That five-year span offers China an opportunity to meet its targeted supply figure of 30-plus percent for homegrown robot parts, as well as a good shot at expanded exports.
See related: China Back in Business with Industrial Robots
A $1.4 trillion "new infrastructure initiative" has put the buzz back into China's automation quest.