Asia's Fantastic Five
Podcast thumbnails on five innovative breakthroughs from Asia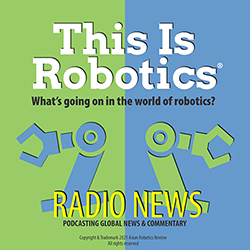 Let's pack our bags and take a quick spin to Asia.  We'll check on the five of the most interesting robotics projects going on there.
Let's stop in East Asia for an update on some of China's most promising projects in maritime robotics; then we'll slip across the Sea of Japan to a Japanese project that's teaching robots how to build a massive dam; then we'll head south to Southeast Asia and the ten ASEAN nations there, stopping at one—Singapore—to witness a first-ever in robotic teamwork with an interesting reboot of industrial robots—a robot team working together…as a unit but on five differing jobs!
This Is Robotics: Radio News
You're going to love what you hear!
Chinese maritime robotics
Deep-sea mining
With the permission of the United Nations International Seabed Authority, China has been mineral hunting in the world's oceans for the past decade. Chinese researchers now say they have identified a number of important deep-sea mineral deposits, including nickel and rare earths.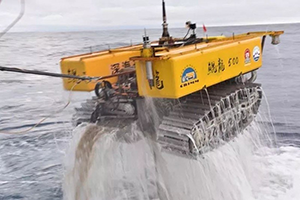 Why is that important? First off, China is the world's biggest consumer of minerals, but its domestic ore supply falls far short of the massive demand.
Secondly, the ore grade of seabed mining is extremely high (99%) as opposed to geologic ore supplies (2-20%). One of the largest subsea mining areas is the Clarion-Clipperton Zone is the size of Europe, with a total mass of manganese nodules there is over 21 billion tons. 
Into this deep-sea mining world will go the Kunlong 500, which looks like a massive bulldozer. Still in experimental phase, the operator controlled or autonomously operated, Kunlong 500 can work at a maximum depth of 6,000 metres (almost 20,000 feet). In one hour, the machine could locate, break apart and gather 10 tons of ore that would then be sucked into a surface ship through a pipeline.
Similar hopes were for the Canadian company Nautilus Minerals which went bankrupt in 2019.
Deep-sea monitoring
For persistent observations of deep-sea mining, Chinese maritime technology has come with the Robo-snail, based on the soft-bodied deep-sea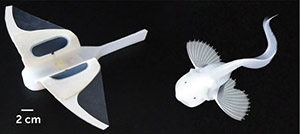 snailfish discovered in 2014 living at 26,000 feet down in the Mariana Trench. Down there the pressure is 15,000 pounds per square inch (as opposed to the surface of one atmosphere, which is 14.7 pounds per square inch). Researchers compare the pressure to an elephant standing on your thumb.
The squishy, translucent fish that lives as much as nearly 5 miles deep in the Mariana Trench now has a robot cousin, Robo-fish, which pushes the boundaries of biologically inspired soft robots.
Its skull is not completely fused together with hardened bone. That extra bit of malleability allows the pressure on the skull to equalize. In a similar vein, the scientists decided to distribute the electronics — the "brain" — of their robot fish farther apart than they normally would, and then encase them in soft silicone to keep them from touching. That protects the electronics needed not only to power propulsion and navigation but also to perform various tasks like observing deep-sea mining or sample collection.
Maritime surface robotics
Back up on the surface China's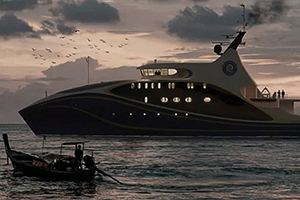 maritime robotics offers up an unmanned scientific research ship that will carry drones and be able to conduct air, sea surface and underwater monitoring remotely, and navigate autonomously in open water.
At 300 feet by 45 feet, and a displacement of 2,100 tons, the robot craft will provide maintenance to offshore wind farms, seabed mapping, and environmental monitoring, reports China State Shipbuilding Corporation.
Japan construction robotics
Japanese dam built by robots? Japan's Obayashi tests it out
Contractor's automation-heavy model tackles growing labor shortage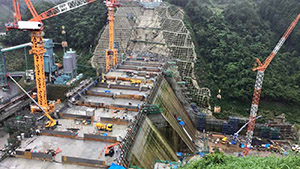 With Japan experiencing a severe shortage of construction workers, and with 35 percent of those on the job over 55 years old and facing retirement, Obayashi Construction Co. is turning to robots to build a massive dam. At 275 feet high and over one thousand feet long, the dam, when complete in 2023, will be the largest structure ever built by robots.
Every process for constructing the hulking dam will involve some form of automation, including initial work building the foundation and pouring concrete to form the body. "By transferring expert techniques to machines, we're able to analyze what was once implicit knowledge," said Akira Naito, head of Obayashi's dam technology unit.
"Companies are scrambling to build robots based on workers' expertise before they retire" reports the Nikkei Asian Review. "The companies also hope that new technology could dispel negative stereotypes of the industry among younger generations, encouraging more people to work in construction."
Singapore: First-ever cleaning robots that work as a team
Professor Mohan Rajesh Elara,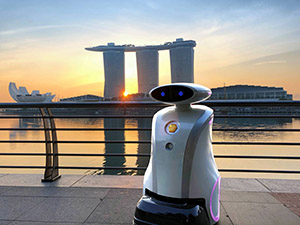 a robotics/AI expert from the Singapore University, together with "Singaporean entrepreneurs: Dylan Ng and Michelle Seow, the husband-and-wife team behind Singapore's leading cleaning equipment and chemicals supplier, SuperSteam Asia Pacific," co-founded LionsBot in 2018, and now have launched the LeoBots line of commercial cleaning robots.
Today, just three short years later, the LeoBot line has grown to five: LeoScrub, LeoVac, LeoMop, LeoRay (COVID ultraviolet bot), and LeoPull
Unlike other automated cleaning products, Lionsbot robots operate either as standalone units or alternatively in fully-coordinated, fully-autonomous teams for enhanced productivity and improved cleaning results.
"Entire 'robo-teams' can be deployed to designated spaces to clean in unison and with minimum human intervention. To optimize cleaning plans, LionsBot robots collaborate with each other using AI and big data analytics.