"Demand Soars" for Industrial Robots in China
High Gear for China's Automation "Bonanza"—Nikkei Asian Review
The barometer
If you follow the sale of machine tools around the globe, you'll get a good sense of where industrial robots and cobots are going to sell well and where sales will be weak. Machine tool sales is a steady barometer for a good change on the way for manufacturing.
Machine tools are essential for turning, milling, planing, shearing, bending, boring, grinding, stamping, machining and drilling. The basic ingredients that robots and cobots need to do their jobs.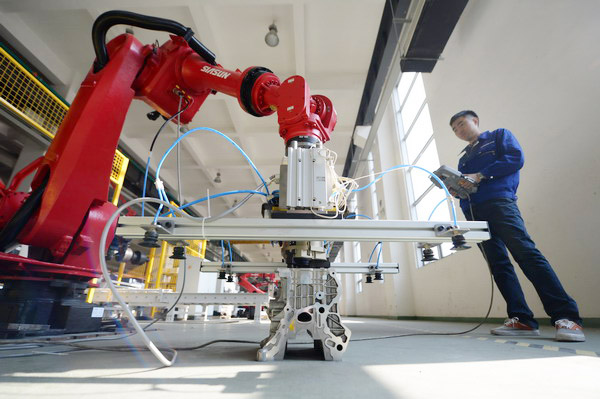 For example, the U.S. Manufacturing Technology Orders report, which records new orders for metal cutting and metal forming and fabricating equipment, is a leading indicator of industrial activity, and it's showing declines across the board. Hence, depressed machine tool sales in the U.S. will make for a far from sizzling marketplace for industrial robots and cobots.
The earnings reports from most every robot and cobot manufacturer add credence to the sad tale for North America and the EU.
From 2018 to COVID
Globally, 2018 was an awesome year for sales; in 2019 things slowed considerably; and in 2020 through 1Q2021, a raging pandemic holds back major manufacturers and SMEs alike from investments in robots and cobots.
Logistics robots are doing very well, but that's not what makes the order books of FANUC, Yaskawa, ABB, Universal Robots, etc. hum Happy Days Are Here Again.
So, what's with a headline like this from Nikkei Asia Review:  Japan Inc Prepares for Automation Bonanza in China, with its tantalizing subhead: "Factory robot makers Yaskawa Electric and Daifuku plan new factories as demand soars."
"As demand soars," no less!
Or maybe this one from Germany's MM Maschinenmarkt: "Golden Age" for China's Machine Tools Despite Corona?, with it's equally tantalizing: "Industry observers are still predicting a 'golden age' for the industry in the People's Republic, especially if the industry will face the necessary digital transformation and quality improvement even more decisively in response to Corona."
The Intralink Group is similarly bullish on robotics sales in the Asia-Pacific; their reasoning in East Asia—A Thriving Robotics Market is simple: Asia's socio-economic challenges require robots." Robots are not just nice-to-have tech toys, they are desperately needed to do real jobs, max out productivity and to save a few national economies.
In the spring of 2017, it was the boom in machine tools that immediately preceded and then ignited the follow-on dramatic sales of industrial robots and robot parts for 2018. See: Robot Parts: Critical Importance Amid Explosive Growth (2017). As for cobots in 2018, the Chinese bought 6,320 cobots for a market value of around $145 million, which is about $23k per cobot; 6000 is a pittance, of course, but those numbers for China were far more units sold than anywhere else in the world.
Early in 2020 things were devastating in China as the National Statistics Bureau in Beijing reported that the machine tool industry fell by 20.8 percent in three months, while profits fell by 31 percent as compared to the same period the previous year.
Robust recovery
Recovering from the disaster will be a tough sled for the next five years. The global machine tools market was valued at $64 billion in 2020 and is expected to reach $57 billion by the end of 2026, growing at a CAGR of -1.7% from 2021-2026.  
Asia-Pacific, however, is forecast for a 56 percent share of the market.
Assisting recovery in China are economic stimulus measures of the Beijing central government…[and] targeted subsidies for accelerated digitization of the country's manufacturing industry under the heading of "New Infrastructure". Under "New Infrastructure" the National People's Congress announced that in addition to "doubling down on its Made in China 2025 and China Standards 2035 initiatives, it would spend approximately $1.4 trillion on a digital infrastructure public spending program."
See related:
China Back in Business with Industrial Robots
A $1.4 trillion "new infrastructure initiative" has put the buzz back into China's automation quest.


As the Nikkei puts it: "China is leaning harder than ever on automation as a way to keep production lines going while also preventing the spread of the coronavirus, and the resulting demand for robots and related equipment is luring investments from Japanese equipment makers.
See related:
China's New Trend: Precision Robotics
With the aid of AI/ML, China turns hard-to-do robotics, like polishing and welding, into a competitive advantage.

"The trend in China, where orders placed with Japanese machine tool makers increased 23.5 percent in value in 2020 from the previous year, comes in contrast to that in other industrialized countries, where orders for Japanese automation equipment are falling fast."
These heady machine tool orders herald the follow-on sales of industrial robots, cobots, and essential robot parts.
With China ordering on average some 15,000 industrial robots per month, and with the central government's support, look for robot and robot parts orders to increase dramatically.
Japan Inc. has taken serious note. For example, Yaskawa Electric will spend $38.53 million on a 968,751 square-foot plot to build a plant for making servomotors and controllers for industrial robots, beginning in 2022.
Daifuku will put up $38 million to build a plant in Suzhou, starting in 2023.
The same Japanese machine tool builders that realized a 23.5 percent bump up in China, suffered downturns in their U.S. orders of 27.5 percent, while the EU dove to a downturn of 45.6 percent. According to the Japan Machine Tool Builders' Association, in December, orders from China soared 2.8 times year-on-year.
If the sale of robots and robot parts track to their 2017 historical trends, then look to spring 2021 for a dramatic rise in sales, especially with sizeable government subsidies powering up automation.
Cobots & grippers
Both cobots and grippers (EOATs) will follow along with the general Asian resurgence in robots, and are forecast to see their best markets there.
The long, strange journey of cobots (sales a tad over 6000 in 2018) are slated for a huge uplift. What was a market of just over a half billion dollars in 2018 in the entirety of Asia-Pacific, is slated to breech $13 billion by 2026. "This region is expected to become the largest cobot market worldwide during the forecast period."
See related:
China's Cobots: Big Job Ahead
The stage is set for a wave of cobot automation to sweep across China's factories.

The worldwide market for Robotics End-of-arm Tooling (EOATs or grippers) is expected to grow at a CAGR of roughly 7.3 percent over the next five years. It will reach $2.4 billion in 2024, from $1.5 billion 2019.  Once again, Asia-Pacific is forecast as the largest market.
Taking a good look around
For a bit of perspective, "Industry statistics show that North American companies ordered 31,044 robotic units, valued at $1.572 billion in 2020." That's about equal to two months' worth of China's orders.  "In Q4, [North American] companies ordered 9,972 units valued at $479 million."
According to Statistica, the EU was forecast to buy 89k industrial robots in 2020; that's about six months' worth of China's orders.
Of course, North America and the EU will eventually rebound. However, a program like China's "New Infrastructure" at $1.4 trillion, if implemented in the U.S. and the EU, might help each of those continents to speed up the process. Big thinking and big money are needed for big problems; it's that simple.
China is uniquely positioned when it comes to rolling out a "New Infrastructure" program. As the China Machine Tool and Tool Builders Association wrote in its analysis: "With a population of 1.4 billion, China has the advantage of a large market, a complete manufacturing ecosystem and strong economic resilience."
BTW: If you're headed east
Anyone considering a quick look-see trip east to the Middle Kingdom would do well to get acquainted with the Marketing Analysis Report of Automation Firms in China (2021). It's an exhaustive 800-page Thomas Register-type directory of "3786 suppliers related to automation and robotics including manufacturers, integrators and distributors. It's put out by a new Danish group that calls itself HowToRobot. Click on over and download their free sample. You'll like what you see.