ABB Finally Births Two, New Cobots. Now What?
The GoFa and SWIFTI cobot twins debuted. Will we forget about them as quickly as YuMi?
"The elephant, the huge old beast, is slow to mate; he finds a female, they show no haste, they wait"
— D. H. Lawrence, The Elephant is Slow to Mate

Honey, what about more kids?
Somewhere in Zurich sleepy eyes finally opened to the fact that siblings for its YuMi ("you" and "me") cobot would be very good for business. The best that YuMi ever got was a one-arm clone of itself. Now with the arrival of the GoFa and SWIFTI cobot twins, the ABB cobot family doubles.
With Emergen Research forecasting global cobot sales to climb from $700 million in 2019 to $9.3 billion by 2027, there's money to be made for ABB's bottom line, which, according to an ABB earnings call, took a big hit in 2020 declining 30 percent year-on-year. Yeow!
After a six-year stint of waiting since YuMi's debut in 2015, a festive ABB announced its two new bundles of joy: "ABB boosts YuMi collaborative robot portfolio with GoFa and SWIFTI cobot families
Now what? Very late to the cobot game, does ABB remember how and to whom to sell cobots? As superb a piece of engineering and as gorgeous as its industrial design, poor YuMi has had a low-key, nearly anonymous work life out in the real world.
Plus, the YuMi, GoFa, SWIFTI brand naming strategy is another ABB mystery: a jumble of letters and acronyms in search of something memorably catchy. But when one considers that it took forever for the company to go from calling itself Asea Brown Boveri to just ABB, brand naming doesn't seem to be the company's strong suit.
In fact, YuMi has been cross bred between ABB's original cobot FRIDA (for Friendly Robot for Industrial Dual-Arm) and the sleek industrial arm, Roberta, famously designed by the German mechanical wizard, Bernd Gombert, and immediately acquired by ABB after its first showing at AUTOMATICA in 2014.  
That's a good five years after Universal Robots introduced the world to cobots in 2008. The Cobotics World catalog now lists 182 cobot models from 58 cobot manufacturers. What took ABB so damn long?
 The need for cobot competence
As the best-selling industrial robot maker in China, and having seen a "90 percent surge in robot sales in China at the end of 2020", ABB could well make huge inroads in wider sales only if it had a well-rounded product line offering that included competent cobots wearing the ABB logo. Chinese buyers trust the ABB brand. Since China has, according to the China Statistical Yearbook, an astounding 2.8 million factories, most of which would profit from some sort of automation, it makes a lot of sense that an ABB cobot offering has the chance to do very well there.
Actually, it needs to. With 40 percent of its industrial robot lineup parked in the auto trade, an industry these days that is decidedly in the slow lane, to diversify is a must.
"GoFa has been designed to help companies automate tasks such as material handling, machine tending, component assembly and laboratory automation. Besides carrying a payload up to 5kg, it has a reach of 950mm and can operate at 2.2 metres per second, which is faster than rival cobots, while maintaining precision in picking and placement."
SWIFTI, as its name suggests, is fast, "five times faster than other cobots, operating at speeds of five metres per second with a payload up to 4kg and a reach of 580mm.
Both are decided upgrades over the lightweight YuMi twins with their half kilo of payload, shorter reach and slower speeds.
ABB's sights are set on pharmaceuticals, logistics, electronics and food and beverage manufacturing where automation is beginning to surge. "This will enable new sectors of the economy, including SMEs, to embrace automation for the first time," says Sami Atiya, head of ABB Robotics and Discrete Automation.
Most prominent of the tasks needed include material handling, machine tending, component assembly and packaging in manufacturing, medical laboratories, logistics hubs and warehouses, workshops, and small production facilities.
That's the vast realm of SMEs; a land where the traditional ABB footprint is very small.
The pandemic also had an effect: "The question of resilience has become fundamental," Atiya told Reuters. "The pandemic has accelerated the mind-shift. Customers want to be independent of these fluctuations in the future."
And ABB has the in-country capacity to meet most any need; ABB's $150 million digital factory in Shanghai (rebounding post-COVID and opening in 2021), will have robots making robots at a capacity of 100,000 industrial robots each year.
Combine ABB's nonpareil brand reputation with its showcase digital factory in Shanghai, including a solid infrastructure for service and repair, and it would seem that China's two million-plus factories have found a new, best friend for any cobot automation need.
Then too, with China partially underwriting robot sales in the provinces, and the provinces, in turn, helping to finance robots to individual factories, it would appear that a perfect storm for sales awaits ABB's GoFa and SWIFTI twins.
See related:
End-to-End Automation
ABB's Shanghai Showcase
This changes everything: China's first smart factory where robots build other robots autonomously by the tens of thousands

Not so fast
Foreign cobots, ABB's included, are more expensive than China's own (GoFa and SWIFTI cobots cost $25,000 to $35,000). As for homegrown brands, China sports 10 that are now or soon will be major competitors to YuMi, GoFa, and SWIFTI. Strangely, none of ABB's family of cobots can heft a payload greater than 5kg, which seems to be a major disadvantage, especially among SMEs seeking adaptability across a single cobot family.
See related:
China's Cobots: Big Job Ahead
The stage is set for a wave of cobot automation to sweep across China's factories.

To date, overall penetration of cobots into China's marketplace has been less than spectacular. Experts say that China's factories acquired a little over 5,000 cobots in 2019, which is up 20 percent from 2018.
Worldwide, stats from the International Federation of Robotics (IFR) put global sales of cobots at around 14,000 in 2019. Miniscule!
China buys over 13,000 industrial robots a month!
Demand is there. "ABB expects robot demand to pick up after the pandemic, citing its survey which showed 84 percent of 1,650 businesses intending to introduce or increase their use of robots in the next decade.
The demand for cobots is estimated to grow 17 percent per year, nearly double the rate for conventional robots, according to analysis by ABB and Interact Analysis, a market researcher." But sales aren't showing cobots to be barn burners.
So what's up with sales? Cobots have been around and selling since 2008, but not in great numbers.
It could well be that none of the cobot vendors know how to effectively market and engage SMEs, most of all ABB, which hasn't had to think about such things, —except for YuMi—in nearly a decade.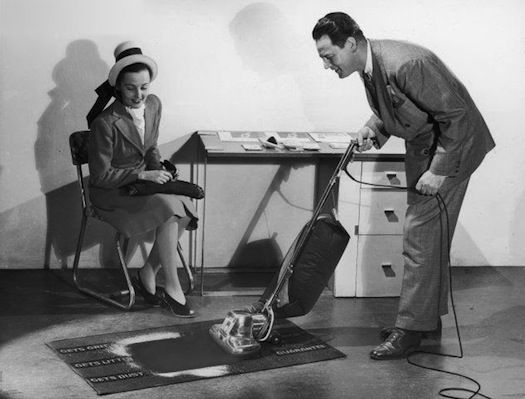 Since most SMEs do not attend trade show events, a new paradigm in selling may be needed beyond that of the traditional trade show booth, where the ABB brand is a big-time draw. Or, maybe an old-time paradigm in new clothes would do, such as door-to-door sales as vacuum cleaners once were sold.
As a total balloon buster, it's entirely possible that China's central government might throw its weight (and cash) behind Chinese branded cobots, as in Buy China, which will be a hefty part of the new Five-Year Plan (2021-2025).
All of which would definitely put a huge drag on ABB's cobot sales in China, its second largest market (the U.S. is first, and still laboring under COVID). All of which makes China an even more important as a revenue source for ABB.