Young Canadians on Canada
From Farm to Fork, AI Is Speeding Up the Process
Technology continues to advance, and the agriculture and food processing sectors have evolved along with it
Down on the farm with AI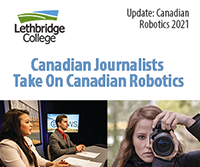 Next up in our series by young Canadian journalists on Canadian technology is the writing team of Alejandra Pulido-Guzman & Karsen Marczuk (seniors, Lethbridge College, Alberta).  In their co-authored piece, From Farm to Fork, AI Is Speeding Up the Process, Ali and Karsen hang out in the nearby plains of southern Alberta to offer up a look into the encroaching digitalization of Alberta's farms and dairies.
Already it seems, Albertans and their farms are learning and adapting and going digital like everyone else in the brave new world of agriculture, courtesy of automation and Artificial Intelligence (AI).
–The Editors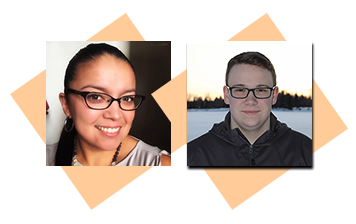 by Alejandra Pulido-Guzman & Karsen Marczuk (seniors)
Precision agriculture
As population across the world continues to grow, the agriculture sector continues to encounter problems with sufficient land to farm as urban development takes over. With less land to farm, farmers have had to adapt to technology that helps the process be more efficient.
Farmers are now relying on a method that uses a variety of technological add-ons to their farming equipment called "precision farming" or "precision agriculture".
Some of the tools used in their combines, tractors, seeders and spreaders include GPS, which relies on satellite images and sensors to identify a specific area of the field. This makes farming more efficient and less costly, by reducing wasted materials from over spreading fertilizer or seeding an area that was previously seeded.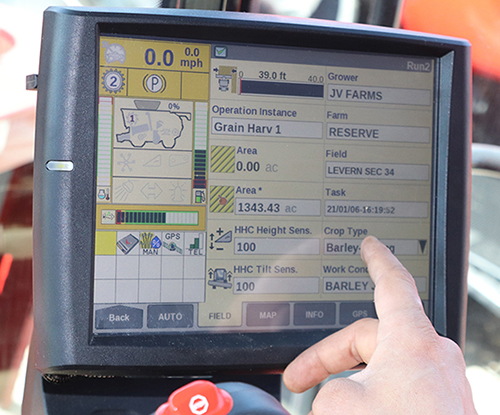 By keeping track of their activities on the field, farmers are able to manage production in a more efficient way, which, in turn, is more financially sound. By avoiding wasted materials, the cost of farming goes down. This makes new machinery with even higher technology more affordable.
Technology has helped the agriculture sector in many ways, but it has also made the process too dependent on it, which becomes a double edge sword.
If the technology fails or there's an issue with it, the farming process almost stops.
Dallas Kornfeld, sales consultant at Rocky Mountain Equipment in Lethbridge remembers the process of farming when he was young being more physically demanding.
"Back in the days before we did all this electronic stuff, if something broke on your combine, you would get out and you can see what is mechanically broken and fix it right away. But with technology, although the benefits are good, when something either fails or not working, it's not like something you can just get out and fix. Everything is digital, so it's like a bunch of ones and zeros."
Technology and Artificial Intelligence (AI) have revolutionized the agriculture sector in many ways, but one of the most important ways is by making farming more efficient. This in turn keeps food on everyone's tables.
According to an article in Forbes: 10 ways AI has the potential to improve agriculture in 2021, AI and Machine Learning (ML) are already showing the potential to help close the gap in anticipated food needs for an additional 2 billion people worldwide by 2050.
Southern Alberta
Canada's Southern Alberta is a hot spot for raising cattle and growing crops, which is why a local cheese manufacturing company thought it would be a great place to open up shop. Just like machinery in the agriculture sector, artificial intelligence is becoming more common throughout the food making processing.
Crystal Springs Cheese, located roughly 15 minutes northwest of Lethbridge, opened shop in 2005, creating specialized cheeses and yogurt products. Fresh milk from their family-owned dairy farm is transferred to the factory using a pipeline that stretches between the two properties, helping to limit the number of times the milk is pumped. Jacco Beyer, co-owner of Crystal Springs Cheese says there are multiple stages throughout the process, with a variety of different machines used during each stage.
"We start with a HTST pasteurizer which is a high temperature, short time pasteurizer, that heats milk fully to 72 degrees Celsius (161.6F), then holds the milk at 72 degrees for 16 seconds before cooling it back down to cheese making temperature."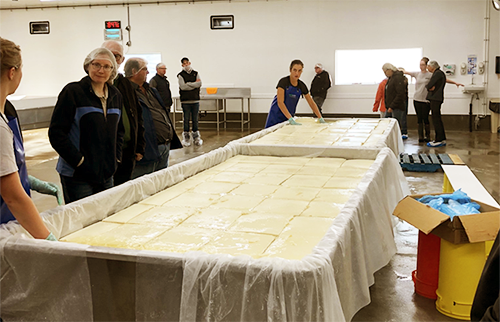 Beyer says the yogurt making process also requires multiple pieces of equipment.
"We have multiple yogurt vats, so those are the mechanical stirring devices and we have two rotary packaging machines. We pump yogurt into a hopper on the machine, the machine will then drop down a container; it will put a shot of yogurt in the container, put a film seal on the container and then finally there's a lidding mechanism that puts a lid on."
Major impact in the offing
According to How Artificial Intelligence is Revolutionizing Food Processing Business: "Artificial Intelligence is catching the attention of businesses across many disciplines and sectors with Food Processing and Handling (FP&H) being one of them. Today, the FP&H industry is capped at a whopping $100 billion and will continue to grow at a CAGR of five per cent at least till 2021."
When looking at the direct benefits, AI helps the FP&H sector in five key areas, including, sorting packages and products, food safety compliance, maintaining cleanliness, developing products and helping customers with decision making.
Towards Data Science says AI is impacting the FP&H industry both directly and indirectly, such as helping transportation companies in reducing shipping costs, which benefits food processors in paying less for transportation.
Aside from the cheese making process, Beyer says they use machines and AI for packaging and dating each product.
"As [product] exits on a conveyor, an inkjet printer is used to mark the date. From there it goes to a round table that spins, and from that table we gather the individual units and package them into six packs."
Beyer adds that all the machines in the process run on a computer system, but employees are still needed.
Making artisan cheese is an art form that can be difficult to mechanize. The process of making cheese heavily relies on feel and experience in order to produce a high-quality product. Beyer says he doesn't anticipate the need to downsize in the number of employees, even as new technology and machines continue to grow.
"We will continue to keep adding more equipment in terms of packaging like thermoforming packaging lines and we'll probably upgrade our yogurt packaging equipment here in the next few years. As for human resources, I don't see us going down in human resources because even if we were to make some efficiencies on some equipment related things, we would probably still utilize people in areas like food safety or product development. I don't see our labor force going down at all."
According to Towards Data Science, AI is reshaping the food processing and handling business, which is expected to revolutionize the FP&H sector in the coming years.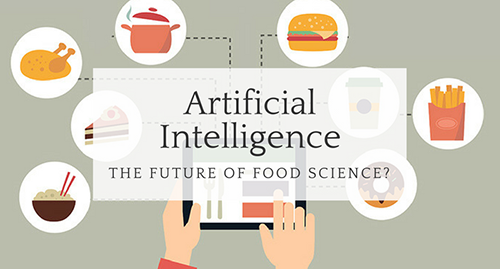 "AI will help these companies to increase their revenue by speeding up the production process, reducing maintenance time, and hence, reducing production downtime, decreasing the chances of failure by automating almost every process, and eventually delivering an excellent customer experience by predicting their likes, dislikes, and desires."