It's as Simple as: More Industrial Real Estate Equals More Warehouses Equals More Robots
There's a boom in industrial real estate going on in the U.S., and it's getting ever more frantic. All of which means great times ahead for logistics robots

Oceans 2050
Jacques Cousteau's Oscar Just Turned 65
Marine robotics: Heir apparent to "The Undersea World of Jacques Cousteau


Young Canadians on Canada
From Farm to Fork, AI Is Speeding Up the Process
Technology continues to advance, and the agriculture and food processing sectors have evolved along with it.

The Hard & the Soft of Robotics
It takes an interesting mind in engineering to excel at the "hard" in grippers and the "soft" in grippers as well.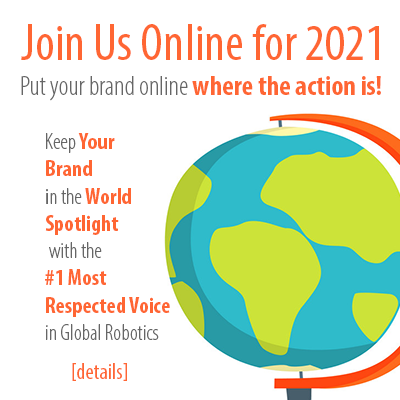 Robotic Goods-to-Person to Quadruple!
"Through 2023," says Gartner, "demand for robotic goods-to-person (G2P) systems will quadruple." That's a hefty increase…

ELITE ROBOT Launches New Sales and Customer Support Office
ELITE Robot, a China-based developer of award-winning collaborative robots (cobots), is pleased to announce the official opening of its North American sales and support office in Knoxville, TN

Micro-fulfillment and the last mile
Warehouse "Anywhere" Gets $2.8B from Softbank
AutoStore's cube tech gets lots of attention from Masayoshi Son's SoftBank. Asia/Pacific tabbed for major growth.

Young Canadians on Canada
Cybersecurity Practices: Post-Secondary Institutions

Connecting the Dots to UFOs!
What is the connection that runs from H.P "Bob" Robertson—and Robertson's secret UFO committee—to the world's first digital computer? A UFO can't be detected, tracked, and intercepted without radar and a digital computer. Was the Whirlwind computer the first UFO tracker? What was set in motion in the backseat of a taxi at the Pentagon taxi stand in 1949? Connect the dots with The Untold Story of Everything Digital.
"Informed and informative. A unique and extraordinary history,
unreservedly recommended."
John Burroughs, Midwest Book Review