Researchers Develop First Robotic Surgery System in Peru
Introducing Iguana Robot in a New Alliance with Asian Robotics Review
Introducing Iguana Robot. As the publication says of itself: "IGUANAROBOT is a portal dedicated to the dissemination of robotics and its possibilities for the development of the Spanish-speaking world."
As we all realize, not much in the way of reporting on robotics news—taking place anywhere south of the Rio Grande River!—makes its way to the attention of the global robotics ecosystem. Just as importantly, interesting tech, engineering, innovation and business from global robotics hardly penetrates to Central and South America.
Automation, the buying and selling of industrial robots, digitalization, Factory 4.0 and robot-driven transformation are taking place there just like in the rest of the world.

There's a two-way news gap that needs to be bridged. It is the intention of Asian Robotics Review and Iguana Robot to bridge that gap through our new alliance.
Surgical Robotics: Peru is the first of what is hoped to be many more articles from Iguana Robot. Similarly, Iguana Robot will carry much of Asian Robotics Review's global news to its readership.
Both publications believe that this is the start of something very necessary and highly worthwhile.
Please join us on the bridge.
—Tom Green, founder & publisher Asian Robotics Review
by María Fernández Arribasplata
From: Iguana Robot, May 2021

A team of Peruvian researchers is working on the development of the country's first robotic surgery system. This ambitious project will allow to assist doctors in surgical operations and perform surgeries remotely with a good internet connection.
In the world there is already, since 2000, a commercial surgical robot known as Da Vinci, which assists surgeons in the operating room. To date there are about 3000 copies in clinics and hospitals. Its approximate cost is 2 million dollars.
With this background, in mid-2018, a team of researchers and students from the University of Engineering and Technology (UTEC), led by the mechatronic engineer, Ruth Canahuire Cabello, decided to develop the first robotic surgery station in Peru.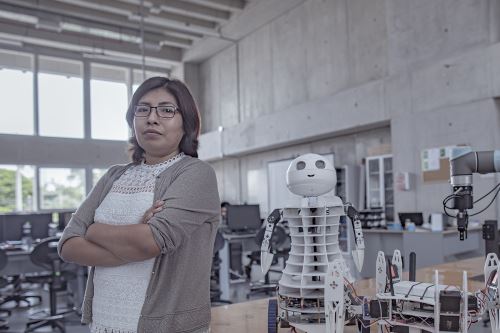 "It is a platform that consists of two robots, a surgical light, tools, a camera set and a computer. They can be controlled extremely precisely by doctors to avoid risks and make only the necessary incisions. With this system, surgeons will be able to save time and energy to focus only on the most difficult aspects of the operation, "engineer Ruth Canahuire explained to the Andean Agency.
Currently, he points out, they are working to have a station with two robotic arms, but in the future there will be three. With one, it will be possible to perform cutting activities and the other abdominal examination through a soft endoscope that will be built by Peruvian engineers.
This station is not an autonomous robot, but will be teleoperated by the doctor through joysticks with haptic technology to have a more faithful and intuitive control of the cuts. In this way, you can have greater precision about what the robot is touching or if it hits a surface. The person who is manipulating it will also be able to feel it. 
In addition, it will have a camera system internal to the robot and external, which will allow the surgeon to have a complete view of the area where he will operate.
"What we have now is the implementation of a robotic arm, for the second stage we are waiting for the second arm to arrive, we have already acquired it, in about a month we should have it. Working with two arms increases complexity, because they must work collaboratively ", adds Canahuire, director of the Mechatronics and Electronic Engineering careers at UTEC.
At the cutting level, the experimental tests of the first robotic arm were on fruits (such as orange) and pork. 
In this second stage, the researchers will build a soft endoscope that will be placed on the second robotic arm and will have a small camera that will allow it to enter a patient's abdomen. Pigs will first be tested for internal exploration.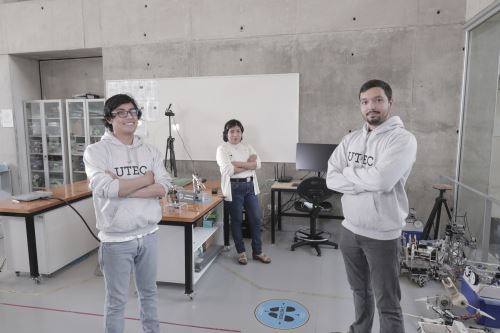 "The most difficult stage is the one that comes to us. It is a cooperative system made up of two serial manipulator robots that must understand each other and work in a coordinated manner, "he details. 
Engineer Ruth Canahuire states that the station would be located inside the surgery room. The doctors would be at a distance from the robot in a small cabin or console from where they will command it. 
The new instrument will also facilitate the recovery of the patient, since it will avoid making repetitive or unnecessary cuts, which may be made by doctors due to fatigue due to long hours of operation.
Another advantage of robotic systems is tele-operation, that is, a doctor can command the robot with a computer from anywhere in the world having a good internet connection.
This robotic surgery station should be ready by mid-2023. "Next year we should be looking for funding to start the third stage with the third robotic arm and thus finally have the complete robotic surgery station. We have made a lot of progress, we have 2/3 of the project, which is very large, where many technologies are used, that is very important and it means that we are on the right track", concludes Canahuire.
When this second stage is completed, the project will need new financing to complete this first robotic surgery system in the country.
The research is carried out in collaboration with the State University of Campinas (Brazil) and the prestigious Purdue University, in the United States.
It should be noted that the project has financing from Concytec and the World Bank.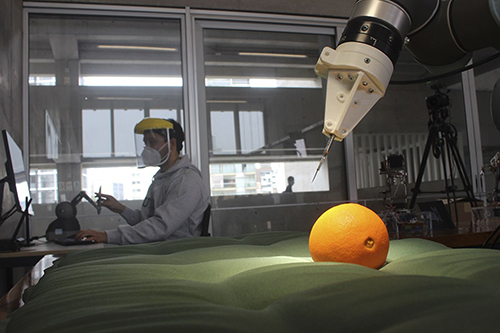 SOURCE: www.andina.pe