Micro-fulfillment and the last mile
Warehouse "Anywhere" Gets $2.8B from Softbank
AutoStore's cube tech gets lots of attention from Masayoshi Son's SoftBank. Asia/Pacific tabbed for major growth.
Closer to customer with MFC
Getting closer to the customer is always a good idea and micro-fulfillment centers (MFC) do just that. A warehouse that can fit in anywhere, in any geometry, especially in any dense urban area, has lots of advantages; and Norway-based AutoStore, with its ultra-dense Cube Storage Automation tech, is a leader in that space.
"Micro-fulfillment focuses on the last mile, said Rudolf Leuschner, associate professor in supply chain management at Rutgers Business School. It blends traditional technology and automation with in-store picking, and it has the goal of getting items closer to consumers for speedy delivery or pickup."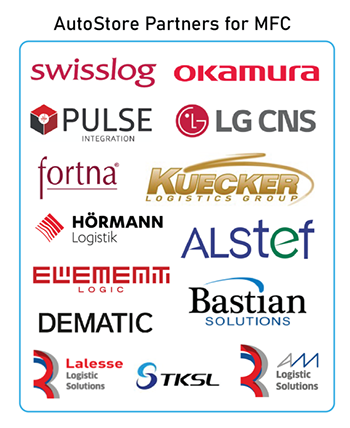 AutoStore's potential had enough allure to interest Masayoshi Son's SoftBank to pony up a $2.8 billion for a 40 percent share of the company. 
Owned by an investment group led by Thomas H. Lee Partners as the majority shareholder, AutoStore is the logistics brainchild of Jakob Hatteland Logistics (Hatteland, Norway), who in 1996 set out "to store more in less space and improve handling in complex warehouses," which seems ideal for micro-fulfillment in dense cities. AutoStore was acquired by Thomas H. Lee Partners in 2019.
Hatteland's Cube Storage Automation currently has over 600 AutoStore installations and 20,000 robots across 35 countries. Masayoshi Son sees great expansion potential into Asia/Pacific, exactly where Bastian, now owned by Toyota Advanced Logistics since 2017, is aggressively selling the AutoStore system along with those of Scallog and Vanderlande.
Sales, designs, and installations of the AutoStore grid system are carried out by a network of qualified integrators who are its partners. That's why AutoStore's tech looks like that of Swisslog's, because it is. Swisslog in 2011 made an exclusive distributorship agreement for AutoStore on a global basis.
Here are the pros, cons and system summary of AutoStore, according to Logistik KNOWHOW:
Advantages:
High space and room utilization
24-hour operation possible
Compact storage
High automation
Theft protection (closed system)
Picking stations are freely installable on the AutoStore system
The energy saving compared to conventional solutions with storage and retrieval machines is, according to their own statement, over 90 percent
The expansion of capacity and speed is possible during operation
Low personnel costs, because only picking stations are operated by people
Disadvantages
Goods are reduced to the permissible container mass (maximum 35 kilograms)
High investment costs
Regular / permanent maintenance by humans
Applications are limited to simple logistics processes
AutoStore system summary: Logistik KNOWHOW
"The AutoStore system is especially suitable for simple logistical warehouse processes. It is usually highly automated and is suitable for small parts (small assortment). It consists of the warehouse structure (grid), the containers (bins) and shuttles (robots) as well as the picking workstations (ports)."
The robot-supported storage and order-picking solution AutoStore, says Logistik KNOWHOW, is aimed specifically at projects that are usually designed to save space; often such a system is installed in an existing building/project in order to reorganize an existing warehouse section and the associated processes or to automate work steps in the course of digitization – usually these are small project solutions in which, for example, the routes of employees within an order-picking zone are to be optimized: Each manual AutoStore workstation describes the type of picking goods to person.
The micro-fulfillment gamble
"Creating miro-fulfillment centers can be expensive up front for retailers, if they plan to lease warehouse space for a new kind of fulfillment center.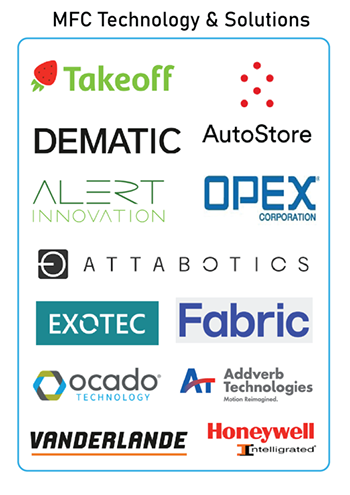 "However, they do have other options, said Nathan Schmies, vice president of supply chain operations at Hub Group, like running a micro-fulfillment center from the back of a retail store.
"Retailers may also opt for "dark stores," which are only for fulfillment — no customers allowed. In October, two of Macy's stores went dark, according to The New York Times. Macy's CEO Jeff Gennette told The New York Times that it's an experiment in responding to customers who are buying more online and demanding fast shipping for free.
"Whole Foods has also opened delivery-only stores this year as a response to a surge in consumer demand."
SoftBank eyes logistics
Softbank these days has taken a sudden liking to warehouse automation. Last January, it participated in Berkshire Grey's $263 million investment and announced intention to go public, which finds Berkshire Grey merging with Revolution Acceleration Acquisition Corp.
Berkshire Grey's CEO Tom Wagner said "Over the last 12 months the pandemic amplified the already high pressure to transform, so today it is no longer a question of if companies might transform but how quickly. We are incredibly excited about this transaction, which will enable Berkshire Grey to accelerate growth and provide new and existing customers with our leading robotics solutions." Such a deal, adds TechCrunch: "would bring up to $413 million in cash for the company."
In 2019, SoftBank's Vision Fund lead a $1 billion round in Flexport, which describes itself as a "modern freight forwarder". SoftBank's Vision Fund also led a $200 million investment in physical storage startup Clutter.
In 2020, SoftBank Group Corp.'s Vision Fund 2 lead a $113.5 million investment round in a California-based startup Flock Freight seeking to change the way goods get trucked around the U.S.
SoftBank and AutoStore could make for an interesting team at settling in "Anywhere" warehouses into Asia's dense city centers like Tokyo, Shanghai, Seoul and Bangkok. SoftBank's $2.8 billion makes sense.