Siemens Encamps Global Robot Research HQ in China
Manufacturing gets an upgrade as robots, automation and manufacturing converge and merge
"China intends to upgrade its national industry and boost its global competence
through digitalization-focused innovations. Siemens is investing heavily
in the future of China and partnering with the country and many customers
on its way to digitalization."                      — Roland Busch, president & CEO, Siemens AG
Showtime for Siemens and its digital twin tech
Siemens doesn't manufacture robots, but it makes other people's robots work better, which is precisely why this company that doesn't make robots moved its global research network for robotics to China: Its aim is to max out the performance of China's robots by maxing out the factories where all those robots work.
Siemens facility in China is  dedicated to the research and development of new mechatronics systems, human-robot collaboration and the applications of artificial intelligence in robotic controllers.
It's way not enough for China just to buy 130k robots a year if they end up as mere substitutes for humans on an assembly line.  A gnawing reality of which China is well aware.
What it is to manufacture anything is changing and Siemens claims that it owns the keys to the fantastic wonder machine where it will all take place: the digital factory.  Siemens is hell-bent on proving it at scale and in owning leadership as the benchmark for the future of manufacturing. It has spent billions acquiring the software to pull it off—$10 billion since 2007 on U.S. software alone—and now, after a decade of cobbling it all together, it's ready to rock 'n' roll.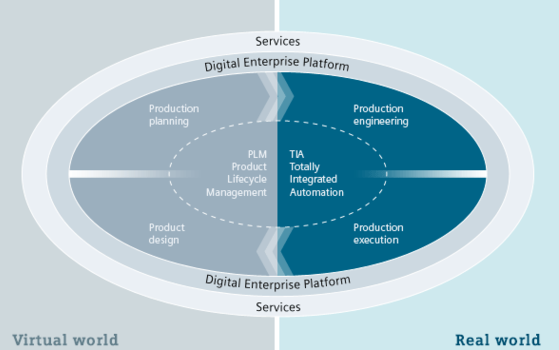 New software, new home
What better place to aspire to and maybe realize that goal than in China with its million-plus factories badly in need of upgrading, and where there's a government that can easily remove any and all obstacles along the way.
The new center is good for China, and very good for Siemens.
The essence of that move Handelsblatt nailed in the title of its article, Siemens is Automating its Future in China. Emphasis on "Future".
"For Siemens," reported Handelsblatt, "China could soon be a more important market than the company's native Germany; it now generates around $7.7 billion in sales in China, compared to about $12.6 billion in Germany."  Considering China has lots of factories in need of automation, it's easy to see that sales in China could rapidly eclipse those in Germany.
The crown of manufacturing standardization and interoperability is for Siemens right there for the taking. It's only competition: GE with its Predix platform is also vying for the same crown.
China, of course, will want to avoid becoming a high-tech patsy hosting only a headquarters' suite full of robot R&D executives; it will seek access to the predictive analytics and systems engineering software that Siemens has been painstakingly building out for the last decade.
Yes, Siemens has twenty R&D locations in China with more than 4,500 researchers and engineers on its payroll, as well as a robotics research center housed at Beijing's Tsinghua University, however, Roland Busch, Siemens president & CEO, has "emphasized that no development capacities would be shifted to China."
That "no development capacities" could well become a giant bone of contention, since it's totally the polar opposite of how China has built out its own tech. Plus, why would China make itself so vulnerable to foreign technology? All of which might auger well for GE and Predix…or even for Japan's nascent IIoT manufacturing standards and interoperability technology.
Don't forget GE
GE Digital also doesn't make robots, but similar to Siemens, it can offer a digital manufacturing claim that its software also makes robots better.
According to Seeking Alpha, GE Digital is on track to generate nearly "$5 billion in revenue from software and related services. For example, back in 2016, GE Digital had $4 billion in Predix and software orders."
Seeking Alpha further reports GE as heavily exposed in China.  "GE has 22,000 employees in China, working in over 30 plants, and has 34 joint ventures established. A near term target was set to grow China to $10 billion in revenues and $10 billion in sourcing. 
Siemens has spent billions of dollars acquiring its software from U.S. and Belgian developers—like the 2016 buy of Mentor Graphics and CD-adapco—plus years and billions more crafting it all into its Simcenter and PLM software suites. It won't easily give up or even share these keys to the onrushing digital kingdom. The future of the company depends on it; "Siemens makes about 14 percent of its sales from its digital factory industrial hardware and software division, one of its fastest-growing businesses."
Siemens will put a new digital plant into operation in Nanjing, Jiangsu province, this year and keep investing in manufacturing, software and infrastructure across China during the 14th Five-Year Plan period (2021-25), said a top company official.
China, by far the largest robot buyer in the world, buys 40 percent of the world's total industrial robot production. Maybe more.
There are tens of thousands of robots marching into factories all over China from which the Chinese must squeeze every ounce of productivity, flexibility and quality if China is ever to shed the albatross of low-cost manufacturer for the must-have title of high-value producer. A middle class nearing 500 million and an export world filled with billions more potential consumers are waiting; but they won't wait long.
Siemens is out to prove that it has the technical chops to fully realize the Factory of the Future (Industry 4.0) solution with its recently-completed, one-of-a-kind Simcenter for predictive engineering analytics together with Siemens' product lifecycle management (PLM) software. 
The R&D plan going forward has all the earmarks of being robust and exactly what automation in China needs. Siemens and Sinomach Intelligence Technology Co. (Sinomach IT) signed a MoU (Memo of Understanding) for a close partnership in industrial robotics and intelligent manufacturing. "Both parties will also work together to promote research and development of new standards on industrial robotics, and build an information sharing platform in digitalization."
With all of the foregoing, it's difficult to see how Siemens will not shift any "development capacities" to China?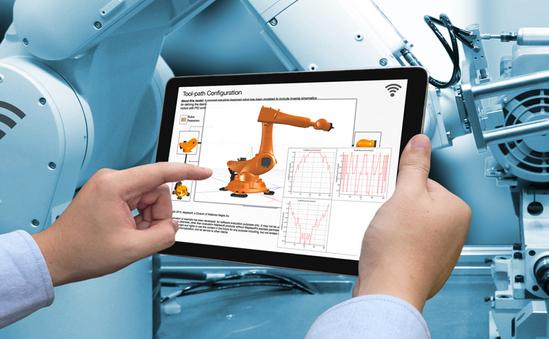 Merging virtual and real: the digital twin
To showcase its IIoT capabilities, a Siemens factory in Amberg (Bavaria) glimpses at the coming future of high-speed, high quality production. The factory produces fairly complex switchgear and industrial controllers. At any one time, a mix of products flows simultaneously through the factory at a rate of "roughly one per second or 1 million products per month…with an amazing defect rate of 11 defects per million…[a] 99.9989 percent perfection." Although now automated, the Amberg factory still retains about 25 percent of its original human workforce.
Refreshingly, humans are still in the loop.
Siemens is the first to combine mechanical, thermal, electronic and software design and simulation capabilities on a single integrated platform. "Merging the real world with the virtual world allows us to create what we call a digital twin," said former CEO Joe Kaesar.  "We copy a real-time manufacturing process into the virtual world to optimize engineering, processing quality, uptime, and load time — and then we copy it back into the real world of manufacturing.
"The production process is being changed," he said.  "It's machines talking to machines in a self-optimizing manufacturing and engineering process. Using this approach, we have attained a production quality rate of 99.9988 percent. That is getting pretty close to Six Sigma. In the last five years, we have increased productivity eightfold."
Siemens has a similar Industry 4.0 factory in Chengdu (Siemens Electronic Works Chengdu, operational as since 2013). If a few hundred more Chengdu-type Chinese factories or maybe a thousand initially come online, it would be a monster advance in realizing where China needs to take its manufacturing to be world class in productivity, flexibility, and quality.
Staggering implications for robots
As you can well imagine, the "digital twins" concept has huge implications for developing robots, both as integral parts of the digital factory and as a standalone technology in designing the robots themselves.
Originating at the University of Michigan and formally introduced in 2003, digital twins "are a dynamic software model of a physical thing or system— a virtual, digital equivalent to a physical product."
See:Digital Twin: Manufacturing Excellence through Virtual Factory Replication(seminal white paper from Dr. Michael Grieves)
The digital twin concept is built on three pillars: 1. Physical product in real space; 2. A virtual product in virtual space; and 3. A connection of data and information that ties the virtual and real products together.
As Kaesar put it: "It's machines talking to machines in a self-optimizing manufacturing and engineering process." And since robots are machines, well, robot design is going to get very interesting very soon.
Imagine virtual robots talking back to their software counterparts in a flood of data about their mechanical, thermal, electronic, and software design experiences in the real world.
Digital twins of industrial robots would also allow for a remote operator to control them with accuracy.
As digital twins, what fantastic stories will robots be telling us about themselves?
Probably lots of things that we puny humans never considered, saw, or ever imagined. Revelations from robots may well become a new corporate division.
Siemens' MoU with Sinomach Intelligence Technology takes on new meaning when it comes to accessing digital twins technology.
Now, if the digital twins get dressed in AI clothing, the sky's the limit. What we know of robots will change: the materials they are built from, their innards, their brains. All of which, of course, will inure to the benefit of China's robot pals like KUKA, Siasun, etc.
For a great romp into digital twins, see the Economist:  The Gemini makers: Millions of things will soon have digital twins.
How about a drum roll?
For Siemens, it's showtime.  Historically known as an engineer that builds power systems, Siemens, over the past decade or so, has remade itself as a leader in the digitalization of industrial business. Siemens now relies on its digital business to drive profits.
The Financial Times reports that profits at the digital factory are on the rise.  Not long ago, it was the other way round. "Digital factory's 16.4 percent margin is far higher than the average 10.4 per cent margin in Siemens' core industrial business."
If profits for the foreseeable future will be tied to the digital factory, then Siemens better hope that it bet on the right horse. If it did, and it sure looks that way, there's bragging rights, untold billions of dollars in profits, a place in the history books, and its own combination lock on the door of every factory in China.
Yes, Handelsblatt, Siemens is definitely automating its future in China, and there's lots at stake.