On 25 August, We Aim to Earn Your "Click"!
Fresh, New Look at Robotics New
This Is Robotics: Radio News (the podcast)
What's going on in the world of robotics?
"There has never been a more exciting time to be in robotics." — Erik Nieves, co-founder Plus One Robotics
In August, and every month thereafter, please look in this space for fresh new episodes of
This Is Robotics:
Radio News
New clarity, new urgency for robotics
One effect of living and dying in the grip of a global plague is that it clears the mind to what's really important, what's really not, and what really should be acted upon immediately. Because of it, robotics seems to have taken on a new clarity and a new urgency. Industrial robots, cobots, service robots and personal robots are all being looked at—scrutinized! —in a new light. How each fit into the grand scheme of automation is getting a grand rethink.
Bill Gates' famous two rules seem to be getting quite the workout:
"The first rule of any technology used in a business is that automation applied to an efficient operation will magnify the efficiency.
"The second is that automation applied to an inefficient operation will magnify the inefficiency."
Digging out inefficiency seems to be the first order of business these days.
This Is Robotics dives into what's being said and done across the vast spread of the global robotics ecosystem. Change is here, and what it looks like for the future is getting mighty interesting. And for a really far out look at future robotics, we offer up Klara, Nobel laureate Kazuo Ishiguro's "particularly astute [humanoid] robot who loves the sun and wants to learn as much as possible about humans and the world they live in."
Please join us.
A Look Into the Future of Robotics
DCVelocity did something interesting: It rounded up a dozen sharp-thinking robotics experts (people up to their elbows in robotics every day) and asked them to spout off on such timely issues as "Where does the robotics industry stand today? Which technologies are attracting the most user interest? What does the future hold with respect to new innovations and applications?"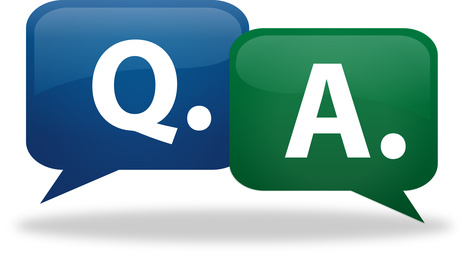 Q: HOW DO YOU VIEW THE CURRENT STATE OF THE ROBOTICS INDUSTRY?
Chris Cacioppo – 6 River Systems: The robotics industry is experiencing a boom as other verticals, including manufacturing and retail, are realizing the immense need for automating their processes. Efficiency is a major priority for every business, and without automating processes, it is difficult to reach business goals. Many may fear that "robots are taking jobs," when, in reality, most robots are enhancing jobs, allowing employees to focus their attention on more meaningful tasks.
Nick Longworth – SICK: The robotics industry is in a state of transition—and not only because of the Covid-19 virus. Even before the pandemic, there were major efforts underway to simplify the way people build, program, and interact with robots. Combine that simplified focus with the more advanced technology that is coming to market, and the result is an industry in transition. The robotics industry of the past 30 years will be much different from the industry we will see in the next 10 years.
Kristin Fornal – IAM Robotics: New opportunities continue to be identified for automation. This, combined with the rise of user adoption, is rapidly expanding the robotics industry. In the supply chain, robots are being used to help augment the labor force, increase productivity, reduce errors, optimize picking and sorting, and reduce the risk of employee injury in dangerous environments.
Steven Hogg – Bastian Solutions: Companies are focusing on stabilizing their workforce and supply chains by investing in proven robotic technologies. Investing in robotics reduces the number of workers required to meet their order fulfillment requirements. Also, robotic work cells provide a safe, socially distant work environment that is cleaner and more efficient to operate than a traditional operator workstation.
Erik Nieves – Plus One Robotics: 2020 was the first year that more robots were sold to non-automotive users than to automotive customers. This is a watershed moment, demonstrating that the massive growth in e-comm is driving robot adoption and warehouse automation. There has never been a more exciting time to be in robotics.
Q: WHAT TYPES OF ROBOTICS PROJECTS ARE GETTING THE MOST ATTENTION FROM END-USERS?
Jon Schechter – AutoStore: Attention and adoption are very different things. Goods-to-person robots and collaborative picking robots are seeing the most real traction. Other robots, such as piece-picking units, are getting a lot of attention but are not yet default technologies for large projects.
Nicola Tomatis – BlueBotics: For years, companies concentrated on implementing robotics projects in order to automate specific production processes. Today, however, there is a clear focus on extending automation programs to include material handling and logistics processes at either end of the production line.
Rudi Lueg – Exotec: Being in the goods-to-person space with a robotics solution, I can say there is a lot of buzz about micro-fulfillment centers. Shortening lead-times and improving transportation cost burdens with these systems has customers re-evaluating their supply chain practices. And many are considering moving away from tech as modern as shuttle systems to achieve the flexibility and deployment benefits that robotics provide.
Thomas Evans – Honeywell Intelligrated: Robotics that augment or collaborate with laborers seem to be centric in this exceptional growth period we are witnessing in robotics and automation. Warehouses and distribution centers want to be able to replicate or surpass the throughput of manual induction or pick-and-sort activities in addition to being able to extend hours of operation or complete work with minimal supervision.
"At its core, automation is about implementing a system to complete repetitive tasks without the need for human labor." NASDAQ
Automation: The Next Big Thing
The World Economic Forum's Future of Jobs 2020 report found that the labor market is changing much faster than expected, thanks to COVID-19.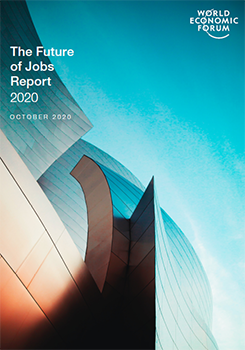 According to that report, more than 80% of business executives are accelerating plans to digitize work processes and deploy new technologies, and 50% of employers are expecting to accelerate the automation of some roles in their companies. Around 43% of the businesses surveyed for the report are expecting to reduce their workforce due to technology integration which implies an expectation of higher productivity – fewer employees producing in aggregate, the same if not more.
By 2025, the time spent on current asks at work by humans and machines will be equal. That said, this doesn't necessarily mean massive unemployment is on the horizon. Between now and then, 85 million jobs may be displaced by a shift in the division of labor between humans and machines, while 97 million new roles may emerge that are more adapted to the new division of labor between humans, machines and algorithms. Like with any disruptive technological shifts, some jobs will become obsolete while new, previously unimagined roles will be created, requiring new hires to fill those positions.
Automation is more than just robots on an assembly line. This disruptive technology runs the gamut from 3D printing to autonomous vehicles, from industrial automation such as manufacturing lines to corporate automation, assistive robotics as well as drone deliveries. In another article, we covered how 3D printing has the potential to completely revolutionize construction (and many other industries) by vastly reducing labor costs while improving quality and cutting build times to a fraction of what they are today. For example, SQ4D recently built a 1,407 square foot home in just eight days with a total of 48 hours of print time, using less than $6,000 in materials. That home is now on sale for $300,000.
For industrial robots, the risk of being replaced by cobots is much more real than for human workers. For now, sales of cobots form less than 5% of the market for industrial robots, in which a few large companies still dominate. But we argue the robotics industry is ripe for disruptive innovation by relatively small new entrants.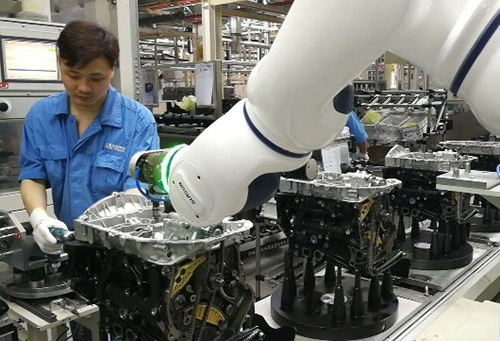 The latest industrial robots look like petting zoo versions of the big machines found in many modern factories – small, cute and you can play with them. But don't be deceived by their cuddly appearance. They have the potential to change the way humans work with machines and disrupt the existing market for industrial robots.

The big difference with this new generation of robots is that they don't have to operate in closed-off areas. Instead they can safely operate alongside and even collaborate with human workers. For this reason, these machines are often called collaborative robots or "cobots".
Fully automating a factory isn't always desirable because modern manufacturing companies need flexibility to quickly alter their processes for a variety of products and customisation. Instead, manufacturers in such contexts are increasingly looking for automation with a human touch.
This is where cobots can come in. Even if full automation with larger, faster industrial robots is more efficient, cobots can allow factories to increase their output while retaining a degree of flexibility.
See more from The Conversation

Robots learn new tricks: Artificial intelligence software in combination with vision and other sensing systems, allow robots to master difficult tasks. One such task is bin picking, that in the past was only feasible for a human hand. New generations of robots are easier to install and program and they are connectable. Advances in communication protocols integrate robots seamlessly into automation and Industry 4.0 strategies.
Robots work in smart factories: The automotive industry pioneered smart factory solutions utilizing industrial robots throughout assembly lines that have dominated traditional automobile production for more than 100 years. The future belongs to networked interaction of robots and autonomous mobile robots (AMRs). When models are changed completely, it is only necessary to reprogram the robots and AMRs rather than to dismantle the entire production line.
Robots enter new markets: The connectivity breakthroughs contribute to increased robot adoption in manufacturing sectors that have only recently turned to automation, such as food and beverage, textiles, wood products and plastics. Ongoing digital transformation will lead to completely new business models, because producers can diversify more easily than ever.
Robots reduce carbon footprint: Investments in modern robot technology will also be driven by the requirement for a smaller carbon footprint. Modern robots are energy-efficient, thus directly reducing energy consumption of production. Through higher precision, they also produce fewer rejections and substandard goods.
Robots help to secure supply chains: The pandemic situation has made the weakness of globalized supply chains visible. Manufacturers have the opportunity to rethink supply with a completely different outlook. When productivity is leveled through automation, manufacturers have increased flexibility that may not have been available in high-wage countries like most of the European Union, North America, Japan or the Republic of Korea.
68 New Technology Trends for 2021
Robotics companies unable to scale effectively without third parties
Given that robots currently do not scale easily with more deployments, and require engineers to manage and maintain, roboticists need outside assistance.
System integrators like Ricoh Automation are beginning to provide more customer service options. Robot vendors that build robust and widespread distributor links like Universal Robots and Mobile Industrial Robots are benefiting from more shipments.
Looking forward, other third parties like cloud service providers and computing vendors (such as AWS and NVIDIA) are building comprehensive robotics offerings for developers.
While NVIDIA covers onboard processing, simulation tools, and ever-more comprehensive development platforms, AWS is building cloud computing specialized for robotics vendors.
These adjacent technology vendors will become increasingly central to the robot space as the use of their hardware and services become more ubiquitous.
While in the long term, robotics vendors want to develop vertical integration and move up the value chain, this is a long-term prospect, and right now, they need third parties.
And If You Have Time to Read
Klara and the Sun by Kazuo Ishiguro
In a store in the center of an unnamed city, humanoid robots are displayed alongside housewares and magazines. They watch the fast-moving world outside the window, anxiously awaiting the arrival of customers who might buy them and take them home. Among them is Klara, a particularly astute robot who loves the sun and wants to learn as much as possible about humans and the world they live in.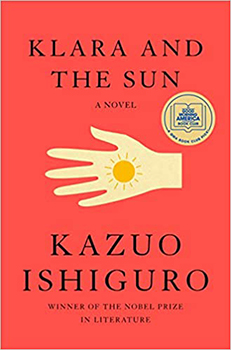 So begins Kazuo Ishiguro's new novel Klara and the Sun.
The book, told from Klara's perspective, portrays an eerie future society in which intelligent machines and other advanced technologies have been integrated into daily life, but not everyone is happy about it.
Technological unemployment, the progress of artificial intelligence, inequality, the safety and ethics of gene editing, increasing loneliness and isolation—all of which we're grappling with today—show up in Ishiguro's world. It's like he hit a fast-forward button, mirroring back to us how things might play out if we don't approach these technologies with caution and foresight.
The wealthy genetically edit or "lift" their children to set them up for success, while the poor have to make do with the regular old brains and bodies bequeathed them by evolution. Lifted and unlifted kids generally don't mix, and this is just one of many sinister delineations between a new breed of haves and have-nots.
There's anger about robots' steady infiltration into everyday life, and questions about how similar their rights should be to those of humans. "First they take the jobs. Then they take the seats at the theater?" one woman fumes.