The Great East-West AI Clash: China vs. U.S.
Not since the Cold War has technology anchored such a high-stakes power struggle. The real winner: Technology
Technology battles between giants, like the one going on in the full between China and the U.S. over artificial intelligence (AI), will, in the end, inure to the benefit of technology. Such great clashes nearly always do.
Manufacturing, robotics, and general automation are already feeling the tech tailwind. And there's way more to come.
Game on!
Technology hasn't had one as good as this fray since the Cold War (1947-1991). Back then, the former Soviet Union and the U.S. accelerated R&D in engineering and science that for over four decades pushed computing, semiconductors, aviation, and rocketry to new heights.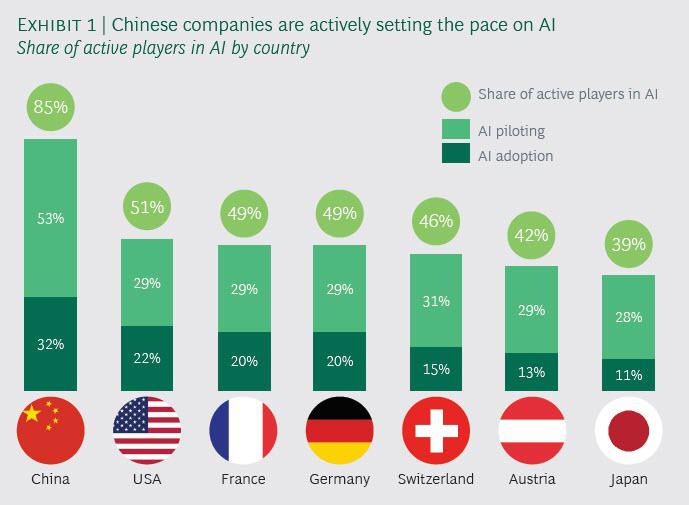 Interestingly, productivity appears to have begun its long, slow slide south during the lull in government investment just after 1991 and the collapse of the Soviet Union.
China's own AI blueprint from July 2017, A Next Generation Artificial Intelligence Development Plan, hones in on 2035 as the by-when date for China's global AI supremacy. Any by-when date for AI, however, the U.S. wants to reserve for itself alone. Hence, these two tech titans have thrown down the gauntlet and are going to have a go at it.
All the better for technology!
Each of these titans will ransack every crevice of the known world in order to gain advantage. And it's best to remember here that all we're talking about is machine learning, the truly big stuff in general AI awaits up the road. How close up the road will be determined by what's accomplished by 2035. More than a decade distant. A pittance!
Ian Bremmer's Eurasian Group has put out a tantalizing Kai-Fu Lee/ Paul Triolo authored white paper, China's Artificial Intelligence Revolution: Understanding Beijing's Structural Advantages, that, as the title suggests, has China as the advantaged titan.
Bremmer, in a preface to the paper, sets the scope and sweep of what's ahead. The opening paragraph says it all: 
"A technology revolution is now sweeping the world, and the countries that most effectively seize the opportunities it creates will dominate the 21st century. Nowhere is the revolution more transformative for lives, livelihoods, security and prosperity than in the field of artificial intelligence. AI will shift the balance of power in both the global economy and international relations, because the countries that master AI first will have a crucial strategic advantage in writing the rules for the next global order."
For technology, that's a majestic outlook. And if history is our guide and the Cold War a great example of what history can do for technology, then the next seventeen years will be jammed packed with opportunity and money aplenty for anything relating to machine learning, and its ability to train machines to do a human's work better than a human: Factory 4.0, Industrial Internet of Things, smart robots, intelligent manufacturing and intelligent logistics are waiting in the wings.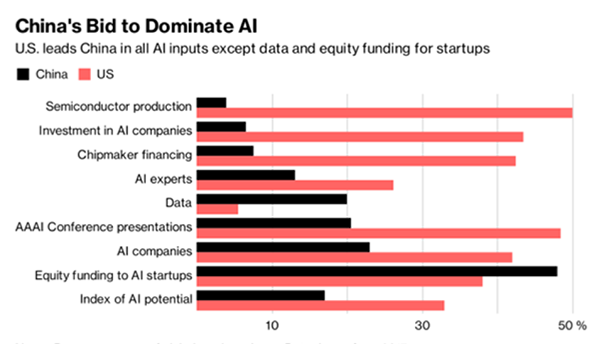 Is China making itself vulnerable?
Curiously, the direction of China's investments in AI appear to be headed away from Factory 4.0. and intelligent machines. China is pouring billions of dollars into facial-recognition technology, which may be making its surveillance efforts with AI a bit too top-heavy at the expense of manufacturing and logistics. 
For sure, the base vision technology for facial recognition also applies to manufacturing, but is that what's happening? 
SenseTime, DeepGlint, Megvii (dba as Face++), Yitu Technology, CloudWalk, and Zoloz (formerly EyeVerify, a US-based facial recognition and biometrics software company acquired by Alibaba), have pulled in billions of dollars in Chinese investment, both government and private alike.
Certainly there's money to be made in facial recognition. Alibaba and KFC have made it possible to buy a box of chicken using only one's face for payment. And yes, the global facial recognition market will be worth $6.5 billion by 2021, up from $2.3 billion in 2016, according to Technavio. And yes again, as CB Insight puts China ahead in total AI investments.
What about, as Reuters points out in Made in China 2025, "Beijing's big ambitions from robots to chips": Computer chips, computers and the cloud, robots, domestic airlines and railways, marine engineering, electric cars, farm automation, and pharmaceuticals. All could see enhancement from machine learning, but will they? Will China's questing over facial recognition draw away money, time, and talent better spent elsewhere?
This CB Insight illustration shows the depth of China's pursuit of AI facial-recognition technology and the mega-bucks poured into it already.
"A 2017 documentary co-produced by the Communist Party claimed the country had the largest network of CCTV cameras – 20M – in the world.
"Last year, around 55 cities were part of a plan called Xio Liange or "sharp eyes." Footage from surveillance cameras in public and private properties will be processed centrally to monitor people and events.
"Media reports suggest that intelligence collected from the video footage may eventually power China's Social Credit System, a government plan announced in 2014 to rate the "trustworthiness" of its citizens.
"A simple keyword search on worldwide patent database Espacenet shows how much emphasis China has put on surveillance. Over 530 patents related to video surveillance and surveillance cameras were published in China in 2017 alone, compared to just 96 in the United States (based on keyword searches of title and abstract)."
It's good to remember that all of these CCTV cameras and their installation, plus rooms stuffed with surveillance electronics, are all part of the facial-recognition budget…as well as the time and talent spent on facial-recognition-specific patents.  
Is China's mega-pursuit of facial-recognition technology an advantage or does it make China vulnerable? Knowing who the bad guys are before they do bad things can be an admirable pursuit, if it doesn't become all-consuming; then it's folly.
It's certainly not about money when Technavio forecasts $6.5 billion by 2021 for facial recognition. With vision tech for intelligent manufacturing, $6.5 billion is a rounding error, and is nowhere near a decent ROI given the level of investment realized by Chinese companies in the facial-recognition biz.
What's disadvantageous for China is when a multi-billion dollar telco and smartphone maker with 70,000 employees like ZTE (net profit $723.52 million in 2017)) can be humbled and forced to close its doors in a single day. Slam! A shut down resulting from a punitive order from China's titan adversary in the AI wars.
That the U.S. could pull the plug on ZTE, and have ZTE collapse because of it, should be a major wake-up call for China.
Where else is China vulnerable and how does it affect AI? Those should be the central questions that drive high-tech pursuits.
Pony Ma (Ma Huateng), chairman and CEO of Tencent Holdings, quickly ticked off those vulnerabilities while attending an AI forum in Shenzhen.
 "The recent ZTE incident made everyone more clearly realize," said Ma, "that however advanced one may be in mobile payment, without the mobile, the chips and the operating system, you still cannot compete."
China has no homegrown mobile technology like Android, no computer chip-making capability (imports its chips), and has no homegrown computer operating system (it uses Microsoft 10, a special Chinese government edition, nicknamed "Red"), and has only just begun on quantum computing.
Hence, the source of Ma's displeasure with China's tech, which he likens to building a house on sand.
The Eurasian Group's white paper makes a bunch of predictions, one of which is this:
"China will become a global AI power: Beijing will rise to become an AI innovation center at the level of Silicon Valley, overtaking the likes of Toronto, Montreal, and London."
— China's Artificial Intelligence Revolution: Understanding Beijing's Structural Advantages
Hopefully, China will become a global AI power; the country desperately needs that to happen, but not just in facial-recognition technology. Rather, China needs robust machine learning for its factories and machines, warehouses, transportation, healthcare, pharma, food production, and for a host of other critical applications.
In addition to Ma's observations, three tech challenges will auger against that prediction:
ONE: Glaringly, China has zero allies in the world with which to share any tech pursuit. The Soviet Union during the Cold War had many allies from which to pull a few brilliant ideas out of the hat. China has none. That's a huge burden to contend with. China has itself, its people (granted there's a lot of them), and China has a huge bankroll. However, no country in history has become numero uno in technology based solely on its own tech and bankroll.
The U.S., on the other hand, has tech allies in AI—formidable ones: Canada and the UK being two of the most prominent.
China needs to partner up with as many outside tech giants as possible. For example, SenseTime's recent alliance with MIT is a definite plus. SenseTime was founded by MIT alumnus Xiao'ou Tang PhD '96 and specializes in computer vision and deep learning technologies, so there's an existing relationship that China can count on through Xiao'ou Tang. China needs many more.
TWO: China's betting that "the size and availability of massive data sets [are] set to become a key advantage for China's AI development." Kai-Fu Lee, in a recent interview with The Economist, called China "the Saudi Arabia of data."
We all know what technology does when faced with scarcity, in this case data sets. Technology comes up with a workaround that checkmates the advantage of huge data sets.
Bharath Ramsunder, machine learning researcher, lamented: "Are we doomed to live in a world where the best research can only be performed by large corporations with the required monetary resources" for large data sets? He looked around and realized that "a surge of work in low-data machine learning" was already going on in many places. The advantage of large data sets is time limited. Technology is already working on remedies.
THREE: Original thought leadership in AI or machine learning is very new in China. There simply aren't people like Geoffrey Hinton (considered the father of deep learning) who can mull over a new idea in AI and then come up with concept like "capsule networks", as Hinton did in 2017.
Compounding those three deficiencies is Tencent's own study "2017 Global AI Talent White Paper" that puts the total global population of AI expertise in the hands of only 300,000 people, when, in fact, millions are needed.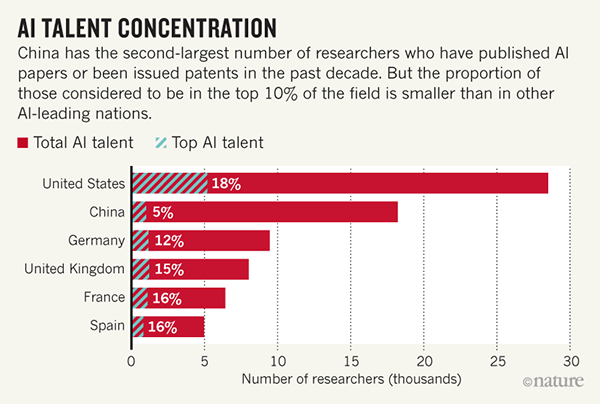 All of which is more wonderful news for technology. The clash of AI titans is going to open up the coffers in every country for all manner of spending on tech…and education.
As Bremmer rightly points out: "AI will shift the balance of power in both the global economy and international relations, because the countries that master AI first will have a crucial strategic advantage in writing the rules for the next global order."
However, every day spent noodling out how to better ID a person's face will be a day less and a dollar short spent in manufacturing the road to the future.
Consequently, 2035 may well be further off than China thinks.