ABB, Still Playing Catch-up, Grabs ASTI
It's momentum time in logistics, and ABB is looking for some
Timing is everything
It's momentum time in logistics, and Swiss-based ABB is looking for some. It's acquisition of autonomous mobile robot maker, Burgos, Spain-based ASTI, is an effort to get a toehold in logistics, especially in China, where ABB has best-in-China market share and an unassailable brand excellence for its industrial robots (mostly dedicated to the automotive business). But that's it!
With autonomous mobile robots (AMRs) the fastest growing segment in robotics, and with ABB having none, that presents a gaping hole for the company's Robotics & Discrete Automation business to address. Excluding itself from a possible place on the AMR leaderboard might not be wise for a company that, according to an ABB earnings call, took a big hit in 2020 declining 30 percent year-on-year.
It especially smarts because in China, where ABB intends to continue its market domination, there are a reported two million warehouses with near-zero ABB logistics presence. "China is the world's largest robot market. ABB predicts that by 2025, AMR's annual sales [in China] will reach 1.8 billion US dollars [$14 billion globally]." There's more than a little wisdom in trying to compete in this burgeoning technology sector.

With ASTI now in the fold, ABB has a chance to grab off a piece of the market. Or does it?
"ASTI has one of Europe's largest installed fleets of AMRs, and a customer base in the automotive, logistics, food & beverage and pharmaceuticals sectors in 20 countries. Its customers include Volkswagen, Stellantis, Nestlé and Procter & Gamble. Since 2015, the company has maintained an annual growth rate of close to 30 percent and it is aiming to achieve around $50m in revenues during 2021."
For ASTI's part, it may well enjoy the prospect of China's near-limitless warehouse landscape and far fewer competing AMR makers. With ABB's products and street cred in high regard, ASTI has a great partner on which to lean for support.
ABB is also planning on a factory to produce ASTI's AMRs somewhere in Shanghai close to where ABB's lavishly automated, robot-making, $200 million "super factory" is scheduled to open in 2022.
Back home in the EU, ASTI has to contend with the likes of KUKA (Swisslog), Dematic, Geek+, Knapp, Omron, GreyOrange, Grenzebach, Magazino, MiR, Locus, Cimcorp Automation, and Aethon; a formidable list, to say the least.
China has its own homegrown contenders in Geek+, Quicktron, and HikVision for ASTI to battle with for market share; but, ABB, which started its robotics business in China in 1994, is well entrenched with customers and in government circles. Having such a good friend in China may well be critical to ASTI's success.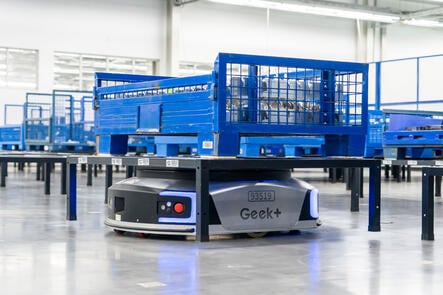 Playing catch-up
William Blair, the U.S.-based investment bank and financial services company, is out with a research report whose title says it all: Robotics, Automation, and AI: Explosion of New Markets Across Broad Segments of the Economy.  
This is the backdrop against which ABB is playing catch-up. "Leaps in technological innovation surrounding AI and cloud-computing, along with sensors androbotic mechanics, have enabled rapid growth in the burgeoning warehouse automation space.
"This evolution has been led by a change in consumer shopping habits and the rise of e-commerce…exacerbated by the dull, dirty, and often dangerous aspects of working in warehouses. Labor shortages and the need to reduce ever-growing labor costs while also increasing throughput, accuracy, and working capital management will continue to represent the strongest drivers in favor of making capital investments in robotics." Of course, COVID's ability to wring a new world order from the old, all at breakneck speed, factors mightily in AMR proliferation as well.
In particular, China's e-commerce is about to take another leap forward. Jing Daily reports: "This year, China is expected to become the first country in the world where more than half of total retail sales originate online." Much more strain for warehouses to contend with, more need for robots to enter the fray.
See related:
Warehouse Tech Scene Gets Crowded
650 companies shaping warehouse automation while vying for its $30B payoff.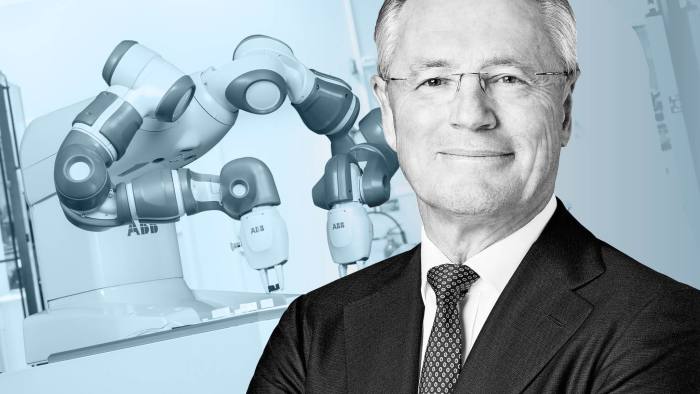 For example, GEODIS, one of the largest logistics service providers (LSPs) in the world, says it's buying as many AMRs (supplied by Locus Robotics) as it can get its hands on.
"Since deploying the Locus bots, GEODIS has seen many benefits. Productivity has doubled, and training time has seen a 50 percent reduction since the deployment, and it is easier for non-native speakers to work with these systems than bar code scanners. Depending on the facility, the payback period has ranged from 6 to 18 months. In the supply chain realm, two-year payback periods are the norm. Any payback period under one year is excellent!"
Ever since its cash cow—automotive—began its slowdown, ABB has been playing the catch-up game trying to get into the logistics space. After a six-year stint of waiting since YuMi's debut in 2015, a festive ABB announced (2021) its two new bundles of joy: "ABB boosts YuMi collaborative robot portfolio with the GoFa and SWIFTI cobots." Finally, ABB has added two cobots for real-time piece-picking chores.
In another warehouse catch-up move, ABB, in March (2020), announced a partnership with AI start-up, Covariant. The pair will bring "AI-enabled robotics solutions to market, starting with a fully autonomous warehouse order fulfilment solution."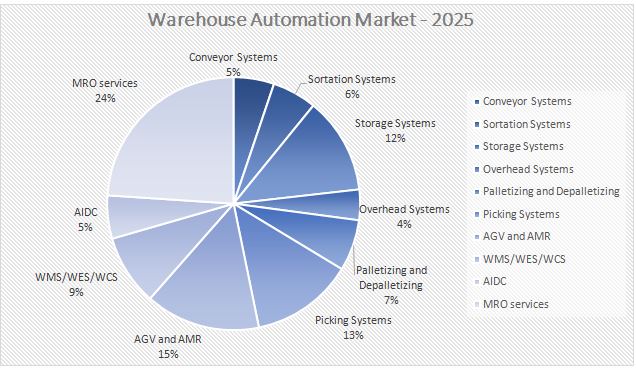 What's at stake
It's difficult to fathom why ABB has been so ill prepared getting a robot presence ready for the rampaging needs of e-commerce. Was it so sure of its automotive business that it dismissed everything else?
As Markets and Markets notes about e-commerce: "Growth in e-commerce is the main driver for AMR demand in warehouse automation. Global e-commerce sales have grown at a CAGR of 20 percent over the last decade, reaching ~$3.5 trillion worldwide in 2019, and expected to grow to ~$7.5 trillion by 2026. The share of online retail sales has gone from ~2 percent of total to ~13 percent, and is further expected to reach ~22 percent by 2026."
That's "trillions" for e-commerce! Surely, someone in Zurich was reading those reports, or, at the very least, noting the high frequency of package delivery trucks in neighborhood.
With China, ABB's second-largest customer, producing 26 million motor vehicles, or about 28 percent of the global total of cars and trucks produced (2019), it's easy to see how starry-eyed it can be selling robots into that colossus. However, with a slowdown in production, plus the fact that automakers are gearing up for electric vehicles (EVs), which take fewer robots to manufacture, it's also easy to see ABB's dilemma, both short- and long term.
Well, what else does ABB's second-largest customer have to offer? How about logistics, the world's fastest-growing automation business?  To get in that game, ABB would have to do a little catch-up. ABB would need some time and a few new assets to make a competitive run at logistics. Both are in short supply.
So here we are today with two new cobots, new piece-picking software, and a new AMR purchase. Is that enough to get in the game?
Then too, it's one thing to play catch-up and hurriedly put together a warehouse presence, it quite another to make it all work…and be profitably successful.
How skilled is ABB's salesforce at selling cobots? How knowledgeable are they about logistics?
Sami Atiya's Robotics & Discrete Automation business has a big job ahead. "ABB's robotics division," said new CEO Björn Rosengren in an interview with the Financial Times, "should be a 15, 16, 17 percent margin business". Its current margin is just under 12 percent.
ABB's "earnings per share have decreased by an average of 6 percent annually every year since 2009." That's a dozen years! Hopefully, this session of ABB catch-up can help correct that downward course. …Stay tuned.
See related:
ABB Finally Births Two, New Cobots. Now What?
The GoFa and SWIFTI cobot twins debuted. Will we forget about them as quickly as YuMi?