Robotics, Automation & Business News Index: 2019
Robotics | Automation | Artificial Intelligence (AI)
Advanced Manufacturing | 3D Printing
Welcome to our Article Index. Encounter Serendipity. Specially prepared with you in mind. It's the kind of physical space where visitors can encounter something that they didn't think they were interested in until they actually stumbled upon it. Browse, explore, and connect with Amazing Asia!
OVERVIEW: ASIA
The Asian Century & The Xi Effect
Asia's Rendezvous with the Future Is Arriving Fast
The world's showcase and continent-wide laboratory for robot-driven automation in this The Fourth Industrial Revolution
East Asia Bears Watching
Something very big is going on here: Seoul, Shanghai and Tokyo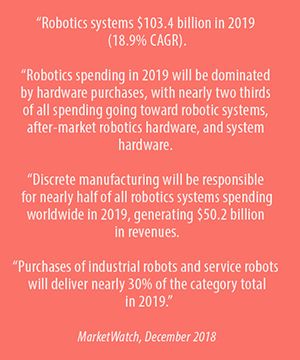 OVERVIEW: ASEAN
Southeast Asia: The Bounty & Promise of ASEAN
Food, consumers and industry in exchange for investment and automation technology
OVERVIEW: CHINA
China's Big Push: Xi, Robots and Productivity
Leap to manufacturing economy based on invention and technology demands increased productivity
OVERVIEW: JAPAN
Emperor of All Robots Put to the Test
Saving Japan from itself with robotics: Competition and productivity 
for a shrinking workforce
OVERVIEW: KOREA
Korea Awakens, Reacts…and Accelerates
Economic urgency spurs demand for advanced manufacturing robots
OVERVIEW: TAIWAN
Crunch Time for Taiwan: Robotics and Automation
Aware of its limitations and very tardy, Taiwan hurries to catch up with East Asia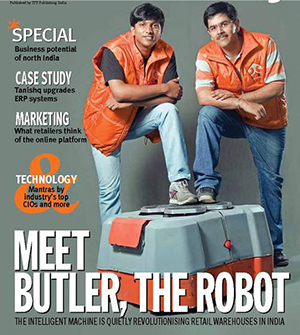 OVERVIEW: INDIA
Robots for India: Industry's Troubling Headwinds
Robots, automation, Gandhi and "premature de-industrialization."
Japan Lags at Deploying Service Robots
Projected as a $35 billion industry by 2022, Japan is not keeping up with professional service robots
Why China Can't Stop Spending Multi-Billions of Dollars on Robots, Cobots, Grippers, Robot Parts, and AVGs
Guarantees on $73 billion more in loans—while SMEs pick up $9.7 billion in government subsidies—to hurry automation through 2022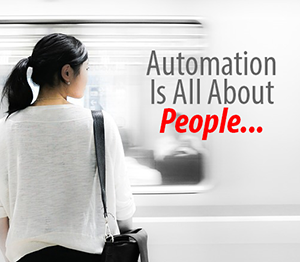 Robot Automation and the East Asian Workforce
Manufacturing technology is a "resource-liberating force" that will create abundance in new tech skills, good jobs at fair wages, and a life with promise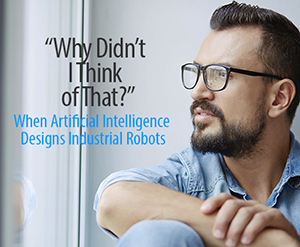 Reinventing the Robot: A Job Only AI Can Do?
Everything about an industrial robot has changed since Unimate (1961), except the robot. Isn't it about time something was done about the "except"?
Round Two: Robot Disruption vs. Human Resolve
The message coming across loud and clear is that Round Two begins here and now…and that we're all in it together…or else!
Littler Global: Employment Law Updates Worldwide
Advising Fortune Global 500, medium- and smaller-sized companies on the full array of labor and employment issues
Making CES 2020 Better Than CES 2019
Why not "smart" events? AI and digital disruption could profoundly change the $650 billion global event industry from the inside out
Chinese Exhibitors Down by 20% at CES2019, But…
Even when shaved by 20%, China's presence at CES 2019 is still crazily massive; and the body of work on display in Las Vegas, like UBTECH's humanoid robot, is equally remarkable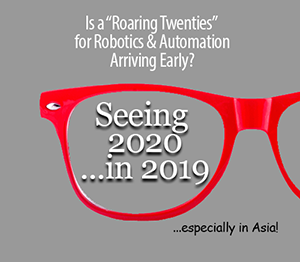 Forget 2019! Let's Strap in for 2020
Don't look now, but the "Roaring Twenties" for robots and automation may be rolling in early, especially in Asia
New-Age Asian Service Robots Meet the Public
$37 billion global sales, growing on average 21% a year, between 2019 and 2021
Click & Mortar—Robots Working Chinese Restaurant Industry
Can "machine people" 机器人 save China's restaurant industry from severe labor shortages and high turnover?
Bypassing the Straits of Malacca
Kra Canal Project: Often proposed, never attempted, the $32B project has now taken on special meaning. Mega-boom for automation and robotics.
Is Thailand Next to Go Digital? Sure Looks That Way
Investment, infrastructure, new-tech automation, and digital living converge in the Land of Sanuk
The Gripper Chronicles
Grippers Chasing Cobots to Fame & Fortune
With cobot marketplace forecast at $9.2B by 2025, every cobot will demand a "skillful" gripper
Isn't Global Robotics 2020 Already Here?
Industrial robot sales and deployments, AI/robot convergence, the Asian GDP forecast, and a look at a big year ahead for cobots in China
Is There a Dark Side to China's Robot Gold Rush?
Is greed and corruption stalking the great race to automate?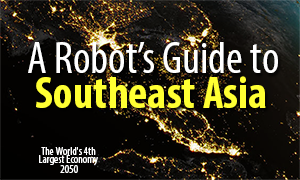 A Robot's Guide to Southeast Asia
Land of Plenty for Robots & Cobots
Part Two of a Two-part Article
Thailand's Massive Reach for the Future
The Corridor: 5,000 square miles where robots and automation systems will rule
a digital landscape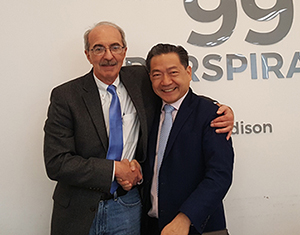 Part One of a Two-part Article
Thai Robotics & The Godfather's Backstory
Thai robotics comes of age and the man who made it happen
Observations from Southeast Asia
For robot tech producers, unprecedented opportunities await in Thailand as well as Malaysia
Asian Hands Still Make My Clothes
Robots are two decades off from stitching their way into my wardrobe. Then what?
How to Sell Cobots in Thailand
Far away from the banners and booths, a cobot bonanza awaits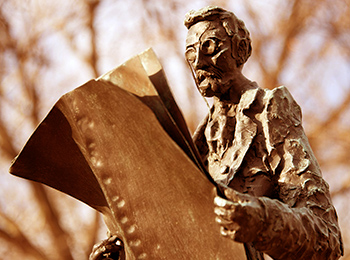 "What a newspaper needs in its news, in its headlines, and on its editorial page is terseness, humor, descriptive power, satire, originality, good literary style, clever condensation, and accuracy, accuracy, accuracy!" 
—Joseph Pulitzer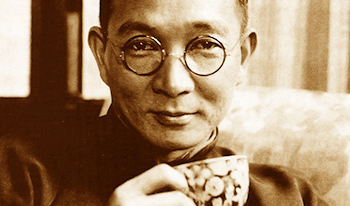 "Hope is like a road in the country; there was never a road, but when many people walk on it, the road comes into existence." —Lin Yutang