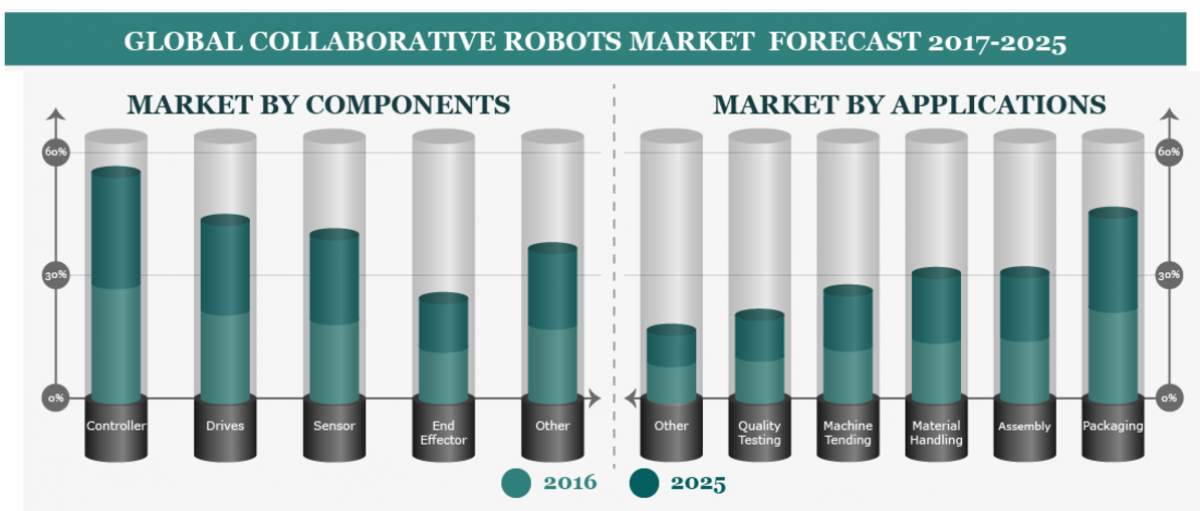 Part Two of a Two-part Series
Is Disruption Ahead for the Cobot Revolution?
Does the cobot revolution need the revolution of e-commerce to drive wide-scale adoption?
 "Once we cowork with robots right next to us, it's inevitable that our tasks will bleed together, and soon 
our old work will become theirs—and our new work will become something we can hardly imagine."  
–Kevin Kelly, The Inevitable: Understanding the 12 Technological Forces That Will Shape Our Future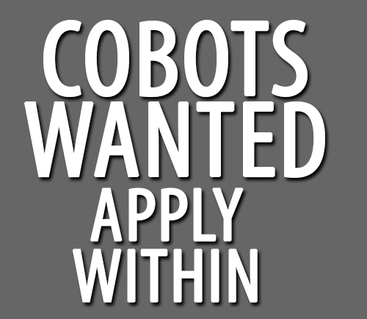 Critical mass
A new class of shiny, energetic and robust job candidate is showing up and acing interviews seemingly everywhere these days, and they are turning out to be, according to their employers, the best new hires any small factory or warehouse owner could ever have imagined.

Not bad for a bunch of job seekers that are machines.

Tack on HR friendly, low upkeep, fast learner, flexible, easily redeployable, and sporting a more than pleasant payback, and you're looking at what has now taken on the proportions of mega-boom in the deployment of industrial robots, the so-called cobot revolution.

Cobot technology has disrupted traditional robotics, however, is this nascent revolution itself ripe for disruption and might the adoption of e-commerce crown the ultimate winners?
Cobot dawn
Cobots embody the dream ideals that every SME wants in any worker—machine, human or otherwise—minus the frictions of retiring workers, firings, resignations, recruiting and training that cost U.S. employers a whopping $630 billion annually, according to a labor market friction study by ARK Management.
Similar frictions plague every major developed economy from Asia to the Americas. Billions that in a very real sense could otherwise be diverted into more automation tech.
Cobots, as tireless force multipliers, answer lots of questions for manufacturers from overhead relief to worker acquisition to workplace injuries to elevating total productivity and more.
In the U.S., where robots in general witnessed a 10 percent increase in sales (2016), penetration into the assembly industry, for example—where cobots are an ever-growing segment—enjoyed a remarkable leap of 61 percent, in just one year!
The chart above in the header, Inkwood's Global Collaborative Robots Market Forecast 2017-2025, displays the rapid growth phase for assembly along with packaging, material handling, machine tending, and quality testing. And with every robot there comes a need for robot parts—components!—which blasted into orbit in the spring of 2017; controllers, drives, and sensors are experiencing record production that is headed much higher through 2025.
However, cobot sales figures thus far are a pittance when compared with the size of the addressable market. According to a company spokesperson, category leaderUniversal Robots (UR), has an installed worldwide base of approximately 20,000 as of January 2018 (That would up the tally some 16,000 more deployments since UR's 2015 acquisition by Teradyne).
No other cobot manufacturer is even close to that many deployed collaborative machines. Considering that the U.S. alone has over 250,000 manufacturers, and China four times that number, the proverbial tip of the iceberg has barely been addressed by cobots.
And that's just for manufacturing; logistics is also experiencing its own cobot revolution with "mobile" cobots.
Mega-shipper DHL is working with Locus Robotics' mobile cobot transporters to move packages through its warehouses. Still others, with cobot arms aboard mobile platforms, combine "picking and transport"— think Clearpath, Fetch, Kinova, I AM Robotics, Yaskawa/Otto and a half-dozen others—vying to calm the ripsaw pace of e-commerce or the monotony of machine tending.  IDC forecasts that in 2018 [that's this year!], "45 percent of the 200 leading global e-commerce and omni-channel commerce companies will deploy robotics systems in their order fullfilment warehousing and delivery operations."
Although there's a galaxy of potential awaiting mobile cobots in logistics, it is stationary cobots helping to make things in factories, especially with SMEs, where cobotics is roiling with unprecedented activity.
Some three dozen cobot makers, as either startups, newbies, or established robot manufacturers, are all rushing into the marketplace, mostly over the past five years. Undoubtedly there are three dozen market studies stuffed into the business plans for each of these contenders that forecast a cobot colossus on the rise; and they are all correct. It's happening right before their eyes.
For market sizing, Jürgen von Hollen, president of Universal Robots, says he uses data from "four or five research companies" to make projections, concluding that the 2016 cobot market of $180 million "to be at least $2 billion by 2020."  Loup Ventures sees a ~$9.2 billion market by 2025. That's an annual cobot marketplace of between 100k and 400k machines. For a little perspective, FANUC, the world's largest robot maker, has an installed base of industrial robots (all models) of over 400k.
In short, the cobot colossus is very real. Universal Robots (UR) has the lead, but thirty-plus robot makers have jumped into the cobot fray and are on the hunt.
Ideal form factor
Amazingly, even a cursory look through UR customer feedback wows with glowing customer testimonials, case studies, and scads of videos extolling the look and feel of the machine. Like dreaming up the ideal form factor for a laptop with the best UI/UX design all at once, the Danes have clearly hit upon a winning form factor their first time out.
UR users put the compact machines just about anywhere—even inverting them to work upside down in tight spaces with other URs. Plus, the range and variety of tasks that the machines have been put to expands seemingly on a daily basis. Most other cobots simply can't pull off the same gyrations, uses, and engineering. Such are the hallmarks of a great machine; one that has also swept the field in popularity and sales revenue, especially among SMEs—the sweet spot for cobot sales.
A look through Robotiq's cobot catalog (Robotiq, the Canadian manufacturer of robot grippers) shows nearly half of the catalog of competing cobot makers have elected to develop a single, multi-axis cobot arm with a similar or exact form factor to that of UR. There seems to be a bit of wisdom in doing so, what with UR so wildly popular, selling so well, and in top-of-mind awareness with so many potential cobot buyers. Critical mass in public awareness is all about the UR arm.
Here's a group of 14 single-arm cobots from the catalog, for now just also-rans, but from which may emerge very popular machines for certain niche specialties, and maybe as well, a few true cobot stars equal to or greater than UR:
AUBO
Carbon Robotics
Denso's Cobotta
F & P Personal
Festo's BionicCobot
FRANKA
Hanwha Techwin HCR-
KUKA's LBR iiwa
MABI
Motoman/Yaskawa HC10
MRK
Productive Robotics
Stäubli
Techma
Contemplating "The best sandwich at the best price"
At the Gerenga exhibit booth at Bangkok's Intermach Show, a Thai engineer and business owner, a manufacturer of refrigeration and cooling equipment, stood eyeing a Universal Robots UR5 that sold for $35k. He said that he'd seen every robot at the event, and none impressed him more than the UR5.  When asked why, he simply replied: "It's the best sandwich at the best price."

Interesting way to think about value and price. Nevertheless, it's what everyone does when contemplating the purchase of anything.

But is the UR5 the best sandwich at the best price?

That it's probably the best sandwich tech-wise is arguably borne out by end users who have bought a UR5, and swear by it.

See related: Mr. Cobot: The Man Who Created an Industry

Robotiq set up forty UR5s in a hotel ballroom at its annual user conference in September of 2017, and then proceeded to have the attendees turn the ballroom into a factory. In a day—a very long day!—the ballroom became a factory and was humming with assembly activity. Again, this swift set up and ease of use are strong arguments for buying from UR. UR claims that their machine can be up and running straight from its shipping container in about an hour. All of which is music to an SME's ears.

The $35k question
But is $35k the best price…and is price ultimately the deal maker or breaker in cobot sales, which seems to be the case?

The Robotiq website has an interesting page appropriately called: What is an Average Price for a Collaborative Robot? BTW: Robotiq does not make cobots; it solely manufacturers grippers and gripper accessories. "When you are shopping for a robot," begins the page, "one of the first things you want to know is the pricing of the robot, its tool(s) and all the accessories." The page is a no-frills, commonsense look at bottom-line total cost of ownership for a cobot, which Robotiq pegs at three times the purchase price.

The $35k best sandwich is then, according to Robotiq's estimate, three times its cost or $105k.

Robotiq's times three actually lines up pretty well with the estimate from Ron Potter, Director of Robotics Technology for Factory Automation Systems: "In an integrated turnkey system, often the robot is maybe one-third of the cost of the total installation."

Can the cobot revolution be dominated for long by a machine that costs $105k to own?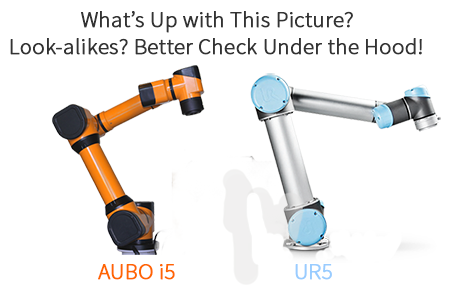 The look-alikes
The AUBO i5, for example, which looks like the UR5's identical twin painted orange (see photo comparison), has some major differences under the hood.

AUBO Robotics claims the i5 is faster and more accurate than the UR5…and costs, get this, $18k! That's nearly $20k cheaper. The company goes even bolder in saying that its goal is for a $10k i5.

That's price-performance disruption of a major kind.

"The era of cobots being unable to deliver the accuracy and efficiency of industrial robots is over," said Dr. Wei Hongxing, co-inventor of the AUBO i5 as well as chairman of AUBO Robotics, in an interview in December from Shanghai. 

Increased speed of operation is a big plus, since slow is the bane of most cobots everywhere. Dr. Wei pointed out that AUBO's speed and accuracy are particularly big plusses for the 3C industry (computers, communications, and consumer electronics). 
Since China produces most of the world's electronics, including seven of every ten mobile phones, a 3C-friendly cobot is a big leg up in automating electronics production.

Such potential spurred $9 million in Series A funding last November from China's Fosun Group, which forecasts AUBO taking 30 percent of the local market. 
The investment will expand AUBO's R&D efforts as well as expand production from its new factory an hour's drive outside Shanghai.

Dr. Wei says the plant could ramp up to 5,000 units fairly quickly. The company has aspirations of producing 30,000 units annually over the next three to five years.

Of course, the big news for buyers is the $18k price tag—$17 grand less than the UR5! Applying the three times rule, the machine rings in at $54k instead of $105k. Big difference.

Better yet, the AUBO i5 can be purchased online from Alibaba, which might be the most interesting and fate-filled twist in cobot sales going forward: i.e. the revolution of e-commerce helping to sell the revolution in cobotics.

The online potential is very intriguing. Maybe the future will see an Alibaba direct purchase "package" with SME-friendly terms and low interest rates through Alibaba's Ant Financial. Tracy Choi, AUBO's manager of international sales and marketing, who runs the Alibaba site, says although the Alibaba presence is very recent she's beginning to get serious inquiries.

Might e-commerce drive cobot prices down and spur faster, wider adoption?