The Three Sisters' Greatest Automation Asset: Confidence
Buoyed by rising confidence, SMEs in Malaysia, Vietnam & Thailand are poised to accelerate transformation via automation beginning in 2020
"Confidence is the greatest friend." —Lao Tzu
Confidence can move mountains
Sooner or later, those who win are those who think they can, so goes the saying. And it's true.
At no time in the past ten years have small to medium enterprises (SMEs), as well as micro enterprises, in Malaysia, Vietnam, and Thailand been so positioned to win as they are now.
The Three Sisters, with a combined two million-plus SMEs, are entering a time of rising expectations…and confidence; all of it the result of their respective governments spending lots of money and taking huge calculated risks with the future of each country.
Confidence is a powerful ally for industrial transformation, and although it's a bit premature to see large returns in Malaysia, Vietnam, and Thailand, their confidence meter is definitely on the rise…and ticking higher daily.
There's a nascent SME automation market on the grow in each of these countries that very quickly will be reaching for tools to increase productivity, quality, speed to market, and to lower production costs.
The Three Sisters could well power themselves away from any looming middle-income trap, with an escape route similar to that of Korea or Taiwan.
Thailand
The recent  high-speed rail agreement between Thailand and China is just such a calculated risk with a huge upside for SMEs. The 135-mile $7 billion railway link from Bangkok's Don Mueang and Suvarnabhumi airports to U-Tapao International Airport in nearby Rayong province as well as the country's largest port of Laem Chabang has far-ranging implications for SMEs.
"Thailand's government is looking to bring advanced industries like aircraft, robotics and next-generation automobiles to Rayong and its surroundings as part of its ambitious Eastern Economic Corridor [EEC] scheme." The opportunity for SMEs to supply industries located within the EEC or north by rail to Bangkok or even overseas from U-Tapao airport or Laem Chabang is now a reality. Rail operations are slated to begin in 2024.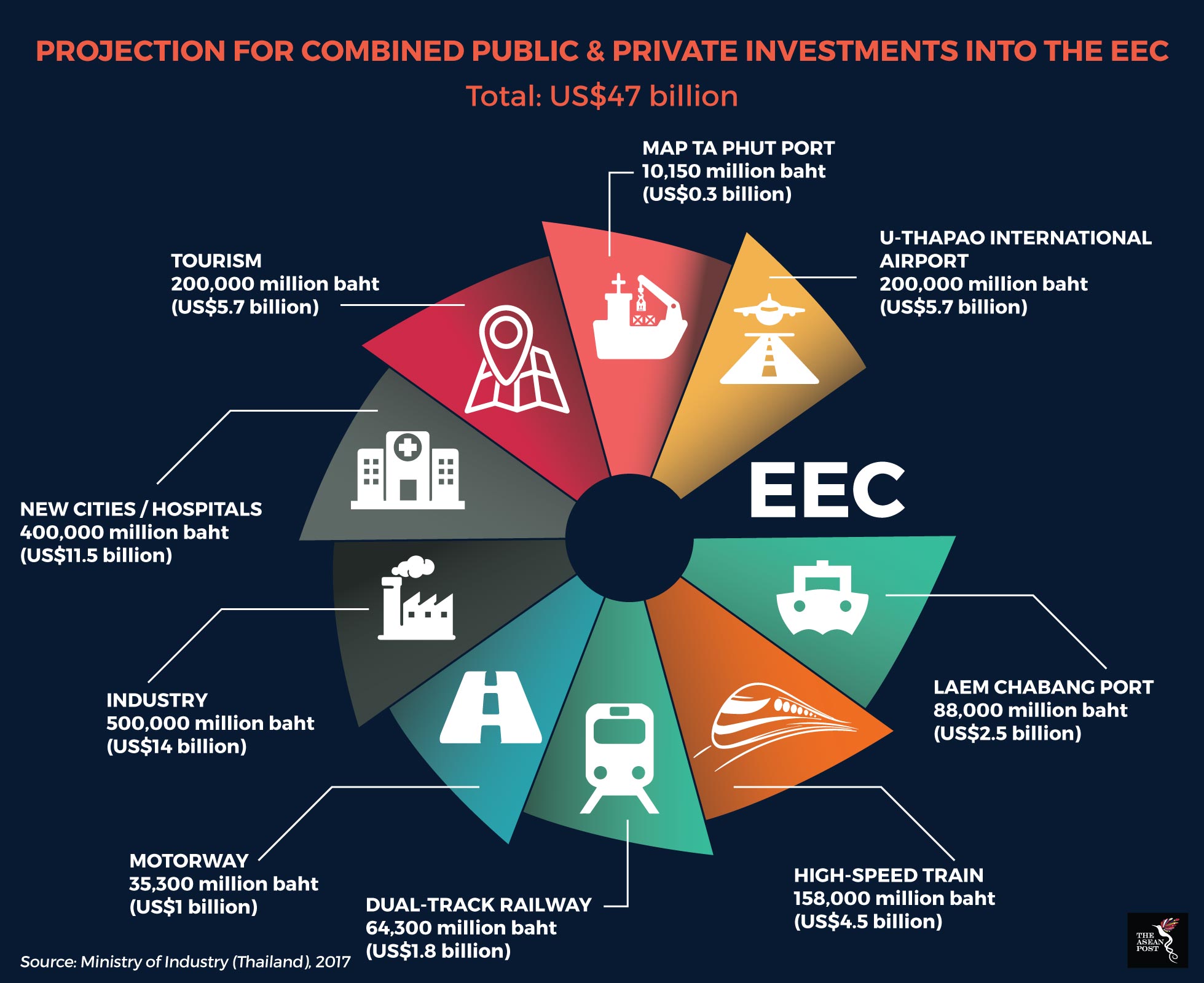 With Japan Aircraft Development Corp forecasting that demand for air freight services in the Asia/Pacific networks to grow on average 3 percent per year and  roughly double by 2035, Thai SMEs will now easily and directly be able to engage with markets far beyond Thailand.
With more infrastructure buildout and industrial tenants anticipated for the EEC, SME confidence to automate their operations will only grow, which opens wide new markets for makers of cobots and cobot grippers.
Alibaba, and Cainiao, its logistics arm, are in for $352 million. They'll build a Smart Digital Hub at U-Tapao that will feature a fully-automated warehouse for products to be shipped to China and sold on Alibaba's websites. It will be a clone of its 1.2 million-square-foot warehouse at Malaysia's Kuala Lumpur International Airport. Amazon, meanwhile, is headed off to Vietnam.
"Alibaba will also assist Thai SMEs to get up to speed with the digital economy. Alibaba will work with various Thai government agencies and the Alibaba Business School to equip SMEs…with the skills to develop online businesses. SMEs will form an important part of Thailand's digital economy, which has been valued at $37 billion by 2025.
Alibaba's Smart Digital Hub is part of a buildout that will see U-Tapao become an "EEC Aeropolis", or regional aerospace hub anchored by a $338 million joint venture with Airbus. The Airbus facility will handle cargo logistics, manufacturing and aviation training.
SME beneficiaries by the tens of thousands in the adjoining provinces of Rayong, Chachoengsao, and Chonburi will be the first to be impacted.
 Confidence is contagious. For example, Omron of Japan built a robot demo center in Thailand, staffed by 50 engineers ready to propose plans to potential customers for "robotics-based manufacturing lines".
Since very few Thai SMEs attend trade shows, Omron's demo center was a savvy way of understanding the local customer and how best to engage with them. Within six months after the facility opened sales jumped 120 percent from the year-earlier (pre-demo center). ABB has its Robot Application Center, similar to Omron's concept, in the Bangpoo Industrial Estate, about 100 miles from Rayong.
Vietnam
Because of a lack of transportation infrastructure, Vietnam's countrywide industrial park initiative uniquely benefits Vietnam's 700,000 SMEs by providing close access to industrial customers. With Decree 82, Vietnam sweetened investment potential with rent and tax breaks and other investment incentives for its 326 Industrial Zones.
According to the Ministry of Planning and Investment, 249 of the Industrial Zones are in operation (occupancy 73 percent) and have attracted "7,500 domestic projects worth $41.75 billion and around 8,000 foreign projects with a total capital over $145 billion."
That's a combined domestic and foreign new customer base of 15,500 with which Vietnam's SMEs can do business.
Vietnam's China Plus One initiative has had its own share of good times: The proximity of the northern Industrial Zones has the added benefit for companies that want to move manufacturing operations to Vietnam but continue operating in China, like Samsung, LG, Olympus and Pioneer. Proximity is a big plus. Hai Phong in Vietnam is just 537 miles from China's manufacturing hub of Shenzhen. That's close! And wages are half what they are in Shenzhen.
Vietnam is now the largest exporter of clothing in the region and the second largest exporter of electronics (after Singapore). All of which, reports the World Economic Forum, makes "Vietnam one of the stars of the emerging markets universe. Its economic growth of 6-7% rivals China."
For three years now, quietly under-the-radar Korea has made smart, decisively bold moves into Vietnam, and has now added a high-tech initiative led by robotics to its overall strategy.

The MoU between Vietnam and the Korea Institute for Robot Industry Advancement (KIRIA) could well herald the entry of Korean cobots from Hanwha Techwin and Doosan sliding into popularity among Vietnam's busy SMEs.
And Korea isn't picky about its Vietnam investments; it's not just high tech. Korea has built cinemas, chains of supermarkets and electronics stores all over Vietnam—even pet centers and beauty shops. All of which screams out that Korea is in Vietnam for the long haul. Its cobots could be as well!
According to the Development Bank of Singapore's (DBS Holdings Group), Vietnam's economy could grow as much as 6.5 percent a year over the next ten years and exceed Singapore in size by 2029 [Singapore is growing at a matured rate of 2.5 percent]. Lately, Singapore's growth has slowed to a 10-year low [1.3 percent in January to March]. If it continues, 2029 may arrive sooner than anticipated.
VIETTRADE (Department of Trade Promotion) and Amazon Global Selling announced a special SME joint venture whereby Amazon will select 100 SMEs for "boosting exports and building brands" worldwide.  Amazon's export solutions and logistics infrastructure will funnel SME exports through its 175 fulfilment centers worldwide in 185 countries.
Lazada, 83 percent owned by Alibaba, controls approximately 30 percent of the country's e-commerce business (logistics, fulfillment and delivery). JD.com has shown interest as well, investing approximately $50 million in Tiki, a Vietnam-based online retailer that it intends to help with fulfillment, logistics, and more.
Malaysia
The best confidence builder for Malaysia was the defeat of Najib Razak's United Malays National Organization (UMNO) in the last election (the UMNO party ruled Malaysia since independence in 1963).  92-year-old Tun Dr. Mahathir Mohamad, commonly known as Dr. M, switched allegiance to head the Pakatan Harapan alliance, and is now back in power (previously held the PM's office from 1981 to 2003). Dr. M's new government quickly rolled out National Policy on Industry 4.0 a/k/a known as Industry4WRD (see below), plus $1 billion in starter capital.  Industry4WRD devotes a chapter, appropriately titled "Propelling SMEs Forward" to the critical importance of the country's SMEs: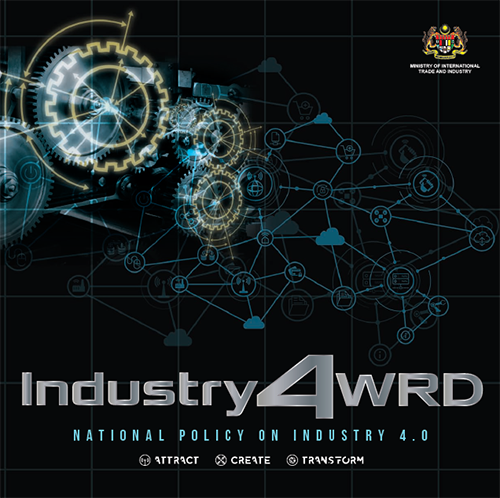 "In Malaysia's transformation, particular attention needs to be given to SMEs as they account for the bulk of manufacturing companies (98.5%) and a major part of employment (42%)," reads the document.
"While most of the large manufacturing firms are already anticipating the benefits and risks of adopting Industry 4.0 practices, Malaysian SMEs appear to be cautious in taking the leap. Despite the enormous economic potential of Industry 4.0, SMEs in the industry remain relatively unaware about it. There is a risk that Malaysian SMEs might be left behind."
$50 million from 2019 to 2021 has been allocated to support the transition and migration to Industry 4.0. "The Malaysia Productivity Corporation will carry out Readiness Assessments to assist up to 500 Small Medium Enterprises (SMEs) to migrate to Industry 4.0 technologies. Industry4WRD Readiness Assessment (Industry4WRD-RA) is a comprehensive program to help firms assess their capabilities and readiness to adopt Industry 4.0 technologies and processes."
"Manufacturing firms can no longer reap the same yields as in previous decades, if they continue to rely on capital and labor as productivity levers. Therefore, Malaysia needs to quickly embrace Industry 4.0 to propel productivity and further enhance competitiveness," said Dr. M at the announcement of Industry4WARD.
"With this in mind, the policy was developed to propel SMEs forward, so that they can be agile and adaptable to meet the challenges posed by the Fourth Industrial Revolution," he added.
Helping out the SME cause by 2026, will be, much like Thailand, a China-backed, high-speed railway, the East Coast Rail Link (ECRL) (400 miles, costing $10 billion). From Tumpat on the Thai border south along the east coast of the Malay Peninsula, then due west to Port Klang at Kuala Lampur. Eventually hooking up with Thailand's new high-speed rail to the north would expand the reach of Malaysian SMEs into ever-newer markets…which would also serve to activate a large chunk of China's Belt & Road Initiative.
The Asian way
Also, as a ditto of its MoU with Vietnam, the Korea Institute for Robot Industry Advancement (KIRIA) is at it again with another MoU, this time with the Malaysia Automotive, Robotics and IoT Institute (MARii) to collaborate towards building out Malaysia's robotics industry as well as, and very importantly, teaching Malaysia's new generation the automation skills necessary for Industry 4.0.
This is like the Three Wise Men (the biblical Magi) bearing gifts from afar, which is the millennia-old Asian way of doing business: a smile, a respectful bow, and plenty of gifts…meaningful gifts, not trinkets.
See related: Korea Adds Robotics to Smart Vietnam Strategy
Koreans are masters of this business art form, which also has been going on in China since probably the Yellow Emperor. Korea's calling card: its vaunted and venerated robotics expertise together with its legendary rise out of abject poverty as it escaped the middle-income trap in the 1970s.
Each of The Three Sisters has to escape the same middle-income trap, so why not learn how from a veteran…an Asian sister who escaped into global success?
Each of The Three Sisters has an Asian business mate: Vietnam has Korea; Malaysia will soon have Korea; while Thailand has Japan, and very lately, China.
Notice that Thailand's high-speed rail deal was done with China by the Thai CP Group (Charoen Pokphand Group, a food conglomerate!), after its Japanese buddy, ITOCHU Corp, withdrew. The CP Group is owned by Dhanin Chearavanont, (Thailand's richest man) a Thai/Chinese whose father hails from a small village near Shenzhen. Look for China to curry this high-speed rail relationship.
Dato' Madani Sahari, CEO of MARii, said this about the MoU with Korea: "This MoU signing allows the Malaysian government to create more opportunities for Malaysian businesses to learn from our Korean counterparts. This would allow them to model their operations around the same approach, in order to quickly elevate their operations in line with the global demands of Industry 4.0".
SMEs in Malaysia will feel the very same way. As a result, look for Korean cobot gear to become highly admired in Malaysia…as well as in Vietnam. 
Watch this Asian way of doing business manifest itself during an interview with Dr. M (see video). Westerners are clueless; and if they aren't, they refuse to leave their comfort zone home before heading off to Asia.
See related: How to Sell Cobots in Thailand
Something to think about
Ultimately, a huge swath of SMEs among the two million-plus that are spread out over Malaysia, Vietnam, and Thailand will buy cobots in order to stay in business. It's that simple.
If only 10 percent of those two million-plus SMEs buy a single cobot, that tallies up to an incredible 200,000 cobots! From just 10 percent of the addressable market! That's three times more cobots sold to The Three Sisters than Universal Robots has sold in its entire existence…worldwide.
Confidence can move mountains. These three countries, as the confidence meter ticks up, could move the entire cobot industry to a new level…over a very short period of time.