Never Better! Selling Robots, Cobots, Grippers, AGVs & Parts in China
SMEs pick up $9.7 billion in government subsidies; guarantees on $73 billion in loans over the next three years (to 2022)
"The biggest trend in manufacturing is that automation is irreversible."
—Forest Tian, founder, Dongguan Precision Intelligent Technology
Retooling China…from the ground up!
If you've got worthwhile automation tech for manufacturing or logistics, get it ready for sale to China. The tremors of massive sales that started seeping across China last spring (2017) are rising in crescendo. Sales of robots, cobots, grippers, AGVs, including parts for all that automation gear is entering boom time.
The statistical department at the International Federation of Robotics (IFR) may need a special division just to tally up what's going down in Asia, especially China—the driver behind it all. The IFR may need a chunk of AI and a wowzy automation algorithm just to make sense of it all.
The effects of the massive twin forces of "Made in China 2025" and the "Belt & Road Initiative" (both $1 trillion juggernauts) are beginning to show themselves in very tangible ways. From ports in Piraeus, Greece, to Hambantota, Sri Lanka, to railroads like the Thai-Chinese railway line that will link Thailand and China through Laos, Chinese hegemony into the ASEAN and west toward India and Europe is creating massive, new supply chains for China's goods plus massive future profits from loans. A double win.
Back home, "Made in China 2025" sees the central government and provinces pouring billions in subsidies into automation equipment, most notably industrial robots, robot parts, and machine-tool equipment. China is by far the globe's leading buyer of industrial robots (139,000 in 2017). Just entering the mix are cobots and AGVs. China's getting retooled, in a hurry.
 SME heaven
Now, even SMEs have landed a subsidy program. Caixin is reporting  the National Financing Guarantee Fund Co. is out with a new $9.6 billion package for bank loans to cash-strapped small firms and farmers. China's State Council has estimated that the fund will provide guarantees on over $73 billion in loans over the next three years (to 2022). All of which means that every factory or warehouse, no matter how small, can now buy subsidized automation. "The establishment of the state financing guarantee fund will support the development of small firms and the rural sector," reiterated assistant Finance Minister Xu Hongcai.
Further to the SME assistance: "The government will raise the threshold on annual sales for small-sized taxpayers to $700,000 from $70,000 for industrial firms and $117,000 for commercial firms, as part of newly announced value-added tax cuts…[and] lower the value-added tax (VAT) rate on manufacturing, transportation, and construction."
The next three years, through 2022, is a prime selling opportunity for cobots (only 3,000 sold in China in 2017), logistics robots and AVGs for hundreds (yes, hundreds!) of thousands of warehouses; and, even better, for automation vendors to make new, trusted relationships with the massive small-company engine that will drive China's future.

This is nothing short of a totally unprecedented move by China to retool the country from the ground up.
The three years to 2022 are also important because in 2022 it's time again for the next people's congress (the 20th National Congress) at which Xi Jinping has got to make face big time before this all-important national event. Plus, the previous February, Beijing will host the 2022 Winter Olympics (construction is well underway) during which the entire country will be under the media microscope.
In 2014, Xi put his personal stamp of approval on the country's "robot revolution", and 2022's 20th National Congress is his national stage to show how he's shaped and formed that revolution to better the country.
With automation equipment so critically needed, U.S. automation suppliers will, most likely, never have to bear the brunt of a profit-stealing tariff. EU vendors, many with established partnerships in China, as well as the Japanese and Koreans and their Chinese partners, are in for a very large payday.
While "Made in China 2025's" other lofty goals, like a world-class microchip fab or self-driving cars, are a lot further out than 2025, the robot revolution is a clear and present victory for the country. It's there and highly visible, and as such, as much as possible of it will be put on steroids to show the world.
Li Yuan, in a recent NYT piece, put it most aptly: "The ambitious state-driven plan to retool China's industries to compete in areas like automation, microchips and self-driving cars — is not being pushed just by the Communist Party's top leaders. Instead, the drive is also coming from the bottom up: from the businesses and cities across China that know they must modernize or perish."
The word perish is sobering, but that's just what's ahead if automation doesn't take hold across the country. That's why, Forest Tian, founder, Dongguan Precision Intelligent Technology, says "The biggest trend in manufacturing is that automation is irreversible."
Georg Stieler, from his decade-long perch in Shanghai (STM Stieler/Shanghai) sent along this chart where AGVs and cobots look to be readying for a superb next three years.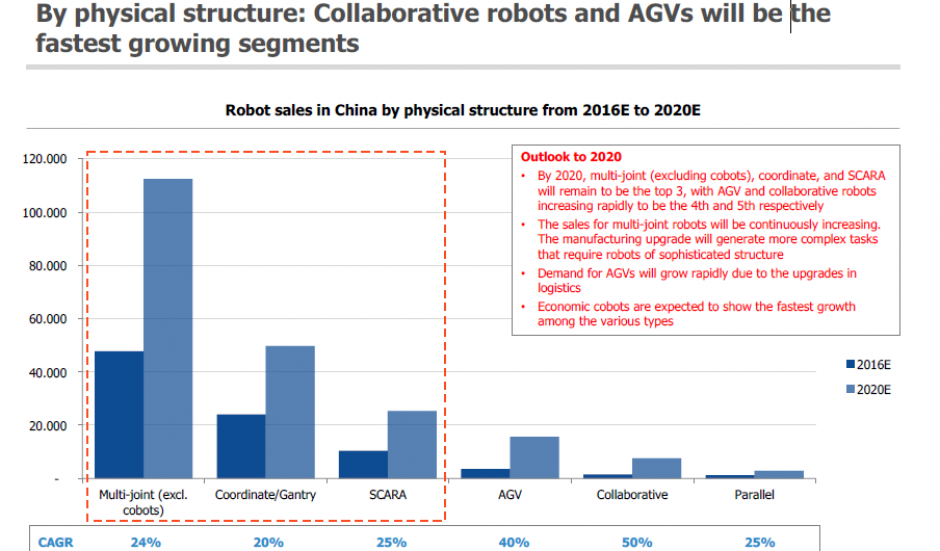 Here's Georg's take on robot parts, which since last spring, have been on a tear:
"The Chinese robotics industry is still suffering from a lack of powerful key components such as controls, servomotors, and reducers. Accordingly, an average of about 70 percent of the production costs of domestic robots is currently being passed on to foreign suppliers. Due to their comparatively low unit numbers, local robot manufacturers also have significantly higher purchasing prices than internationally leading companies. According to the plans of the National Manufacturing Strategy Advisory Committee, this is supposed to change in the foreseeable future as a result of the development of strong domestic suppliers. It remains to be seen how fruitful these efforts are."