Part One of a Two-Part Article on Southeast Asia's Brightest Futures
The Three Sisters: Malaysia, Vietnam & Thailand
Avoid the middle-income trap, max out productivity, prepare citizenry for transformation…or else!
"We have lagged behind and in order to catch up, we need to run faster than our competitors. It is like a marathon, while we pace ourselves, we still need to be several steps faster or we will be consistently behind," —Tun Dr. Mahathir bin Mohamad, Prime Minister of Malaysia
The automation imperative
Where's the best place in the world to sell cobots and cobot grippers? There's a place where there's no guesswork required and it's showing itself to be the globe's odds-on sweet spot for growing a mega-business with a mega-sustainable upside.
Investors and automation manufacturers have taken notice and are now headed there. More will follow, and very soon.
If you shade your eyes from the white-hot glare of mother China and look a bit to the south, a clutch of ten countries with a more-than-impressive addressable marketplace for all things automation begins to come into sharp focus. Southeast Asia—the ASEAN, the subject of a half-dozen, recent bright-eyed market studies and glowing forecasts, especially for cobots and cobot grippers.
In actuality, so few cobots have been sold worldwide to date that most market forecasts are highly speculative. Forecasters like Market & Markets, IDG, Loup Ventures and others, all well-respected for their numbers, have wildly differing cobot sales predictions.
Maybe a better sales predictor is to look for those places in Southeast Asia where automation is a must-have. Places that are desperate for a remedy to avoid the middle-income trap; places where the respective governments are now or soon will be pouring billions of dollars into automation to leap ahead into a hoped-for sustained prosperity.
All of which rules out North America and the EU (except for Eastern Europe).
North America and the EU will buy a bunch, that's for sure, but they have time to burn before automation becomes a critical must-have. Southeast Asia, on the other hand, has zero time to burn, and has absolutely no illusions as to what it must do to survive the blitz and to flourish.
The last country to escape the clutches of the middle-income trap was Korea. In 1960, Korea was poorer than Sub-Saharan Africa, but it wiggled and worked its way into a staggering success. Taiwan escaped as well.
The foot soldiers in Southeast Asia's war for automation are millions and millions of SMEs, small to medium enterprises, that will be enlisted to pull off the great escape.
The AK-47 that these troops will call upon for their assault on automation is the cobot. Forget about cages and hulking giants within and the burdensome cost of buying and maintaining them. Besides, most industrial robots are overkill for the type of automation that will be needed. Okay, then what cobot brand? Most likely the cheapest, simplest, most robust, most easy to use cobot will be the brand of choice.
If any splurging goes on at all, it will be on tools that enhance the productivity of the cobot, like smart grippers and 3D vision systems.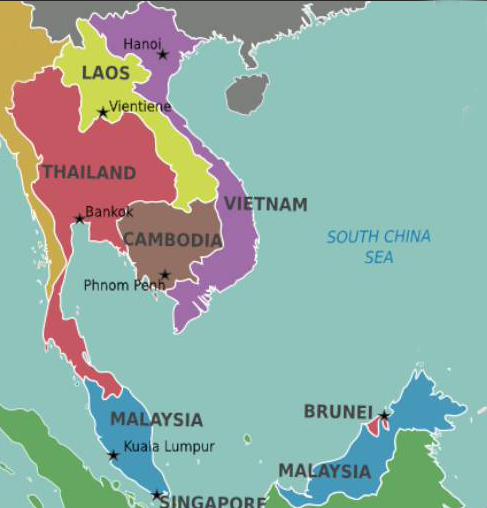 The three sisters
Of the ten countries that comprise the ASEAN, three stand out as having uncommon, near-term potential to emulate Korea's escape: Malaysia, Vietnam, and Thailand. Combined population 198 million; combined GDP $992 billion…and steadily on the rise.
Thailand and Malaysia share the Malay Peninsula; Vietnam is 800 miles across the South China Sea from East Malaysia's province of Sarawak, and it's a quick 450 miles by train from Vietnam to Thailand's capital of Bangkok.  The three share many of the same natural resources, as well as much of the same DNA for business and industry. In many respects, they are like three sisters living in different parts of the same house.
Sisterhood
Thailand has earmarked for automation its Eastern Economic Corridor, the size of Connecticut! Vietnam has a string of high-tech city states north to south from Hoa Lac to Ho Chi Minh City that are all clamoring for automation stardom. Then there's Malaysia with dense manufacturing on its Malay Peninsula, and then Robot City in East Malaysia, both of which are under the watchful eye of a new government that has rolled out an automation-friendly National Policy on Industry 4.0 a/k/a Industry4WRD, plus a $1 billion in starter capital.
All three of the sisters are on the rise as automation hubs and looking to bulk out their economies, and each sees automation and robotics as the means. As such, they are wide open for business. Each has introduced huge tax breaks and incentives to lure new industry and foreign direct investment (FDI) to their shores, which is something they have always offered, only this time there's a big difference.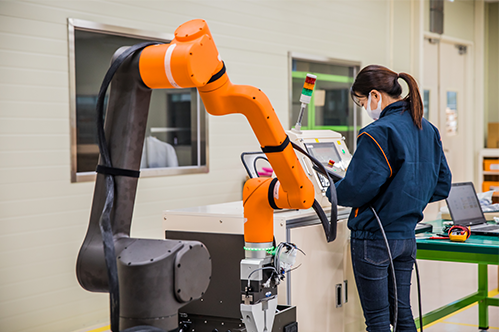 This time around, it's not just all about money; the future is on the line for each. Each must avoid the middle-income trap, max out productivity, prepare themselves to go digital, and prepare their respective citizenry for transformation. Timing is critical. It's now or never; each realizes it, and each is rolling out billions of dollars in investments and partnerships to get the ball rolling…and fast!
Thailand, the big sister, centrally located with massive infrastructure already in place, is ready to make the big leap with its 5,000-square-mile $45 billion Eastern Economic Corridor(EEC).
Younger sister, Vietnam, is a hardworking, overachiever that's still in need of critical infrastructure and modernization, but has pulled off remarkable strides over the past three decades. What the World Economic Forum calls the "Vietnam Miracle". Ho Chi Minh City is predicted to become the second-fastest growing "city economy" in Asia within the next three years; and Forbes has tabbed Vietnam as Asia's hottest investment destination. Vietnam still has a long road ahead, but the automation ball is rolling.
The middle kid is Malaysia, which also has the highest per capita GDP of $11k. The heavily industrialized Malay peninsula is a lot like big sister Thailand; while East Malaysia (population barely 6 million of the country's 37 million) is infrastructure needy, a lot like inland Vietnam. The new government of Dr Mahathir Mohamad launched the National Policy on Industry 4.0 known as "Industry4WRD — a four-pronged strategy to boost Malaysia's manufacturing sector via higher productivity, contribution, innovation and more high-skilled workers." To kick off the transformation process, the government has anted up $1 billion in assistance, and promises more to follow.
The sisters agree
There is one area in which all three sisters are in agreement: escape velocity from the middle-income trap will come from automating its SMEs. There are millions of of them in each country.
As the World Bank puts it: "SMEs account for the vast majority of businesses in developing economies and contribute roughly 40 percent of GDP, making them critical for economic growth, innovation, competitiveness, and entrepreneurship. SMEs also generate over 90 percent of net job growth in developing nations. This is especially important given estimates that emerging markets will need 600 million new jobs by 2030."
The developing scenario in Malaysia, Vietnam and Thailand is perfect for the cobot. The cobot is affordable, has an admirable ROI, can be deployed easily, is relatively easy to use even for the unskilled, and, tirelessly working around the clock, it can dramatically increase productivity over a short period of time.
Such versatility, price, performance and productivity are major reasons why so many forecasters tabbed the cobot for extraordinary sales volumes over the next decade.
We may yet see the heady numbers that forecasters are cramming into their line charts and bar graphs of what's to come.
If and when we do, the three sisters may well top everyone's charts for cobot take up and deployment.