Still filled 1,210 exhibit booths!
Chinese Exhibitors Down by 20% at CES2019, But…
Even when shaved by 20%, China's presence at CES 2019 is still crazily massive; and the body of work on display in Las Vegas, like UBTECH's humanoid robot, is equally remarkable
China's CES no-shows
Although Chinese no-shows at CES 2019 represent 20 percent of this year's list of exhibitors, China still filled 1,210 exhibit booths at the world's largest consumer electronics show. The number of China's no-shows is startling but understandable, given the queasy trade situation going on between the U.S. and China these days. However, 1,210 is still an eye-popping 25% of all CES 2019 exhibitors.
It's a number that gives pause to the quick rise of China's technology over the past three decades. 25 percent is an enormous number.
CES 2018's directory saw China with over 33 percent of all exhibition booths.
Jeffrey Towson, an investment professor at Peking University, thinks the obvious for the surge in no-shows, given the ongoing trade war: "Chinese companies want to [maintain] a lower profile in the United States, at least for a couple of months."
He may well be correct with his "couple of months" remark. By July, probably sooner, the trade war might well be a memory. The tipoff that trade peace might be imminent came a month back in December when China bought 1.2 metric tons of U.S. soybeans.
Quantity and quality
The world's factory that routinely produces goods for all manner of international clients is also quite capable of producing great tech for itself. Although China's exhibit booths sport a fair amount of questionable tech toys, there's no schlock. In fact, some of the tech is unmatched anywhere on CES's two million square feet of exhibit space.
One such gem was Walker.
Braving the discomfort felt by so many others from the Chinese tech scene, Walker, a bipedal humanoid robot from Shenzhen-based UBTECH (founded 2012), showed up sporting a remarkable transformation from its first-ever CES reveal in 2018.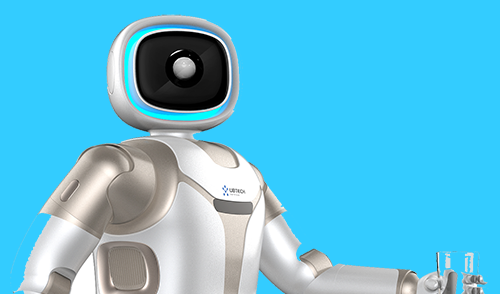 Walker's new look was an eye-catching advance over its former self (see Walker video). At CES 2018 we saw Walker as an armless, handless, and torso-less 80-lbs. bot gingerly walking on Asimo-type legs. Japan's bipedal humanoid, Asimo, after a decade of development, retired in 2018, with a parting Gizmodo obit titled: RIP Asimo, You Useless Robotic Honda Ad. Nuff said.
So, is Walker a Chinese Asimo?
Not really. Walker is no Asimo clone, even though when it walks around it definitely gives off an Asimo-type vibe.  The big difference is in the intent of its maker. UBTECH, unlike Honda, is grooming Walker from the git-go to be a household pal. As such, it looks very much to be on an evolutionary trajectory that will bypass Asimo's underwhelming decade of never really making it out of the development lab stage. Asimo, even as a teenager, never made it to market.
John Rhee, SVP & GM of UBTECH Robotics North America, is bullish "UBTECH, he boasts, "is on a multi-year mission to bring robots into every home and business by making them more intelligent, personal, and human-like in every way."
There's something special about arms
For CES 2019, Walker has returned sporting arms, hands, a torso and a head…and a weight problem; the machine has ballooned up to 170 lbs. More than double that of its armless predecessor. Sans arms, Walker also had a balance problem if turning too quickly, which now seems to have been corrected. Maybe the arms help with balance, just like they do with humans.
The UBTECH PR release puts it this way:
"Walker is your agile smart companion—an intelligent, bipedal humanoid robot that aims to one day be an indispensable part of your family. Standing 4.75 feet (1.45 m) tall and weighing 170 lbs. (77 kg), the new version of Walker is more advanced than ever, including arms and hands with the ability to grasp and manipulate objects, a refined torso with improved self-balancing, smooth and stable walking in difficult environments, and multi-modal interaction including voice, vision, and touch. Walker has 36 high-performance actuators and a full range of sensing systems that work together to insure smooth and fast walking."
First off, humanoids have lots of moving parts, maybe too many. The above description is daunting; and it's easy to see why Honda finally jettisoned Asimo, and why so many other robot builders avoid them entirely. Just building a good pair of legs is herculean.
Engadget's Richard Lai spends some time with Walker at CES2019
Sure, Boston Dynamics has Atlas, which does back flips and runs, yes runs, through neighborhoods or strides snowy woods. However, Atlas will never be in anyone's home, although it may end up on everyone's battlefield.
Boston Dynamics' founder and CEO Marc Raibert, when asked about the robot's cost, replied north of $1 million, but not quite the $2 million. That might be a bit too pricey for most living rooms.
The trick is to make an affordable humanoid robot, as Rhee says: "to bring robots into every home and business by making them more intelligent, personal, and human-like in every way."
Softbank's Pepper sells out whenever offered at $1600, with a mandatory subscription contract that includes a network data plan and equipment insurance. This costs $360 per month and, over 36 months, brings the total cost of ownership to over $14,000.
SONY's Aibo robotic dog, which has a large, devoted following, will sell in the U.S. for $3,000. "Sony says it has already sold over 20,000 Aibo units over a seven-month period."
Although bubbly about all that Walker is and will be, UBTECH is mum when asked about Walker's pricing.
Seems like the consumer sweet spot is between $3,000 to $14,000. With UBTECH looking to upgrade Walker with a bit of artificial intelligence, the price may well head north from where ever it is now.
Putting price aside 
UBTECH is not out hawking the robot; it's content to continue its "multi-year mission" of mastering the development process, and is well aware of Honda's over indulgence with Asimo for over a decade.
That a small, youthful company like UBTECH, which is not a Honda or a SONY or Boston Dynamics (now owned by Softbank), has taken on such a formidable challenge is admirable.
UBTECH does sell other robots to pay the rent and keep its employees happy: Alpha, Jimu and Lynx are toy-sized robots and STEM kits for youngsters (prices range from $120 to about $500).
It also sells a service robot (recently repackaged) called Cruzr, which will soon be available for sale (2019). Price, unknown.
The company is valued at $5 billion. That's a lot of STEM bots for youngsters!
Investors must also certainly believe in UBTECH's mission. In May (2018), UBTECH scored a massive $820 million Series C investment round. "The round," according to CrunchBase, "led by Tencent and a whole slew of other investors, follows a $100 million Series B and $20 million Series C."
That's nearly a billion dollars of belief that UBTECH can pull it off.
Thirty years ago, UBTECH's hometown of Shenzhen was a fishing village; today its 12 million inhabitants put out over $330 billion in GDP (2017), which easily tops the GDP of Denmark. Walker is one of Shenzhen's newest citizens, and if successful, could well add to the city's fabulous bottom line.
To watch Walker tentatively maneuvering around a tradeshow booth at CES, it's easy to see that it wouldn't last a day in most anyone's living room. It needs to get taller, lighter, quicker, more adept, and smarter. Prime time is still a ways off.
But, it's also easy to see the machine's potential. There's a ton of valuable, high-grade IP beating under its robot skin, and UBTECH is determined to use it to full advantage to evolve Walker to the point where any living room is a comfort zone.
James Zhou, UBTECH's CEO promises to use all of its new-found investment millions to get Walker into those living rooms as soon as possible.
Many thanks to Walker for showing up. …You've grown.
What about CES Asia?
If 20 percent of China's high-tech companies pull a no-show in Vegas for CES 2019, what's in store for CES Asia (June 11-13, 2019, Shanghai)?
Think, soybeans.