Isn't Global Robotics 2020 Already Here?
Industrial robot sales and deployments, AI/robot convergence, the Asian GDP forecast, and a look at a big year ahead for cobots in China
"By 2020, China is predicted to spend $60 billion annually on robots,
accounting for half of all spending in Asia-Pacific."
—
International Data Corp.
(IDC)
Let's skip 2019, OK?
As TechCrunch said this week: "For now, at least, it seems that even a looming trade war with China can't stop the inevitable rise of robotics and automation— it could, however, serve to hamper its growth."
Even more so with Asian automation.
See: When Automation Is a Way of Life
If you are a robot these days in East Asia, the guns of the trade war are booming far off, for the most part.
Sure, some robot manufacturers are watching in agony as their balance sheets droop. They got addicted to sky-high profits beginning in the spring of 2017, and now any downturn, even a slight one, is cause for major withdrawal symptoms.
Even before the trade war arrived, cell phones were going soft. A new wave of cellphone innovation will soon enough reignite the world's love affair with the teeny screen, and soon enough assembly factories will crank up again to put them together, only this time around most won't reside in China.
Supply chains will have moved south and west; and FANUC's robodrills will head out to assembly plants in Vietnam, Indonesia, and India. And why not, India has 530 million mobile users, with growth an incredible 36 percent. Foxconn and Pegatron are on the move. More will follow. Spreading things out across Southeast Asia makes sense; no one want to get trapped again in a box canyon.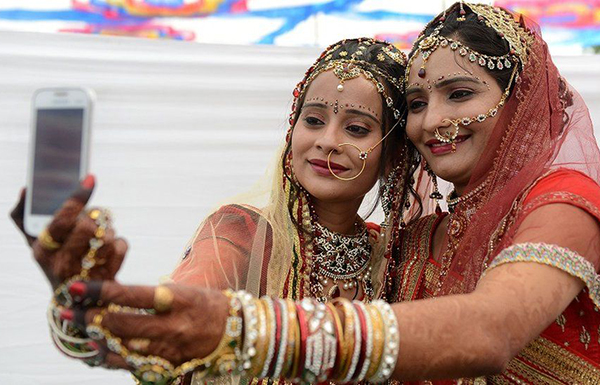 However, the really big secret is out of the bag: the U.S. will now use trade war threats as a geopolitical cudgel. "Hey, cool it in the South China Sea. Otherwise, it's trade war time all over again."
And even that won't stop Asian automation or China's pursuit of: Made in China 2025.
"By 2020, if recent trends continue, three of the five largest economies in the world–China, India and Japan–will be Asian, and there will be more middle-class consumers in Asia than there will be in America and Europe combined."
—Dr. John Lee, foreign policy fellow at the Center of Independent Studies

What there is of the trade war by July 1st will be minimal. It will, of course, keep everyone on edge throughout 2019. So why not skip right into 2020?
Happy days for sales
It's a new year with the same amazing robot rocket ride that hung tough throughout 2018. Robots are blasting toward another record-setting go of it for 2019…especially in Asia, and very especially in China.
Yes, pinch yourself and get ready for more—much more.
Statisticians at The International Federation of Robotics (IFR) are busy  forecasting 3 million industrial robots in operation worldwide by 2020, with, and get this, 1.9 million of them in Asia, with 950k of those on the job in China.
Between 2018 and 2020, China will nearly double its robot population, which adds up to some 15,000 robot purchases every month for two straight years. Happy days for sales, indeed.  …And for robot parts as well!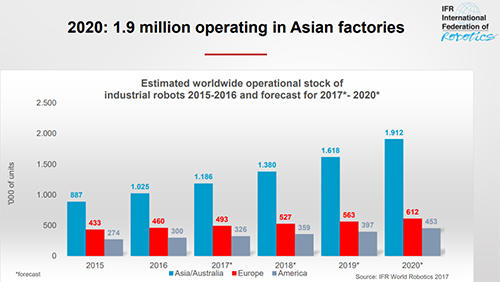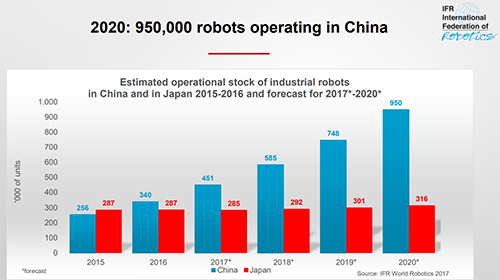 Intelligent machines up next
With artificial intelligence (AI) about to leap headlong into bringing smart IoT to Industry 4.0, robots, zapped with a bit of AI, will evolve from machine versions of Homo habilis to something closer to Home sapiens-like capabilities.
Going forward, robot density comparisons, will tilt toward "smart" industrial robots per 10,000 workers. Dumb robots will suddenly be history. Welcome to Industry 5.0!
Smart robots will, of course, cost more, but will offer solid advantages in process performance and productivity. And it's not totally clear yet if the robot or robot gripper will be the seat of all of this new-found machine intelligence.
Martin Hägele, Head, Robotics and Assistive Systems at Fraunhofer IPA tabs the gripper as the winner: "Robotic arms will become commodities and end-of-arm devices will control the whole system. The end of the robot arm is where all the action is — the sensors, cameras, handling devices and the item to be processed. Times have changed from when robots were blind and being fed by expensive positioning systems; the end of the arm is where all the action is at."
Well, that's how Mother Nature handled the brain and hand as a working combo, so maybe Hägele is correct.
Technology Review devoted the better part of an issue to the impending convergence of AI and robots, saying: "Combining the latest advances in artificial intelligence with robots could transform manufacturing and warehousing—and take AI to the next level."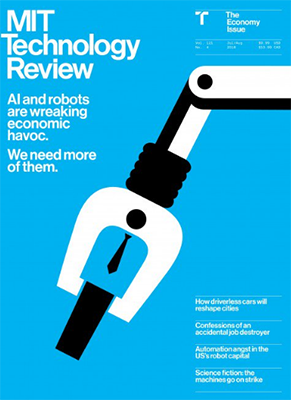 Yann LeCun, Facebook's chief AI scientist, says the Review, "wants AI to do more than just see and hear; he wants it to reason and take action. And he says it needs a physical presence to make this possible." Hence, merging ith a robot.
"A lot of the most interesting AI research now involves robots," LeCun says. Look for 2019 to explore this AI/robot convergence more deeply.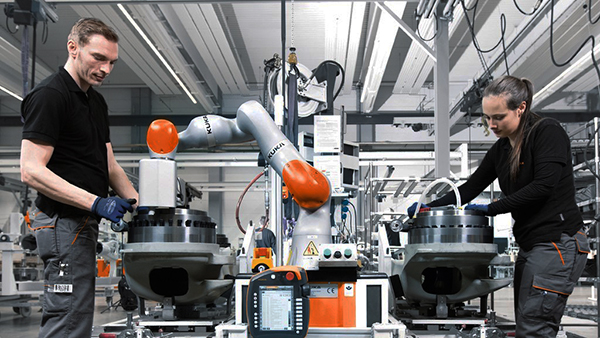 Global deal share
US robotics deal share in 2018 is more than half the deals: 52 percent. Japan, as would be expected as the Emperor of All Robots, scooped up a legit 21 percent. China, with its 16 percent share, is creeping up on 20 percent. The real question here: What the heck are the UK and France doing with their 4 percent shares? Sadly, both are falling way behind in robotics development.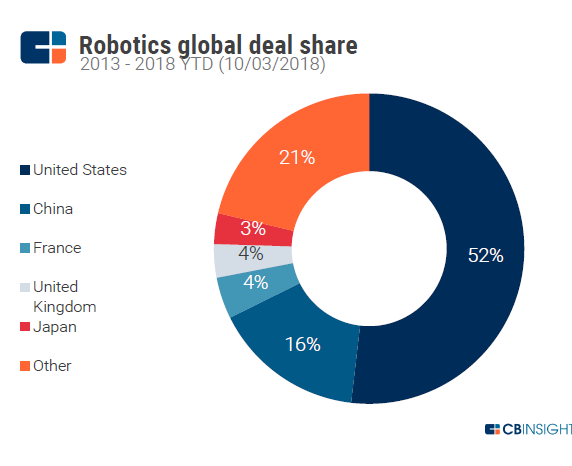 Here's the why: Labor savings
Labor-cost savings from the adoption of industrial robots is beginning to show up with impressive numbers. Greater labor-savings will accelerate in the 2019 to 2020 time frame. Here are the 13 countries to crack the 10 percent level (average global labor-cost savings was ~16 percent).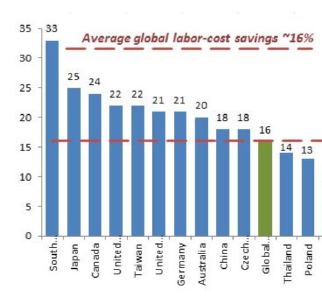 Asian and global GDP 2018 & 2019
The International Monetary Fund (IMF) recently released its numbers for year-end 2018 and its outlook for 2019.
In its Asia-Pacific outlook, the IMF forecasts the region's economy to grow 5.6 percent for 2018, but lowered its global growth forecast for this year by 0.2 percent, to 3.7 percent.
"But as U.S.-China trade tensions take more of a toll, Asia, which accounts for more than 60 percent of global economic growth, will begin to suffer like the rest of the world. Because of this, the IMF cut its 2019 growth forecast for Asia by 0.2 percent from its April outlook, to 5.4 percent."
The IMF's 2019 previous global forecast of 3.7 percent was also cut by 0.2 percent to 3.5 percent.
China: Robots need low-cost champion
Robot-driven automation is running at a mind-boggling pace, but it could be doing better. The price of robots claims the China Beige Book is tapping at the brake pedal of transformation.
According to Engineering360: "The price of industrial robots [in the US] has dropped more than 25 percent since 2014, and is expected to drop an additional 22 percent by 2025.
"Today, an industrial robotic arm can cost anywhere from $25,000 to $400,000. When looking at the cost of an industrial robot system, other peripherals like controllers, a teach pendant, end of arm tooling (EOAT) and software must be considered as well. Once these application-specific peripherals are added, total system costs could double."
A 6 axis, 6kg capacity robot arm from China's HWASHI Technology is selling new on Alibaba for $18,000; that's 125,000 yuan, and with add-ons that price could easily double.
Even with the central and regional governments pumping billions of dollars into robot subsidies, many manufacturers, especially SMEs, are balking at the cost of robots, reasons the China Beige Book.
Success, but more slowly for the automation revolution is how the China Beige Book sees the unfolding situation in manufacturing between automation and labor.
Although there are fewer factory workers around (on the east coast), wages are higher (on the east coast), and many producers are moving west to seek lower-wage cities, manufacturing employment is still high and growing.
"We haven't picked up any large-scale slowdown in manufacturing hiring growth," says Shehzad Qazi managing director of the China Beige Book. "As a matter of fact, manufacturing hiring growth remains far above the levels seen two years ago."
"These trends suggest two things about the current labor market. First, it is manufacturing, not services, that has been driving employment in recent months…There is definitely a reluctance to move away from the old growth model as rapidly as China probably needs to."
Lin Jiang, professor of economics at Sun Yat-sen University (Guangdong), sees the issue being one of price. Robots are expensive…even with subsidies and easy credit.
"For lower-end products, factories may prefer to use a lower-tech production style to save costs," explains Lin. "Despite the fact that China's labor costs are six times higher than 10 years ago, workers are often still cheaper than robots."
Manufacturers, especially SMEs, are reluctant to make the jump because of cost.
To wit, whosoever can produce a low-cost, quality industrial robot with a decent service life and a reasonable ROI will totally crush the market in China. Over two million factories and hundreds of thousands of warehouses await.
The buyers will be happy, as well as the governments both central and regional.
Enter cobots
Incredibly, only 3,000 cobots were sold in China in all of 2017; 2019 might well be the year that cobots arrive in China in a serious way.
"Collaborative robots are taking off in industrial applications, driven by customer demands for product quality, delivery, and mass customization," says Dr. Jing Bing Zhang, research director, IDC Worldwide Robotics.
Dr. Zhang reasons that cobot safety is now a given. It's expected that cobots are safe, and as such, safety is much less of a selling point. "While being safe is the prerequisite for any collaborative robot," says Dr. Zhang, "the market is already shaping the development of collaborative robots towards simplicity, smartness, and ease of redeployment."
The major downside for any cobot manufacturer: Capacity. No cobot manufacturer has the capacity to sell into or to service this gargantuan market.
Hint: If Toyota (which owns 25% of Denso) started manufacturing cobots, it would literally own the Chinese market…as well as every other cobot market worldwide. Toyota already has showrooms all over the globe capable of demoing cobots to interested SMEs. Plus, every happy buyer of a Toyota cobot just might look kindly at the purchase of a Camry for the family.
Hey, who knows, stranger things have happened. The important thing is that these days life is good for robotics…and 2019 looks like more of the same.
The real fun is rolling in on the wings of a new decade: 2020.