This new workplace is constantly changing
"The workplace automation of the last century is rapidly being augmented and replaced by intelligent self-learning systems driven by cloud computing, breakthroughs in sensor technology, and creation of new algorithms that harness the power of "Big Data."
"Technologies are emerging that enhance human capabilities and allow workers to provide a wider range of services remotely and with greater efficiency.
"This new workplace is constantly changing, increasingly uninhibited by geographical boundaries and inspired by the arrival of robots and new technologies previously available only through the pages of science fiction."
"Predictive analytics and big data are used today in many industries.
This presents questions of privacy, discrimination, displacement,
and the entire range of workplace laws."
—Garry Mathiason, Co-Chair, Robotics, Artificial Intelligence (AI), and Automation
practice group  (Littler)
New kinds of risks
"As new technologies emerge and innovation continues to outpace legislation, a number of employment law issues will be tested and whether employers are in compliance with employment laws will have to be answered in the future.

"For example, the use of sensor technologies, cognitive computing, and telepresence, particularly when adding big data to the mix, create new kinds of potential discrimination, workplace safety, and privacy risks for employers.

"Sensor technology contained in telepresence or telemanipulation technologies that capture personal data may violate state privacy rights. In support of wellness programs, employers may require employees to use smartphone applications, like MyFitnessPal and Azumio, to track their medical information, such as blood pressure, weight, heart rate, activity counters, and stress levels."
"More of the labor currently outsourced abroad can return to the U.S. as the cost of this technology continues to decrease."               
 — Natalie Pierce, Co-Chair, Robotics, Artificial Intelligence (AI), and Automation practice group (Littler)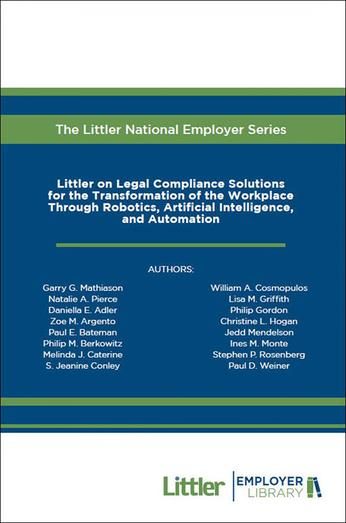 This title in the Littler National Employer Series, published by LexisNexis, provides practical information every practicing attorney or human resources professional needs to know about the federal guidelines surrounding Robotics, Artificial Intelligence, and Automation.
Topics include:
Job dislocation and creation;
Labor unions;
Tax implications;
"On call" employees; and
Remote and "crowdsourced" workers.