Will ABB's Robots Contend for the IIoT Crown?
Will great support tech, money, a new boss, and AI be enough?
After dodging a bullet, now what?
These days ABB Group is very pleased with its decision not to dump its robotics division back in 2009 when it suffered from $300 million in operating losses.

Instead, it hired an ex-Roland Berger consultant, Ulrich Spiesshofer, to try to turn the division around. Spiesshofer turned robotics around in a very big way, and was rewarded by being given the reins as chief executive to all of the Swiss/Swedish conglomerate's divisions in 2013.

That was back in 2013 when robotics and robot-driven automation were just beginning to show themselves as the de facto heirs apparent to the future of all manufacturing.

Four years on, robotics is disrupting every industry, while robot manufacturers, ABB included, scramble to ensure that their machines are the kingpins of the Industrial Internet of Things (IIoT), Factory 4.0 and the Fourth Industrial Revolution. "Robotics is a rock star in our portfolio," commented Spiesshofer, in a  2016 Financial Times interview.

ABB Group dodged a bullet with the hiring of Spiesshofer, and he showed why he's worth every penny of his $9 million annual salary.

He expanded ABB's range of robots, made them more intelligent, pushed for a line of new-age cobots, and decreased ABB's historical dependence on selling to automakers.

Of course, all of that merely got ABB back to the starting line in decent shape to begin the real race to the aforementioned future of Factory 4.0 et al.

Can ABB pull off the success it seeks? ABB has launched Stage 3 of its so-called "Next Level" strategy, saying it wants to "cement ABB's leadership in the Fourth Industrial Revolution."

Mirror, mirror on the wall…
Since 2016, ABB has reorganized itself into four operating units: As of January 1, 2016, ABB streamlined its operations and organized under four divisions: Power Grids, Electrification Products, Discrete Automation and Motion, and Process Automation.

In 2016, orders fell by 5 percent to $33.4 billion, which was $2 billion less than the year before and near $8 billion less than 2013. In the three months ending 2017, orders fell 8.4 percent (9 percent lower in dollar terms compared with a year earlier); orders fell 17 percent in its Power Grids division. Needless to say, shareholders, especially activist investor Cevian Capital (6.2 percent of ABB's stock), were unhappy with those numbers.

It's becoming increasingly evident to everyone at ABB that the future belongs to the Discrete and Process Automation divisions (motors, generators, drives, power electronics and robotics; and integrated control products and systems). In short, automation products and solutions that increase industrial productivity and energy efficiency.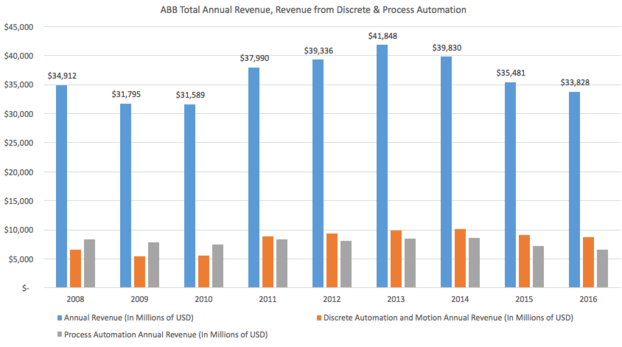 Those divisions, according to Reuters, "accounted for 45 percent or about $15.3 billion of the revenue in 2016. In fact, automation has consistently accounted for over 40 percent of the revenue since 2008."

Going forward, much more can be wrought from ABB automation as the Industrial Internet of Things and Factory 4.0 crank up the intensity. But to do so, ABB will need to expand more broadly.

According to Per Vegard Nerseth, managing director at ABB robotics, the company's global robotics footprint is skewed toward Europe (59%); Asia (23%) principally East Asia; and the Americas (18%).

The two largest economies on the planet, two major zones of enormous, future IIoT activity, are basically underserved by ABB robotics. Likewise are Southeast Asia (principally the ASEAN), and then of course, India.

That's a first-class formula for making yourself irrelevant in the robot revolution.

For ABB, the Americas seem to be wide open to automation initiatives; Asia less so, except for the ASEAN and India, which are wide open for any automation vendor with a good plan, emphasis on good.

To help ensure that it's a leader in automation, ABB poached Siemens executive, Sami Atiya, to serve as new head of the Discrete Automation and Motion Division. Reuters reports that on Atiya's shoulders rests the resurgence of an "automation division, where profit margins have shrunk amid sluggish demand for the unit's motors, drives and factory robots."

Not done poaching, ABB grabbed up Nokia CTO, Guido Jouret, as its first-ever chief digital officer. Jouret was also former general manager of Cisco's Internet of Things division.

With sales from products that are digitally enabled now driving half of ABB's annual sales, launching a chief digital officer position makes sense.

The Americas: Huge opportunity
The Americas, all two continents of it, are without any indigenous industrial robot manufacturers actively cranking out industrial robots anywhere from Baffin Bay to Tierra del Fuego. So, incredibly, much of Factory 4.0 in the Americas will be worked by imported robots or by a foreign maker with a robot factory somewhere in the New World, more than likely in the United States.   

So what does Spiesshofer do? He builds an ABB factory in Auburn Hills, Michigan. It's one of three for ABB, together with factories in Shanghai, China, and Västerås, Sweden. Auburn Hills is "the first of the major industrial robot companies to fully commit to an American manufacturing footprint."

Another smart move by Spiesshofer: He made instant friends in Washington and in the end-user community.  Plus, he's positioned ABB to make a little money along the way. Fueled primarily by Factory of the Future initiatives in the U.S. and China, ABI Research is forecasting "Industrial Robot Revenue Will Nearly Triple by 2025…to Nearly $45 Billion." Emphasis on, "fueled" by U.S. and China. 
ABB's move is reminiscent, of course, of Honda's auto plant experiment in Marysville, Ohio, in 1982. Today, this Columbus, Ohio, Business Journal headline says it all: "Japan's big 3 automakers built more cars in U.S. than Detroit 3 last year [2016]." Back in 1982, research studies cautioned Honda against building in the U.S.; Shoichiro Irimajiri, who became president of Honda America, said Honda went with its gut and not with the advice from a research evaluation. Honda now has 26 manufacturing plants in the U.S.

This March, ABB's U.S. plant sold its first robot, an IRB 2600, to a factory in Greensburg, Indiana. That factory: Hitachi Powdered Metals USA. Japanese! Will robots follow a similar trajectory as Japanese cars? If so, Spiesshofer will be done up in bronze outside ABB's Zurich headquarters.

Asia: This ain't gonna be easy
Asia presents a different situation. It's resident to two powerful competitors:Team Japan, made up of FANUC, Cisco, and Rockwell Automation; and Team China, made up of KUKA, Huawei, and ZTE. Each of these teams enjoys the total confidence and support of their respective countries, Japan and China.

See related: FANUC-Cisco vs. KUKA-Huawei: Race to the Factory of the Future

This could become a clash of three titans over Asia, or get ABB marginalized in a hurry. KUKA, having been acquired by China's Midea, will undoubtedly be anointed as the vendor of choice in China, especially for China's vast 250,000 state-owned enterprises (SEOs). In fact, all of East Asia (China, Korea, Japan and Taiwan) would be tough going for ABB.

Southeast Asia and India are quite another story.

First comes the relationship
Building a trusted relationship is key to selling anything anywhere; in Asia it's absolute. Smartly, robot vendors know their markets and are beginning to build relationships throughout the ASEAN and India.

 ABB established a Robot Application Center in November (2016) in the Bangpoo Industrial Estate outside Bangkok. KUKA is building a sales network in Thailand and Vietnam. Yaskawa spent several million dollars to open a product exhibition center in a Bangkok suburb in October (2016). FANUC has opened sales and customer service sites in six countries in the region, including Thailand and Malaysia.

Omron built a product demonstration facility in Thailand where some 50 engineers are available to propose plans for robotics-based manufacturing lines for potential customers (prospective customers since Omron's October launch have jumped 120%).

The Nikkei Asian Review points out that "Many of the corporate visitors to the centers have never used robots before." What an opportunity to build trust, to teach, and to sell!

As for added smarts: ABB operations manager in Thailand, Chaiyot Piyawannarat, says ABB also helps clients develop computer programs for using robots efficiently and to build production systems incorporating robotics.

For India, according to an interview Spiesshoffer had with India's Economic Times: "ABB plans to make India a hub for exports to Asia and Africa, and locate more global functions related to engineering and R&D in the country, which is a 'key lever of competitiveness' for the Swiss engineering group."  

Convergence of OT and IT…with AI
Spiesshofer, well aware of what's happening on the global manufacturing front, made three adroit moves beginning in 2016, each designed to give the robotics division that he saved in 2013 a fighting chance for success in the world's factories. And just maybe, in the process, he'll transform ABB into a successful end-to-end provider of automation and robotic technologies.

He added a partnership with Microsoft's software, networking, and Azure cloudto help connect up ABB's 70,000 installed systems and some 70 million digitally enabled devices.

To serve as a Big Brother eye into all the workings of those devices, systems, and networks, he added layer of artificial intelligence (AI) via IBM's Watson.

For its strengths in factory automation through its programmable logic controllers (PLCs), industrial PCs and servo motion products, ABB acquired the Austrian industrial automation company Bernecker & Rainer (undisclosed price).

Spiesshofer says that "Strategically, this is probably the most important deal ABB has ever done." That said, the price must have been quite steep.

The logic behind his moves is inescapably good: He's neatly tied together Operational Technology with Information Technology with an overriding AI intelligence to extract data that will learn from and then guide everything that goes on in a factory.

Gustavo Sepulveda, the general manager of robotics at ABB's Auburn Hills operation cogently explains the where and why behind all of the IIoT integration:

"As manufacturing moves from mass production to mass customization, the flexibility to efficiently change and adapt production becomes critical.

"This requires increased collaboration between people and robots, between islands of automation, and even between production sites. It also demands simplification to reduce programming time and provide intuitive human-machine interfaces, which allow manufacturers to seamlessly accommodate numerous products on a single system.

"Digitalization ties it all together, where actionable information drives better decisions and helps manufacturers unlock the benefits of the Industrial Internet of Things, increasing productivity, flexibility, and efficiency along the manufacturing value chain."

Okay, Spiesshofer has now maneuvered ABB to the starting line, so let the games begin. This could get interesting.