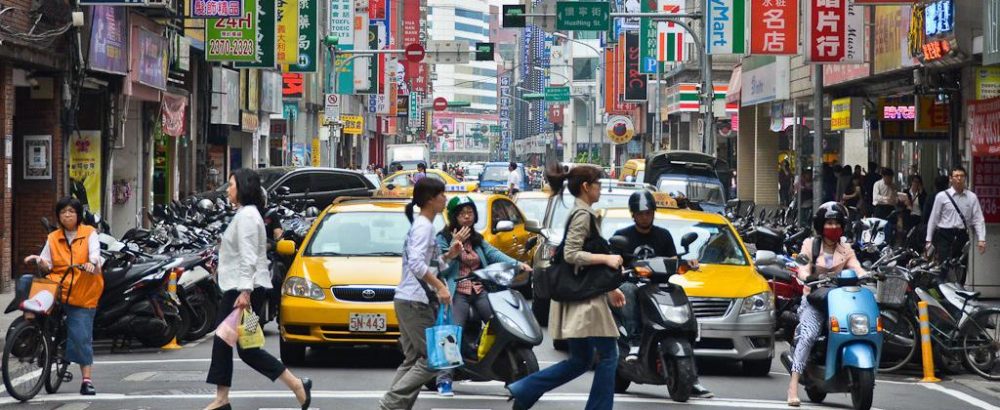 Taiwan: What Have You Done to Yourself?​
Is a return to China this island nation's best and only solution for the future?​
"​Today, 400 miles across the Taiwan Strait in Kunshan (Jiangsu province), China, there are 4,800 Taiwanese companies,
which contribute to over 60 percent of Jiangsu's $ 1.093 trillion GDP."  What's up with that?
Taipei, we have a problem
Although Taiwan's government and a majority of its people vehemently dismiss any notion of rejoining China, from the looks at how weakly it is preparing for its future, the reality is that it makes rapprochement with its giant neighbor all but inevitable.
If Taiwan can't ramp itself up to robot-driven automation and the Factory of the Future movement that's everywhere in East Asia, it will leave itself no choice. 
If by 2049, the one-hundredth anniversary of the People's Republic, Taiwan is not reasonably self-sufficient in the Fourth Industrial Revolution, then celebrations for the PRC's 100th may well be taking place on the streets of Taipei.
Here's a view of how Korea, Japan and China are growing while Taiwan is in parts unknown:
See related:Korea Adds Robotics to Smart ASEAN Strategy
See related:Japan Races to the Factory of the Future
See related: China Races to the Factory of the Future
The big decline
Taiwan's present-day manufacturing discomfort was self-inflicted back more than a decade ago when the "Economic Development Advisory Conference (EDAC) in August 2001…decided to allow 7,078 industrial items to be manufactured in China, including computers."
As Huang Tien-lin commented in 2012 in the Taipei Times: "This was the beginning of the decline for Taiwan's domestic investment and of falling wages."
Today, 400 miles across the Taiwan Strait in Kunshan (Jiangsu province), China, there are 4,800 Taiwanese companies, which contribute to over 60 per cent of Jiangsu's GDP."
Those same 4,800 companies also toted along with them their intellectual property, trade secrets, manufacturing expertise, and innovation skills.
Now that workers are making higher wages in Kunshan, those same 4,800 companies are getting fast about replacing people with robots. Foxconn, a Taiwanese company, sent 60,000 Kunshan workers packing in June. More are soon to follow.
Worse still for Taiwan, each year, 20,000 to 30,000 young, Taiwanese white-collar workers leave Taiwan for better prospects abroad, most head to China.
Taiwan is weakly countering that massive brain drain by hiring 2,000 foreigners annually at an overall cost of $95 million. "Meanwhile, Taiwan's population is ageing. Last year, its labor force grew a minuscule 0.9 per cent."
Kao Shien-quay, deputy minister of Taiwan's National Development Council, said "Different countries are poaching from Taiwan, using it as a talent bank. The most voracious is China, where the leaking of commercial secrets has emerged as an issue."
"The Kunshan government's publicity department proudly announced, "Thirty-five Taiwanese companies, including Apple's supplier Foxconn, spent a total of $604 million on artificial intelligence [AI] last year."
That's almost as much as the present Taiwan government is pledging to spend ($1.12 billion) on all of  its newly launched (2015) Productivity 4.0 plan over a span of nine years! Compare the one year to nine years.
Sadly, back in 2001, it looks like the Economic Development Advisory Conference (EDAC), in one swift vote, mortgaged away both the nation's manufacturing and the future of its children.
Few countries, especially small ones like the 23 million people of Taiwan, ever recover from such a calamity.
A decline that gets ever worse
With so much of its manufacturing capability now in China, it makes it difficult to impossible for Taiwan to sustain itself and recover from even little dips in its economy, let alone the major ones that it has experienced lately.
Like these of late (from Nikkei Asian Review):
In the past there months, 13 out of 19 Taiwanese tech companies suffered a 21 percent year-on-year drop in profit, or a fall of around $1.03 billion.
Combined revenue of those 19 companies fell 3.23 percent on the year in July, with around half reporting sales declines of over 5 percent.
Foxconn's shares declined nearly 4 percent…as the market reacted to the news that Foxconn's net profit had plunged 31 percent to $559 million for the April-June, marking a third straight quarter of dropping profits and the lowest quarterly profit in three years.
Taiwan's Adata Technology, the world's second largest manufacturer of DRAM chips will begin making electric motors for drones and automobiles because of "a plateauing personal computer market and the contraction of Taiwan's DRAM sector."
Quanta Computer, the world's biggest notebook and personal computer assembler, said cloud computing and data centers will be the most important growth driver for the Taiwanese company to offset headwinds in the PC market and meager profits from Apple orders. Apple contributed $31.9 billion last year to Quanta's revenue.
All of the points from above swirl around a looming problem of Taiwan's historic concentration on hardware, especially IT and communications technology (ICT) parts manufacturing.
Liang Kuo-yuan, chairman of the Yuanta-Polaris Research Institutein Taipei, says "Taiwan's giant high-tech industry is too keen on hardware, while consumers want software applications. The $131 billion sector traditionally makes PCs and other gadgets on contract for foreign developers.
 "He says the position that Taiwan's electronics industry has pursued within the new ICT ecosystem is incorrect. Liang says that means the industry is too concentrated on the hardware segment, because now the premium parts across most of the ICT sector are in software applications. Liang says we haven't grasped that segment."
All of which means that the boys from the likes of Quanta and Adata in Taiwan got it all wrong as to what's happening, meanwhile similar Taiwanese firms sequestered in Kunshan did get it, and then acted. Robots are lining up in China to go to work for these Taiwanese manufacturers.
Make it or break it time has arrived
Taiwan's Productivity 4.0 initiative looks very shaky.
In 2015, the then Taiwanese President Ma Ying-jeou launched his government on a $1.12 billion effort (to be spent over the next nine years) as part of Productivity 4.0, a project to elevate Taiwan's status in the global supply chain.
The proposed $124 million annually for nine years is woefully inadequate in correcting the manufacturing catastrophe that has befallen the island. In fact, $1.12 billion per year would be inadequate.
Secondly, accomplishing anything meaningful for Factory of the Future that would help Taiwan can't be stretched out over "nine years". That's a timeframe of 2025 that will make the island only minimally in play in East Asia, at best!
See related:Crunch Time for Taiwan: Robotics and Automation
What happened to robotics?
The Swiss research report, Machinery Industry in Taiwan, by the Trade Office of Swiss Industries (TOSI), Taiwan, points out: "Local manufacturers are capable of producing unitary axial robots and vertical coordinate robots, and have to rely on foreign countries for higher-scale robots."
These higher-scale robots are just the types needed for any shot at successful robot automation of Taiwanese industry.
 "A few manufacturers and research institutes have begun to develop high-scale robots," continues the report. "However, Taiwan has to import critical components (e.g. server motor, controller, decelerators) from foreign countries.
"Thus, production costs become too high. To the worse extent, domestic users are reluctant to use Taiwan-made robots that have not been proven successful yet. Therefore, local robot manufacturers prefer to act as agents to distribute imported robots."
Going from the Swiss report to the following slide from Smart Machine and Productivity 4.0 in Taiwan: Now and Future by Ming-Ji Wu Director General, Industrial Development Bureau, MOEA (May 30, 2016), bares a disconnect between robotics in laboratories vs. robots—and robot parts—that are rapidly commercialized for the real world.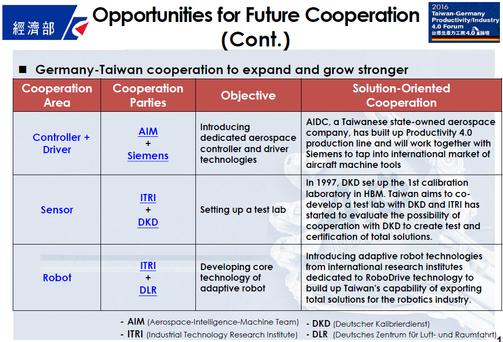 The German-Taiwan alliance between Taiwan's Industrial Technology Research Institute and Germany's Aerospace Center or DLR (Deutsches Zentrum für Luft- und Raumfahrt) is wonderful but way too late. Their plan is to do this: "Developing core technology of adaptive robot", is way too late, plus the tech already exists. Why reinvent the wheel? It's a laboratory project that will take years.
The DLR is graced by guys like Bernd Gombert, the prolific 55-year-old mechatronics engineer with more than 100 patents, who developedKUKA's LBR iiwa.
All that lab work is fine, but what about the here and now as the Factory of the Future races past Taiwan? Taiwan would do better to align with a robot manufacturer the ilk of a FANUC or a KUKA both already doing battle with the Fourth Industrial Revolution.
"The stakes to fix the problem are high. For the past decade, Taiwan has been struggling to transform its economy. It remains stuck in the contract manufacturing model of yore, designing and producing parts for Western and Japanese clients – the most famous example being Foxconn working for Apple.
"Competing mainly on price and volume, Taiwan firms have been severely battered by global trends, including the rise of companies from China.
"One reason Taiwan has been unable to make the transition up the ladder is that its best and brightest are fleeing, said Ms Kao. "It's a problem not just of quantity but quality."
Now that China owns KUKA, it opens up intriguing possibilities for Taiwan and its superb parts-making expertise. Making robot parts and assemblies for Chinese factories and warehouses means decades of well-paying, future work and great training for Taiwanese youth.
That of course will come at a price; and we all know what that price is.