Digital Disruption of the Events Industry
What's the Buzz with Robotics Events for 2021?
The all clear, 4Q2021. Yikes! or hallelujah!
Q: Should robotics have its own TV network? A:?
First, the grim reality
It's like sixty fans suddenly dropping dead at Yankee Stadium. It's like a fatal auto accident per every 1,000 cars on the LA Freeway.
Those stats sound so grim that they must be false, but they're not. A headline in the 26 December issue of the New York Post reads: "COVID has killed 1 in 1,000 people in U.S. — less than a year after first reported case. "Data compiled by Johns Hopkins University, there were 331,561 confirmed coronavirus fatalities in the nation as of Saturday afternoon, The U.S. Census Bureau estimates that the population is currently at around 330,750,000."
Worldwide, plague stats in some places are far better, especially in Asia. But a second wave of mutated virus is rearing its head, similar to the second, deadly wave of contagion during the pandemic of 1918-1919. What will happen next no one knows.
The race is on to get as many of the world's citizens vaccinated as soon as possible, and then to maybe tiptoe back into "live" meetings, events, conferences and tradeshows. However, there is an online, alternate reality to live events that is beginning to show itself as a welcoming place to host business get togethers; and it's coming from a growing cohort of online event practitioners who are getting damn  good at disrupting live events for digital alternatives.
Contemplating going to an event or tradeshow, or the lunatic fantasy of "social distancing" at an event, seems more like a death wish than a sweet opportunity to network with colleagues.
Wisely, the mother of all U.S.-based events, CES 2021, has decided to go virtual. That's wisdom enough for every live event through December of 2021 to heed.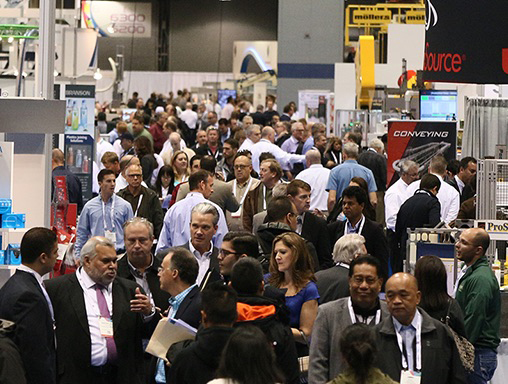 The only way out: Vaccination and herd immunity
"If the coming vaccination campaign goes well, we could approach herd immunity by summer's end and "normality…by the end of 2021." —Harvard School of Public Health & New England Journal of Medicine
"If we do that [get 75 percent, 80 percent of the population vaccinated], if we do it efficiently enough over the second quarter of 2021, by the time we get to the end of the summer, i.e., the third quarter, we may actually have enough herd immunity protecting our society that as we get to the end of 2021, we can approach very much some degree of normality that is close to where we were before."—Anthony Fauci, director of the National Institute of Allergy and Infectious Diseases
"As a public health official … it would be unconscionable to walk away from this or to throw up your hands in frustration. It's not about me and how I feel; it's about what the problem is. And the problem is enormous. … You just have to suck it up and keep going."—Anthony Fauci, director of the National Institute of Allergy and Infectious Diseases
See related:
COVID Vaccine Key to Cobot & Robot Sales
Until a COVID vaccine arrives to return the natural order of things, vendors are successfully going online to reach customers. Digital, for many, may well become a permanent reality…because it works.

Events biz takes a shellacking
Got to admit that I'll miss a live CES 2021. Strolling down the Vegas Strip at 7AM heading to the CES venues was full of heady expectations of what I'd encounter there. Reconnoitering the massive, tech-filled spaces and chatting with folks before the doors opened was always a special treat.
COVID has for nearly a year totally upended every event most everywhere.
Back in February, a CNBC headline shouted out the numbers and the threat: Coronavirus fears are battering the $2.5 trillion trade show industry. $2.5 trillion! That's more than the GDP of Italy.
CNBC gathered its bodacious trillions info from the research Oxford Economics conducted for the Events Industry Council's 2018 report, Global Economic Significance of Business Events.
Events that also contributed $1.5 trillion to global GDP and employed 26 million people worldwide in 2017.
And the profits for the exhibition companies putting on those events are equally bodacious. For example, one of the largest, the Informa Group, put on 1,200 events for 2,000,000 attendees in 2018, pulling in $761 million (25 percent of total earnings) …with the astounding margin of 36 percent, which is supposedly not uncommon in the events biz.
Best of all, individual exhibitors buy their event floor space in advance, which means, of course, the event is paid for before it begins. …Sweet!
Those numbers come from an eye-opening piece: Case Study: Boring trade show businesses are minting billions. Here's how, which concludes:
"While an often-forgotten business, there are hundreds of business tradeshows that have huge revenue numbers and profit margins (30 percent to 50 percent) that rival even the biggest software startups."
The party line from Informa, we create "face-to-face platforms for sales and product promotion." That face-to-face mantra has been the standard line for staging a trade show at least since the Crystal Palace (1851).
With an events industry that massive and that lucrative, it's hard believe that anything could take it down. But that's exactly what has happened.
Thankfully, event producers cancelled. I can't imagine any exhibitor sending sales people and engineers to man a booth, regardless of how much Plexiglas walling, sanitary hand washing, mask wearing, social distancing is involved. Watching victims of COVID suffocate to death by the tens of thousands should be warning enough.
However, there still are some event producers hawking their "live" wares, and still trade journals with articles on crowd safety. On what planet would such venues and such safe crowds be located is hard to imagine.
The digital newbies set up shop
In the wake of event cancellations, a new cut at tradeshows and conferences began to rise: virtual, online events.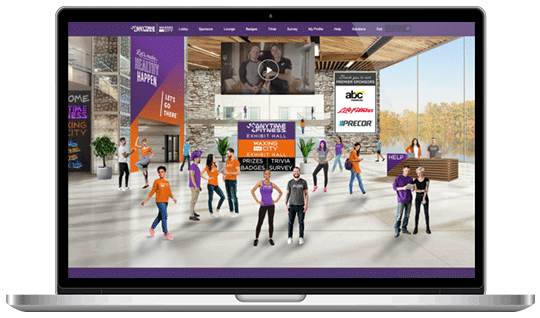 *NB: The following platforms are listed in alphabetical order, and their order of appearance does not represent a rank.
Many of these online substitutes feel like a warmed-over webinar, others like a hybrid webinar and podcast mashed together, and still others like warmed-over video. Talking heads with slides went bye-bye in the 80s, but are now back in full yawn.
Finding happiness online
Over time, however, the newbies started putting on some really cool events.
Laron Walker, CEO of Atlanta-based MantisEDU Inc., offers up a strong positive of what fertile fields are ahead for leaders in this new online content world. "Without question it was a better experience: free, no red-eye flight, no hotel room charges, and better access to the Microsoft team [Microsoft Build 2020].
"Walker, told MarketWatch he was able to view sessions at any time, pause them to take notes, and then pass them on to co-workers. He was also able to connect with Build speakers via LinkedIn and email because he had more information about them via their presentations."
"This made me look at tech conferences in a whole new light," he said.
Walker went where no live event could ever have taken him; he walked on the wild side of an online experience that's barely scratching the surface of its potential…of what can be, and will be sooner than we all think. It's just a beginning.
Walker was chatting with MarketWatch for an article appropriately titled: Tech conferences are going virtual, and it feels like Netflix content on demand.
Ah, a Netflix-like experience is just what this new, online content lacks. Getting a little slick with production values would go a long way in replacing the yawn.
Okta Inc. CEO Todd McKinnon, "Business-to-business conferences like ours are dependent on people meeting in-person," he told MarketWatch. Okay, there's the standard mantra at work. However, this time around, McKinnon, encountered something new. "After this year's edition of Oktane20 Live, an all-digital show in early April, drew record attendance. He's now considering a permanent shift to a hybrid model of both in-person and digital attendees next year and beyond.
"We had tons of leads and off-the-charts engagement with an all-digital format," McKinnon said after 20,000 attended [online], compared with 6,000 a year ago [live].
"Nvidia Corp. NVDA, Chief Executive Jensen Huang delivered a two-hour keynote at GTC Digital in nine 12-minute slices, based on topics ranging from autonomous vehicles to artificial intelligence. The presentation, taped in Huang's kitchen, attracted 4 million views. This year, 57,000 developers signed up to attend; last year, 10,000 physically attended the conference in San Jose, Calif."
Then,  Universal Robots (UR) orchestrated a very well organized and well run The Cobot Expo. UR used Ontario-based vFairs (founded in 2016; $2.4M in 2019) as its virtual trade show producer.
The vFairs interface for The Cobot Expo was far from spectacular, but certainly slick enough to be best of breed for robotics trade shows so far in 2020. The interface was pleasant to navigate and easy to find presentations, or UR expo booths, as well as expo booths for some two dozen vendors who signed on to participate in UR's online trade show.
UR announced that it would run for three days, and it did; there was no extension into extra months:  July 28 to July 30, and that was it.
The afternoon of the 30th, I spoke with UR's Joe Campbell, senior manager of strategic marketing and applications development. He was just concluding one live streaming presentation and getting ready to deliver another, all from the comfort of his home in Michigan; all of which is another big plus with virtual events for both people and budgets. Microsoft Teams and vFairs was all he needed to run the entire event.
The net-net outcome for Joe were the 7,000-plus visitors over three days; that's 2300-plus per day or 292 per hour of potential sales. The best part he said was that better than 50 percent of those visitors had never previously attended any UR event. They were all new to UR!
The all-important data on the 7,000 was already in hand and ready for use courtesy of vFairs. Campbell said that the usual 180 days that it takes to close sales from a live trade show would now, with all the instant data UR had amassed over the three days, compress the former sales cycle at least in half.
After months of trying, some vendors and show producers are still struggling to make the digital jump, but real digital disruption of the events industry has begun.
Kudos to OnRobot and its recent expo; they're finally getting the hang of well-designed, skillfully-run online tradeshows. The company recently concluded a 2-day event that aired Dec 2 – 3. It was loaded with remarkably worthy content that was interesting, engaging and well presented. That in itself is extraordinary for most trade shows and conferences, whether online or live.
See related:
OnRobot's Online Expo Was Worthwhile…and Fun
Finally, a robot company with a knack for producing a great online trade show.


Online you can click away from boring content; at a live event you're stuck, unless you gracefully exit, all the while feeling ripped off by the dud speaker at the podium.
Yes, OnRobot's expo was also mostly a lineup of talking heads with PowerPoint, but their content was what set them apart. It was that good.
As OnRobot billed its event, which panned out to be true: "The OnRobot Expo will provide visitors with expert-led 30-minute presentations on a massive range of topics from lean manufacturing and collaborative packaging applications, to fast loading CNC solutions and how manufacturers can break down barriers to vision system adoption."
OnRobot's CEO and founder, Enrico Krog Iversen, and his OnRobot show producers, worked fast, spent some major cash, and sculpted content worthy of giving a listen to. 
His expo will probably go down as best of 2020.
The real question that's getting more obviously unavoidable by the day: 
Q: Should robotics have its own TV network? A:?
Robotics Events Network
Should Robotics Events Have an Exclusive Online Network?
As COVID drives live trade shows into an online-only existence, online trade shows begin to show promise for the robotics industry.