Around Asia, September 2020
Robotics, Automation & AI: Japan, Korea & Taiwan

Half-Price Cobots, Save $20K!
Mitsubishi is making its entry into the world of cobots with a very buyer-friendly, whopping discount on its new 5kg, 6-axis Assista cobot: $20K marked down from approximately $40K.
Although a newbie with cobots, Mitsubishi Electric's robotics division is one of the largest manufacturers of industrial robots in the world with about 70,000 installed worldwide.
Launching first into its own facilities, Mitsubishi Electric has deployed about 1,000 of the Assista cobots in its own factories in Japan, Europe and North America. The robotics division intends to output 1,000 cobot units annually. Cobots, overall, represent a miniscule 4 percent of industrial robot sales, which makes the 1,000 units a small but good test of the marketplace.
The company reports that it has already booked orders from food companies for the new cobots.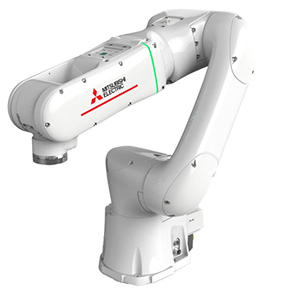 Nissan teaches industrial robots new tricks
Nissan is teaching robots "monozukuri", the centuries-old Japanese skill of craftsmanship (making things by hand).  Monozukuri, usually reserved for one-off or short run manufacturing by a human, now has a robot competitor.
Such robot skills come in handy when the dies typically used in stamping out car parts are no longer available, like when a classic, older car needs a one-off replacement quarter panel or when a small run of parts is needed but making a die would be cost prohibitive.
Two robots together, one on either side of eachother—using only the CAD specs—work a piece of high-grade auto steel (see video). Nissan's Production Engineering Research and Development Center, and Research Division, came up with new software and tools for the robot project.
"Each arm is equipped with a variety of mirrored diamond coated tools, which allow them to operate without lubrication while still avoiding friction. It helps keep the surface quality consistent, Nissan says, not to mention cutting down on expensive – and environmentally impactful – lubricants."
Bullish FANUC to triple production
FANUC is looking at 2021 to increase production of its newest cobot, the CRX, which made its debut in June of 2020.
The company claims that the CRX Series is easier to install and program because the cobot does not require a dedicated controller. Rather, the CRX runs on FANUC-developed apps, which, FANUC says, lower the hurdles for SMEs to bring cobots into their plants.
"We have designed our products so as to appeal to even those companies that have never used industrial robots," said a representative of the Japanese company.
FANUC is the world's largest producer of industrial robots with nearly 400,000 deployed globally (100,000 in the Americas and 250,000 worldwide). Although the pandemic has put a damper on sales of industrial robots and cobots, FANUC announced that it would triple its current monthly production but declined to specify numbers
FANUC must be confident in future sales. The company upgraded its full-year net profit forecast by around $70 million due to improved orders from China. FANUC now predicts it will earn $603 million profit for the year ending March, but markedly down 57 percent from the previous fiscal year.

Korea to expand on "intelligent" robots
With an eye towards becoming the world's fourth-largest industrial robot player by 2023, according to the Korea Times, Korea is moving decisively to power up its robotics industry. It's also setting goals to foster 20 mainline robotics companies, and to more than double industrial robot production from 300,000 to 700,000, and also to expand market size from the current $4.9 billion to $12.9 billion.  
"Korea accounts for about 10 percent of the total supply, which makes it fifth in the world," said Moon Jae-In, president of Korea Institute for Robot Industry Advancement (KIRIA).
Korea's Third Robot Basic Plan will foster both the industrial and service robot sectors, as well as establish an improved ecosystem for local robotics companies.
In 2018, Korea rolled out Intelligent Robot Industry Development Acceleration Strategy. Back then, the Ministry of Trade, Industry and Energy (MOTIE) ponied up $467 million through 2020 to fund the Joint Robot Industry Development Initiative, which covers lots of domestic robot issues, but specifically tabs robots as "one of the new export industries".
Just in Time, Korea Leans on Technology for Help
The Robot Act of 2008 gets revamped, redirected and refinanced.


The new five-year, Third Robot Basic Plan, according to Korea Times, will see: "The government supporting localization of key robot parts and software, demonstrating robot technology at the customers' end, and a combination of 5G, AI and robots. To this end, the government said it will develop three core parts, such as an intelligent controller, and four software programs, such as smart gripping.
"With the advent of emerging technologies such as artificial intelligence (AI), internet of things (IoT) and fifth-generation (5G) network, the robot industry has become a key subject of the Fourth Industrial Revolution," Moon told The Korea Times.
"Robots will play a pump-priming role to spur the economic development of Korea, helping local companies improve competitiveness and solve social problems such as labor shortage and care for elderly people."
Training is also in the mix. KIRIA will offer education programs to companies so they can retrain/reskill employees on how to utilize robots. "To become a strong player in the industry, the country needs more than 30,000 robotics professionals within 10 years. As part of our efforts to strengthen the ecosystem, we will expand these programs," said Moon.
Hyundai heads for Indonesia
Best known as a car manufacturer, Hyundai Heavy Industries also operates in multiple businesses from shipbuilding to finance…and robotics. Actually, it's been involved in the robotics industry since 1984 (producing its first welding robot in 1987). As of May 2020, Hyundai Heavy Industries officially spun off the automation business into a new company, Hyundai Robotics.
A new entity seems odd at this late date, especially seeing that Korea has been the global leader in the density of robots to workers for years now. What took so long?  Competition is already ferocious. "According to Hyundai Robotics, the reason for the spinoff is to facilitate expansion from manufacturing and commercial cleaning robots, to smart factory automation, including IIoT and robotics as service offerings." Again, what took so long?
Korea's Third Robot Basic Plan (see previous article) is part of the reason. LG, Samsung, and Hyundai will be major players in the Plan. Hyundai Robotics is also launching a subsidiary company, "Hyundai L&S, to develop logistics automation for the distribution market. The new entity plans to diversify its robotics offerings to include small, high-speed part handling robots, cobots and specialized mobile service robots for the electronics industry."
To that point, it's both as an automaker and a robot maker that Hyundai heads off to Jakarta (Indonesia) to build a new auto plant and to supply it with 370 of Hyundai's own industrial robot brand. All in the family, Hyundai style, so to speak.
According to Hyundai Robotics, the order was won in competition with robotics firms from Germany, Switzerland and Japan. Did they ever have a real chance? After all, the Third Robot Basic Plan will need all the help it can get from its fellow countrymen in order to reach its lofty goals.
The $1.6 billion plant at the Deltamas Industrial Complex near Jakarta is slated to assemble 150,000 vehicles and grow to 250,000; Hyundai estimates that annual production for the region could reach over 4.5 million units by 2026. With those production numbers, more Hyundai-brand robots will be need before too long.

Getting in the race
According to Taiwan Business an ever-increasing number of Taiwanese manufacturers are seeing the advantages as well as the necessity for industrial automation, which will quickly boost their need for smart machinery—including intelligent robots. In short, Taiwan is lacing up to enter the East Asian automation race (that's been ongoing now for nearly a decade) Both government and industry are pledging to promote the development of AI-enabled manufacturing capabilities in Taiwan.
Crunch Time for Taiwan: Robotics and Automation
Aware of its limitations and very tardy, Taiwan hurries to catch up with East Asia.


"The Ministry of Science and Technology (MOST) in 2018 launched the $66.6 million Robot Makerspace initiative, which established smart robotics hubs in Taichung and Tainan within the Central and Southern Taiwan Science Parks. These centers offer co-working spaces and accelerators for startups to test their solutions.
"According to MOST Deputy Minister Hsu Yu-Chin, the central and southern robotics hubs had hosted 71 startups as of the end of last year – 43 of them local or international AI-related startups from the ministry's Taiwan Tech Arena program. Startups at the two hubs have been responsible for more than 99 new products or technologies, and in 2019 generated over $400 million in overseas venture capital and international business collaboration opportunities."
Taipei, We Have a Problem
Other industrial automation projects are being carried out by the government-backed Industrial Technology Research Institute (ITRI).  One project needing attention, according to Vincent Feng, general director of the Computational Intelligence Technology Center at ITRI, is that Taiwan's robotics currently used in manufacturing are semi-automatic and do not have AI capabilities.
Also, "a growing number of Taiwan's more established technology companies are beginning to explore AI-enabled robotics solutions for their client base as well."
Is it too late? Such admissions may not bode well for Taiwan's manufacturing aspirations, especially for homegrown robotics and AI.
As Taiwan Business politely puts it: "Although the benefits of AI to manufacturing are clear, there is still some hesitancy among Taiwan's manufacturers about adopting the technology wholeheartedly in their operations."
This from a country that gave the world Terry Gou and Foxconn (Hon Hai Precision Industry)? Incredible!
"Richard DeVries, managing director of Geber Brand Consulting, says that 'Taiwan is well-positioned to take advantage of AI,' but in his experience working with local B2B manufacturers, companies are not always ready to embrace it.
"He says that this reluctance is generally due to silo issues within an organization, leading to a lack of communication between departments and a persisting top-down hierarchy that's common in Taiwanese companies.
"There may be impetus to incorporate AI from lower-level employees, but the top executives – the decision-makers – might be unaware of how it could benefit the company."
Obviously, the jury is out on Taiwan's factory automation, AI, and robotics aspirations…and time grows very short.
To blunder at this point should be unacceptable. But, remember August of 2001, when Taiwan allowed thousands of its companies to relocate to mainland China.
"​Today, 400 miles across the Taiwan Strait in Kunshan (Jiangsu province), China, there are 4,800 Taiwanese companies, which contribute to over 60 percent of Jiangsu's $ 1.093 trillion GDP." 
Many refer to that migration as Taiwan's great blunder. As Huang Tien-lin commented in 2012 in the Taipei Times: "This was the beginning of the decline for Taiwan's domestic investment and of falling wages."
Will lightning strike twice?