Just in Time, Korea Leans on Technology for Help
The Robot Act of 2008 gets revamped, redirected and refinanced
Precarious Korea
How did Brutus put it: "There is a tide in the affairs of men, which, taken at the flood, leads on to fortune." Same goes for the robot industry, which is at flood stage and rising higher, with most every vendor selling out the shop shelves and banking hefty profits, except Korea.
With its proximity to China, its largest trading partner—a country that topped the global robot buying charts with 139,000 industrial robots in 2017—it would seem like a slam dunk for Korea's industrial robot vendors to be sending non-stop shipments across the border, all the while breaking new ground for expansion.
China's not going to slow down its pursuit of automation anytime soon, rather, it's accelerating. Now's the time for Korea to jump in as a trusted vendor ready to provide robot solutions for anything China throws at it.
Sadly, it isn't.
And China is throwing a lot around these days. For a little perspective: According to Miao Wei, Minister of Industry and Information Technology (China), over the past five years, "the average annual growth rate of China's robot industry has approached 30 percent. Total value of the robot sector in China reached $7 billion. On a global scale, the value of the global robot industry has exceeded $25 billion in 2017, growing by more than 20 percent from a year earlier. 2018 will see it reach $30 billion.
One glaring problem is that Korea's industrial robots aren't price competitive, which is sure to put off sales. A recent study reported: "Currently, a majority of robot components amounting to about a half of the production cost are imported, which makes it difficult to maintain competitiveness."
In the department of better late than never: "Producing and buying companies will jointly found a Robot Components Association to enable high-cost production and measurement facilities. Korea domestic production produces forty center of the necessary components.
Where Japan's FANUC sold $4.7 billion (net sales), Korea's industrial robots, as an industry, did $4.1 billion. Not bad. Nice take, but remember the robot need is at flood and rising higher.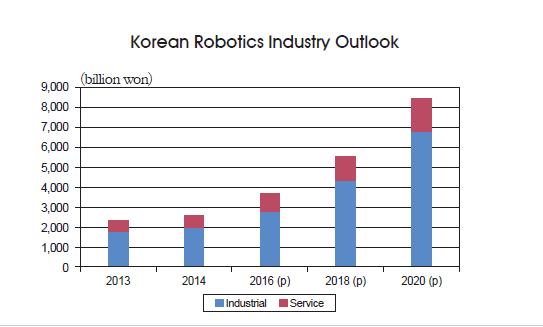 Technology as savior
Technology is what, beginning in the 1960s, hurtled Korea up from third-world status to worldwide powerhouse. Technology is Korea's get-out-of-jail card.
There's nothing like a little adversity to sharpen the senses and to shake out meaningful investment from government coffers. Korea needs to play the technology card once again, and hope that it works.
Korea is trying to put its thumb on just what that technology card looks like this time around and how to make it work.
The bad news first
In the cloudy, chilly days of early March, BusinessKorea splashed out the bad-news headline: Robot Industry Competitiveness—South Korea Lagging Behind in Robot Industry.
"The Korea Association of Robot Industry and the Industry-Academic Collaboration Foundation of Kwangwoon University announced on March 5 that South Korea's robot industry is lagging much behind those of Japan, the United States and Germany."
To its credit, Korea didn't hide from the hard facts, it sought them out.
A country-wide survey of 87 of Korea's robotics experts surveyed in five evaluation categories: price, quality, manufacturing, human resources, and technology, came away with scores ten points distant from the three leaders. All from a country with a robot to worker ratio the highest in the world.
Upstart China, with one of the lowest ratios on the planet, bested Korea in three out of the four segments: specifically, manufacturing, personal service robots, and professional service robots.
Lots of distractions hampered Korea's advances. The downfall of former Korean president Park Geun-hye (24 years in the slammer); rockets flying overhead courtesy of Kim Jong-un; and China's displeasure with U.S. THAAD missile batteries on a Korean golf course. The latter earned Korea a boycott by the Chinese public on everything Korean from Hyundai SUVs to vacations to robots. A major financial ouch! Lone survivor, K-pop!
Even Samsung smartphones were slapped around in China: Sales went from 3 percent to one percent, with China's Huawei climbing from 20 to 22 percent.
Okay, Korea smudged out last year as an anomaly, and here in 2018, will try to begin again, if it can.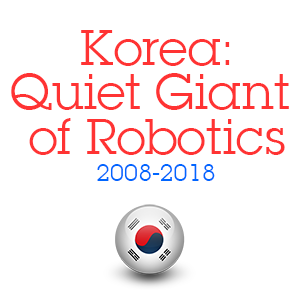 Back to the future
In 2008, Korea was the first country to come out with a robotics roadmap. It was called the Korean Robot Act, officially, Intelligent Robots Development and Distribution Promotion Act.
It was a national initiative at a time when robots were not highly regarded.
Back in 2008, hardly anyone thought robots would ever make it all. Robotics luminaries like Hans Moravec were writing things like this in places like Scientific American that today are chuckle worthy: "It is true that industrial robots have transformed the manufacture of automobiles, among other products. But that kind of automation is a far cry from the versatile, mobile, autonomous creations that so many scientists and engineers have hoped for. In pursuit of such robots, waves of researchers have grown disheartened and scores of start-up companies have gone out of business."
That was the prevailing sentiment of the times.
But not for the Koreans! They were bullish or crazy or both, launching the Robot Act right in the teeth of the Great Recession.
 "Through 2014, things seemed to be working: from 2009 to 2012, robot sales increased from $940 million to $2 billion; robot exports grew from $96 million to $590 million, and with all that robot building, employment climbed from 5,068 to 10,515 workers. Doubling in less than three years!"
That's was before the Industrial Internet of Things, Industry 4.0, Smart Factories, cobots, Artificial Intelligence, and 5G (fifth-generation networks) became global priorities.
Ten years on, Korea is rolling out a new 2018 roadmap: Intelligent Robot Industry Development Acceleration Strategy (notice the word Acceleration; it's needed!).
The Ministry of Trade, Industry and Energy (MOTIE) has ponied up $467 million through 2020 to fund the Joint Robot Industry Development Initiative, which covers lots of domestic robot issues, but specifically tabs robots as "one of the new export industries". Emphasis on "new"!
Industrial robots and service robots will be reinvigorated within Korea, but as for exports, it's the cobot that is getting the big push. MOTIE's February announcement of the Intelligent Robot Industry Development Strategy(notice emphasis on "Intelligent…") is a clever strategy whereby Korea will "aggressively promote the market of collaborative robots [cobots] that are frequently used in manufacturing and established a medium and long-term development strategy to secure the competitiveness in key components for robots."  
Then, so as not to forget the AI part of the "smart" cobot: Korean "telecom companies, robot manufacturers and research institutions will jointly form a committee for artificial intelligence (AI)-robot application and industrialization to develop the AI platform for robots."
With "smart" cobots, Korea has a wonderful opportunity to make it in China, or, for that matter, anywhere else. Doosan and Hunwha have excellent cobots at the ready; Korea needs now to push the market.
Hyundai is partnering with China's AI startup DeepGlint, which "specializes in vision technology and has developed a high-definition camera image recognition technology based on AI." And it's just not for automobiles!
Korea should also look south to the ASEAN, especially its new best friend, Vietnam: Korea Adds Robotics to Smart Vietnam Strategy. India as well, where Samsung just opened the world's largest smartphone factory. Smartphone users in India number around 300 million, and are expected to increase to 530 million. Hence, the world's largest factory.
LG Electronics has finally shaken off the torpor that kept it from venturing into most anything. This June "LG Electronics established a venture capital firm in Silicon Valley… LG Technology Ventures is virtually the first venture capital firm ever set up by the LG Group."
LG has opened an AI research lab in Silicon Valley, and another recent AI lab at the University of Toronto; Samsung opened its own Toronto-based AI lab in March.
And it's spending! "LG Electronics acquired a 10 percent stake in Robotis, a Korean company specializing in robot solutions and educational robots, early this year, and participated in the capital increase of Acryl, an AI ​​start-up in Korea, in March. It also announced a plan to invest in Robostar, a domestic industrial robot manufacturer."
That leaves room for another of Korea's pet projects: 5G. The new fifth-generation "5G" network is the grease that will make all of the other Industry 4.0 stuff work. 5G will deliver near-instantaneous connection speed, significantly lower latency — meaning near-zero buffer times — and increased connectivity capacity to allow billions of devices and applications to come online and communicate simultaneously and seamlessly.
5G capabilities were displayed earlier this year at the Olympics in Pyeongchang, (Korea), where Samsung and Intel showcased a 5G enabled virtual reality (VR) broadcasting experience to event-goers.
Samsung is out with its new Exynos 5100 modem, which is also compatible with legacy networks like, 2G, 3G, and 4G LTE all in a single chip. Samsung claims that the 5100 can reach speeds of up to 2Gbps per second in the sub-6Ghz range of the spectrum and up to 6Gbps using mmWave signals.
If all of these initiatives really become an "accelerated" strategy with accelerated results, Korea may have well saved itself through technology yet once again.