China Restarts Factories: Robots Take Center Stage
COVID-19 spurs manufacturing to more automation, more robots…and to some unexpected insights
Post-COVID Manufacturing
By degrees, 100 million Chinese workers are returning to their factories as China restarts "the world's factory" once again, but it's not going to be business as usual for any of them.
If COVID-19 has shown China one thing in the virus's massive take down of the country's manufacturing prowess, it's that automation as in "Made in China 2025" and the "robot revolution" from the 13th Five-Year Plan (2016-2020), proved to be good decisions. The 5-year road map for more robots, automation, higher-value manufacturing, redundancy in supply chains was the right direction to take, and still is.
The near future for that road map sits within a factory in the heart of the pandemic, Wuhan. Yangtze Memory Technologies, No.88 Weilai 3rd Road, East Lake High-tech Development Zone, operated at peak efficiency throughout Wuhan's 76-day lockdown. The factory was totally automated. The only humans were the technical team that operated the factory from a control room, and they were shuttled daily to the factory aboard a special bus.
Yangtze Memory Technologies is actually the fast-forward model, the accelerated version upon which global manufacturing has already embarked, but has yet to arrive. ABB's automated factory in Shanghai, where robots build robots, is another.
See related: Putting the buzz back into China's automation quest



As an editorial in The Economist points out: "For the manufacture of chips and screens, all-but-complete automation is unavoidable. In other contexts, the cost of re-engineering systems and buying new kit has kept people in the loop and on the floor. They will not vanish overnight. But COVID-19 has provided a new spur for more factories to approach the machinic perfection of chip foundries."
Some of that COVID-spurred rejiggering of automation will undoubtedly find its way into China's next road map, the 14th Five-Year Plan, scheduled to begin in March of 2021.
Back to work
It's already May, but much of the world's manufacturing capacity still sits idle. Not so in China: "Most Chinese factories are now back to operating at around 80 percent of capacity. Some are pushing 100 percent." For example, Foxconn has promised Apple all "the 5G iPhones it needs for the launch of the device this autumn." Millions of new 5G-capable iPhones in five months is remarkable.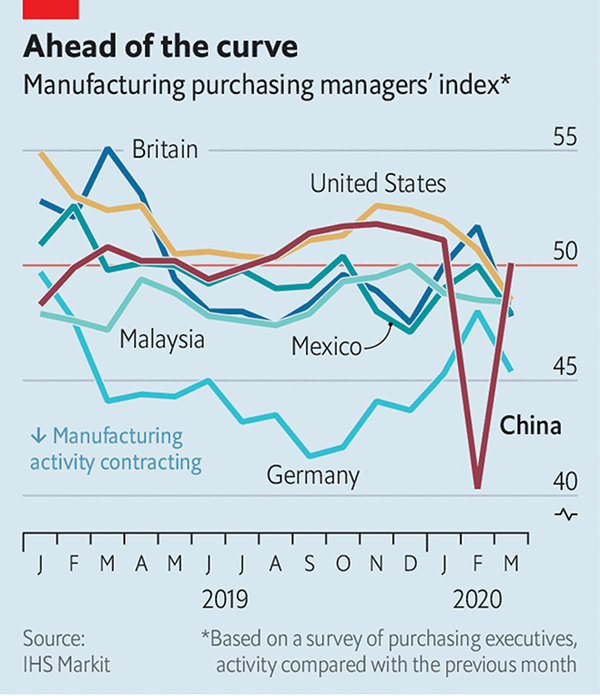 Robot manufacturers are looking forward to the last half of 2020 as a return to the glory days of 2018. FANUC's chairman Yoshiharu Inaba is bullish on sales. "Business related to high-speed rail and other infrastructure in China is robust, and with a wave coming in automakers' investment cycle, I think we can hope for an overall recovery," Inaba said.
Yaskawa is looking at a decline, but slightly less of a sales decline than in the previous quarter: 11 percent vs. 13 percent. A percentage decrease in declining sales as something to cheer about is strange, new territory for Yaskawa selling robots to China. Afterall, this is China, by far the world's biggest robot buyer. But, because it is China, that small percentage means millions of dollars in robots and robot parts. And, it's better than last quarter, which is the right direction to go. 
A consistent early indicator of rising capital spending are machine tool orders. In the spring of 2017, machine tool orders in China shot off like a rocket, followed quickly by a huge uptick in robot buys. The chairman of the Japan Machine Tool Builders' Association sees a modest recovery ahead for the industry. "We expect to see orders bottom out in the first half of this year, followed by a gradual rebound," Yukio Iimura told reporters.
The Nikkei Asian Review is reporting that certain areas of the Chinese semiconductor industry, notably memory chips for data centers, have started to increase capital spending again, as well as "the advent of fifth-generation wireless communications has given a boost to makers of smartphones and network equipment." That's good news for robot sales ahead.
Silicon Valley's Reshoring Institute says that China bought 21 percent of all industrial robots sold in 2019 ($4.5 billion), and that 39 percent of them were domestically produced.
The downside for factory workers, analysts predict: "Once a company has invested in replacing a worker with a robot it's unlikely the firm will ever rehire for that role. Robots are more expensive to create and integrate into businesses but once they are up and running, robots are typically cheaper than human workers."
If the view from the control room at Yangtze Memory Technologies is any indication of future planning, it's all but inevitable that China's largest manufacturers, like Midea punching out stoves and washing machines or Haier its air conditioners, will see total automation sooner than later. What the experts call: "machine dominated, with low labor content". That's the future.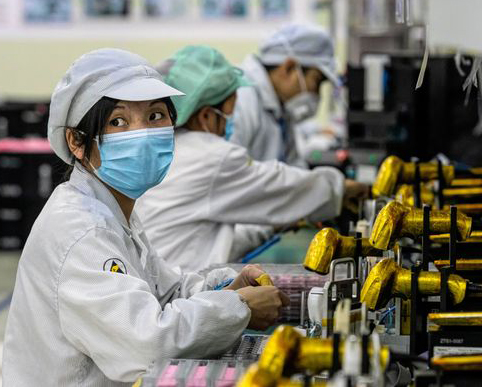 The factory in Wuhan is proof that robotics can reduce labor costs and increase productivity — and prevent a recurrence of future plant shutdowns…from pandemics, trade wars, or any other tear in the fabric of the country's must-have manufacturing capability.
Post-COVID, robotics and automation are looking at dramatic increases. "The China robotics market is forecast to grow at a high CAGR of 26.2 percent to reach $103.6 billion in 2023, primarily led by manufacturing, consumer, retail, healthcare providers, and resources industries," said Dr. Jing Bing Zhang, research director, Worldwide Robotics and Asia/Pacific Manufacturing Insights, IDC Asia/Pacific.
"The outbreak of the COVID-19 coronavirus in January 2020 is expected to have a positive spin on the deployment of robots for healthcare as well on the use of robots as a means to increase operation capacity in labor-intensive verticals," added Zhang.
Reverse migration?
Of course, 100 million factory workers represent only a portion of the over 800 million in China's workforce; there are still millions of SMEs with small factories, warehouses, and other businesses where humans will go to work daily for years to come. But still, what will China do with the better part of 100 million workers no longer punching in for work?  
That's another big item for the 14th Five-Year Plan to tackle. Reskilling millions for good jobs in places other than in manufacturing should be on the table for discussion. 
Agriculture is a prime zone: China has 25 percent of the world's population and only 7 percent of the world's arable land. Okay you unemployed factory workers, let's go reclaim a desert, or revitalize the devastation created during China's dramatic 30-year growth spurt like air and water pollution, or contaminated land (an area the size of the UK).
Jixi Gao, chief scientist of China's Ecological Conservation Red Line expert committee and director of the Nanjing Institute of Environmental Sciences in China, has set out a plan to restore ecosystem deterioration. ChemChina now owns Syngenta (since 2016), the world's largest crop chemical producer and third ranked in seeds and biotechnology sales. Put it to work reclaiming, feeding, and employing China.
Millions of people laid off from factories and no longer pulling in a paycheck are a social time bomb for the country, as Cary Huang convincingly points out in his What Might Affect More People Than the Coronavirus? Unemployment in China.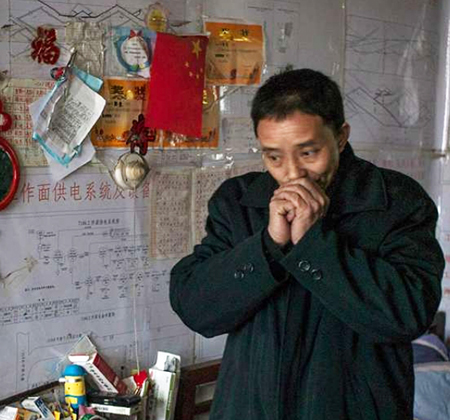 The antidote is to keep idle fingers busy. There's always work to be done in China, so maybe a reverse migration back to the land is in order. One thing for sure with factories is the days of help wanted ads are quickly coming to a close.
Automation brings new realizations
Automated factories like Yangtze Memory Technologies can offer up new insights into manufacturing and new realizations about how wasteful non-automated manufacturing really is. Seems robots and other automated machines have a tale to tell. As Anna-Katrina Shedletsky, CEO of Instrumental, who has spent lots of time in Chinese factories, points out in her Forbes piece: "Somewhere on its way to becoming the largest market in the world, manufacturing developed a problem with global implications: 20 percent of every dollar spent in the industry is wasted – adding up to $8 trillion, or 10 percent of the global GDP."
Shedletsky built her company around capturing that 20 percent.
The reasons for the waste, she explains: "For those who have spent their careers in manufacturing, perhaps this waste feels like the cost of doing business. The industry has gotten used to yield fallout, bone piles, downtime, product launch delays, process shifts in production, and 1-star Amazon reviews. It's not because we want to be complacent. It's just too hard to solve problems in manufacturing."
Her solution, here succinctly explained by The Economist, is really only possible in a totally automated factory. "The firm [Instrumental] sells a system which uses machine learning to examine images of every single item a factory makes at every single stage of its assembly. It lets users explore the causes of any flaws, thereby increasing yields and reducing wasted time, money and materials. The amount of detail captured by the system also lets engineers from client companies inspect and manage production from halfway around the world—which under COVID-19 has become a primary selling-point."
One of Instrumental's clients, P2i, maker of nanotechnology coatings, QCs, and corrects, production in Chinese factories from its headquarters in Milton Park, Oxfordshire…over five thousand miles distant.
The post-COVID manufacturing world of more robots, more automation, and few or no people that's glimmering into existence in China is a flashlight into the future of all manufacturing. IDC's Zhang sees robots in China growing at 26 percent; that's very nice, but it may well be higher.
The alarm rattling through the boardrooms of Japanese robot makers will be short-lived, quickly replaced by smiles and the sound of shovels scooping up billions of yuan for banks in Tokyo.