Part 1 of a 2-part series
Korean Robots Go for Gold at 2018 Olympics
Winter Games to feature a dozen service robots in first-ever appearance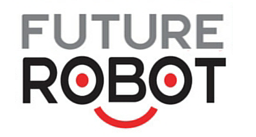 An all-Korea team 
At the FutureRobot high-tech training facility in Seongnam, a satellite city of Seoul, a dozen robot Olympians are preparing for the rigors ahead of them at the 2018 PyeongChang Winter Olympics.

It'll be the first-ever Asian Winter Games not held in Japan: previously, Sapporo (1972); Nagano (1998). Beijing will host the Winter Games of 2022.

Korea is the 2018 host, and come next February (February 9-25, 2018), it will add another first-ever title to Olympic lore: first-ever use of robots.

A dozen interactive service robots, maybe more as the Games approach, will work a crowd that's estimated to be in the 80,000 range. 
To succeed at this massive, high visibility event (3.1 billion global audience) where the world's best come to compete every four years, the service robots will also need to be best in class: strong, smart, versatile multi-taskers with stamina and endurance to the max, and fluent in the Olympics nine most popular languages.

Like every Olympics, the whole world will be watching, which easily serves to amp up the pressure to perform in medal-winning style. With over 3,000 journalists and 400 or more TV networks, every corner of the PyeongChang Games will be swept clean for newsworthy reporting. FutureRobot's dozen Olympic entries—the first-ever of their kind to perform at an Olympics—are sure to draw epic scrutiny.

Success for these twelve robots means selfie opportunities with tens of thousands attending the Games, TV interviews galore, grateful thanks from the Olympic Organizing Committee, proud gratitude from the Korean government, and appreciation from the Korean robotics community, together with a sale's book brimming with purchase orders for scads of FutureRobot's product line.

If the robots perform superbly well, everyone is a hero. If there's a robot fail, it's sure to be Twittered around the world in a heartbeat.

The company that developed these service robots and its leadership will, undoubtedly, also draw intense media attention.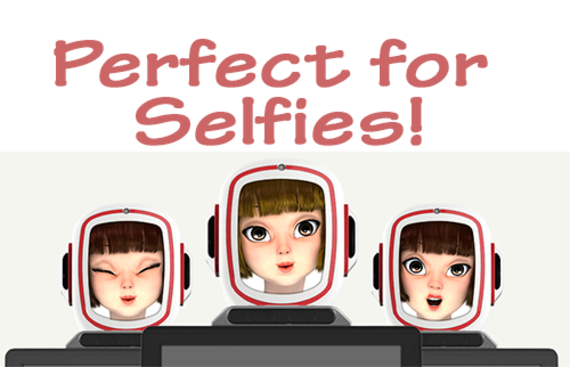 It's a huge challenge that Dr. Se-kyeong Song, founder and CEO of FutureRobot (2009), relishes. He's been building robots at FutureRobot since 2009 and is more than confident that they are Olympic ready.
Dr. Song, or just SK as he's known in the robotics community, is quietly humble and affable, and regarded as brilliant by his colleagues and peers. His popularity and reputation regularly fill conference rooms whenever or where ever he speaks, which in large part is due to the success of his service robots.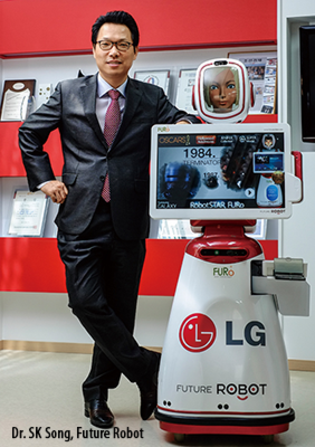 Travelers hustling though San Jose's International Airport have made the acquaintance of FutureRobot's Piper, Norma, and Amelia stationed in front of gates 11, 21, and 25 that provide travelers with entertainment, as well as directions to dining and shopping destinations. Visitors to the Shanghai Museum of Science encounter a Mandarin-speaking member of SK's family.
Airports and museums utilize the FutureRobot lineup, but the machines are adaptable for most any pedestrian, high-traffic, walkway like malls, hotels, banks, department stores, convention centers, shops, and corporate lobbies.
In addition to its commercial robots, FutureRobot's smart home service robots can control all home appliances for daily care, security, entertainment and telepresence.
And it truly is a family that SK and his colleagues have reared in Korea. Unlike other developers who have built a single robot and then iterate upon it, FutureRobot has a lineup of five, each offering a specific set of functions for well-defined needs, e.g. FinTech with voice recognition; intelligent mobile signage; smart home telepresence; home control and security; and a mobile customer service agent.
FutureRobot not only builds the hardware for its machines but also develops the software under a broadly termed offering called FURoWEAR.  The software offers human-following capability, navigation with laser, Kinect, ultrasonics, or camera; voice and face recognition, emotional avatar, lip-sync, multi-language dialog, and real-time monitoring
As developer of both hardware and software, the company has the ability to cross-pollinate its product line with attributes taken from any other of its robots. For example, theoretically, it could imbue its signage robot with the capabilities of its customer service agent. Such capability and control offers FutureRobot the flexibility to customize its robots to meet any customer need.
For the Olympics—truly an event without peer—FutureRobot's robot Olympians will be presented with a combined event: sports venue, mall, hotel, bank, department store, convention center, and shops all rolled into a single site over a compressed 17-day period of time.
See Part 2 of the 2-part series:Dr. Song's All-Korean, Olympic, Robot Team.We meet up with Dr. Song to dig into the specifics of preparing 10 of FutureRobot's FURo-Ds and 2 FURo-Desks for deployment at the Main Operations Center (MOC), the Media Center, Athletes Plaza,  the ICT Experience Center, and the all-Korea tech assistance FutureRobot is utilizing to get ready.