Part 2 of the 2-part series
Dr. Song's All-Korean, Olympic, Robot Team
Korean service robots to get biggest introduction ever: showcasing their "services" to 3.1 billion global viewers
See also: Part 1: Korean Robots Go for Gold at 2018 Olympics
SongBots: Robots that actually work!
In 190 days or so, everyone on the planet with a TV or cellphone will have made the acquaintance of what the world is just beginning to come to know as service robots.
By February 25, the final day of the PyeongChang 2018 Winter Olympics, a dozen Korean service robots will have been continuously somewhere in the purview of a TV or video camera for 408 straight hours (February 9-25).
Timing for such a showcasing couldn't be better, especially with the projected imminent rise of service robots worldwide.  "The global service robotics marketwas valued at around $9 billion in 2016 and is expected to reach approximately $24 billion in 2022, growing at a CAGR of slightly above 17.8 percent between 2017 and 2022."
The Korean Winter Olympics is a perfect setting for service robots to strut their stuff for all the world to see.  That's an extraordinary opportunity. In fact, let's back up a bit and eyeball what that means. There are literally dozens of other amazing service robots that will never ever get such a chance to perform on such a huge stage. Sure, the Tokyo Summer Games are upcoming in 2020, but for now, this is it and it's epic!
To some extent, millions are already aware of service robots like the robot floor vacuum, Roomba, or people-greeting media darlings like Pepper and Nao. Still, no robot introduction previous to next February's can ever begin to rival the sheer magnitude of worldwide attention accorded most anything at an Olympics.
An Olympics first-ever 
Even more special is the fact that 2018 will be a first-ever appearance of robots at any Olympics. Plus, this crew of twelve won't be just interesting eye candy sitting in display cases, these robots will become an integral part of an Olympics' workforce…actual employees!
With attendance slated to top 70,000, the all-Korean service robot team, each capable of interacting in nine different languages, could well end up starring in thousands of YouTube videos and posing with fans for tens of thousands of selfies.
No one is more delighted with the coming of winter 2018 than the staff of engineers, programmers, and designers at FutureRobot, the Seoul-based company that developed and built all of the robots. And no one is more pleased with being selected to participate than the founder and CEO of FutureRobot, Dr. Se-kyeong Song, better known to friends, colleagues, employees, and just about everyone else in Korean robotics as SK.
For backstory: See Part 1:Korean Robots Go for Gold at 2018 Olympics
Call my agent!
In addition to all of FutureRobot's current employees, SK may well have need of yet another skillful Olympic helper: a talent agent. With more than thirty global mega-brands advertising during the Olympics— Coca-Cola, McDonald's, LG, Samsung, Visa, Toyota, Bridgestone, Panasonic, Proctor & Gamble, and Korean Air, to name a few, many will want to enlist a first-ever Olympic service robot as an extra promotional edge?  The potential for attention-getting TV commercials is limitless.  Any major brand would have a leg up in promotion if one of FutureRobot's creations could be seen in a TV commercial cavorting with their product.
Before SK's phone starts ringing off the hook with inquiries, a booking agent would be a wise new hire.
And even before that, we snuck in to ask SK a few questions about this historic, upcoming clash of robotics and the Olympic Games.
To be fair, FutureRobot didn't do it all alone, it had some big-league partners, and all the partners are homegrown, Korean talent.
Hancom, the Korean office suite developer, is onboard providing its AI-poweredGenieTalk automatic speech translator for voice and text. FURO-navigation was developed by FutureRobot in collaboration with the Electronics and Telecommunication Research Institute (ETRI), Korea's Daejeon-based tech powerhouse. The FUROware cloud framework was developed in collaboration with the Korea Institute of Science and Technology (KAIST)

Q&A session with Dr. SK Song:
1. First off, Dr. Song, did we get all the players correct? There seems to be a lot of moving parts here.
SK: Yes the information is correct. However, we are trying and optimizing various AI solutions. Not only Hancom GenieTalk but also SKT NUGU (SK Telecom) and the Google API solution so that we can make optimal service applications.
2. Let's talk about which of the FutureRobot machines will be used at the Olympics. It seems that two models will be used: 1. FURo-D (an upgraded model); and 2. The newFURo-Desk.
SK: Yes, those are the two models to be used at the Olympics. More than 9 FURo-Ds and 2 FURo-Desks will be deployed. The number of machines might be increased at the international broadcasting center and some at event services. The main service areas to be covered are the Main Operations Center (MOC), the Media Center, Athletes Plaza, and the ICT Experience Center.
Also, one more model called FURo-iCare (Chatting Robot) might be deployed. This is under consideration.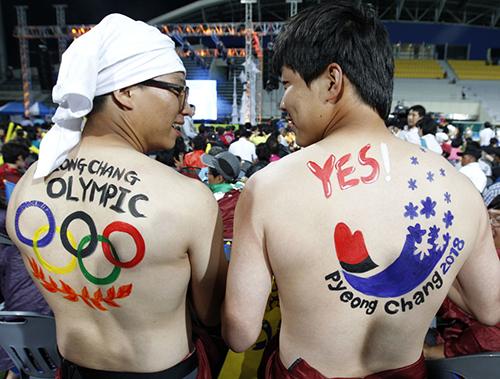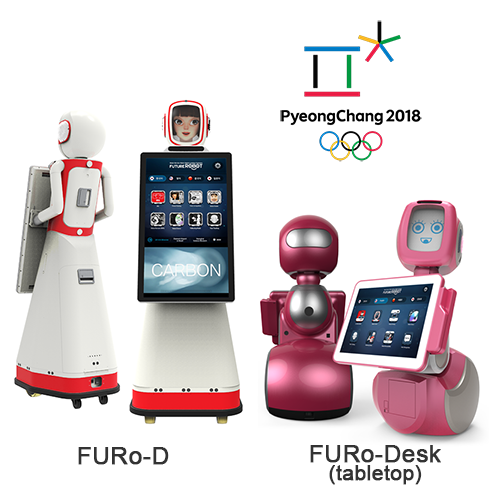 3. The FURo-D is FutureRobot's standard smart signage robot/ advertising media platform? It has a 32-inch touch screen, basic FUROware, an emotional avatar that communicates with people, uses facial expressions and lip-sync, and maintains eye contact?

SK: You are mostly correct. It has dual screens with both 32-inch touch screen for information display and 10-inch screen for avatar display.

FURO-D has various ways of communication such as voice chatting, display touch, emotional expression, and emotional avatar that can do lip-sync, eye contact and interactive emotional behaviors.

Also, FURO-ware has great scalability that can easily connect with other various IT devices and AI APIs.
4. How was the FURo-D upgraded for the Olympics?

We upgraded some features: voice command, AI based FAQ service, real-time, multi-language translation service; autonomous navigation within a pre-defined area; a Remote Management System; and improved security.

 5. Hancom GenieTalk says that the FutureRobot robots will converse in 9 different languages (the standard 9 languages used at most Olympics). Is that standard for a FURo-D or is that an upgrade?

SK: That's an upgrade.

6. The FutureRobot technologies—FURO-ware through FURO-management— represent an enormous technology load. FURO-navigation must have been a difficult challenge with all the sensor technology involved. Did you develop all this technology in-house at FutureRobot or did you team up with outside organizations? If so, which ones? Which of the technologies did you team up to develop?

SK: Our team developed FURO-navigation in collaboration with Electronics and Telecommunication Research Institute (ETRI), a South Korea-based tech powerhouse. FURO-ware cloud framework was developed in collaboration with Korea Institute of Science and Technology (KAIST)

7. What sort of processing engine does the FURo-D use to process, for example, all the sensor data for FURO-navigation? Must be a heavy load there.

SK: We are adapting a Windows-based Intel i5 as processing engine and keep working on the process of optimization for implementing various functionalities.

One of the advantages of FURO-ware is the ability to add an extra processing engine so that further additional functionalities can be easily integrated.


8. Hancom's contribution to the FURo-D is GenieTalk and Talkafe, a messenger service? Anything else?

SK: Hancom's AI engine is being used to support one of the various service applications. At the present time, it is utilized for multi-language translation services.

9. FURo-D will provide Olympic visitors with interactive guide and map information, both verbally and on its 32-inch screen, including directions via maps and Olympic seating plans. Can FURo-D answer a question like: "Here's my ticket to the ski jumping venue. Can you show me how to get there?"

SK: Yes, FURO-D can answer that question. If needed, we can add more FAQs, and it will provide maps on its display. The FURo-D's screen is also capable of displaying video, like video clips from an Olympic event.

10. The 2018 Winter Olympics will be a 24/7 kind of event. How long can the FURo-Ds operate before needing to recharge?

SK: A FURo-D can run for 6 hours on 2 hours of charging. We provide extra batteries for replacement which will secure an extra 6 hours of running time.

11. Are FURo-Ds cloud connected at all…or is everything onboard or networked locally?

SK: Real-time translation and Remote Management Services (RMS) need a cloud network connection. Other than that, every functionality runs locally.

12. The FURo-Desk is your newest machine. Why did you develop it?

SK: The FURo-Desk was designed and developed to meet the market need for a small, fixed-commerce AI robot that can perform guidance plus ordering. It has advantages of easy table-top maintenance, a stable wired network connection, and competitive pricing.

13. It seems to have all the capabilities of the FURo-D, but in addition, it is an unattended payment terminal. Will it serve as a payment terminal at the Olympics?

SK: It has the capability of operating as a payment terminal, however, our sponsors at the Olympics are not allowing us to conduct any commerce activities with the FURo-Desk.  We are now preparing the machine for commerce solutions with Fintech companies.

14. What's the timetable for deployment at the Olympics? Is there a beta-test phase upcoming? February 2018 is coming up fast.

SK: We have a few phases like pre-testing, installation, on-site testing and verification before deployment.  Currently we are planning robot services with the organizing committee.

15. What about stress testing the robots? There are going to be over 70,000 people at the Winter Olympics for 17 days. Any idea how many interactions per day that the robots will encounter? Is there a need for an on-site tech crew to support the robots?

 SK: Throughout the years of development, our robots have already gone through intensive stress testing in real-life environments. We deployed our robots at various places such as banks, shopping malls and airports.
There will be an on-site tech crew to support the robots. Also, we will do the monitoring, remote control and software updates via RMS (Remote Management System).