Podcast interview: Mark Messina, COO Geek+ (Americas)
Geek+: Worldview & Market Strategy
How we did it: The newbie company with the strange name that became "the world's leading provider of advanced robotics and AI technologies applied to logistics."
State of e-commerce acceleration
Geek+ as "Swiss Army Knife"
Scaling: SMEs to big guys
Introducing "controlled randomness"
to the field
AI/ML and brown boxes
Geek+ becoming
"true" multi-national…fast!
Cloud, 5G, edge compute and all that stuff
Technology getting closer
to customer doorstep
Realization of the supply chain
Bringing automation to South America
Forgetting the ROI to think technology
Who are these guys?
Com'on, who would ever dare to name a company Geek+ and then go out looking for millions of investment dollars from serious-faced, due-diligence VC investors? "Gentlemen, we're Geek+ and we want millions of your dollars."
"WHAT!?"
It takes a bunch of self-confident, skilled engineers with brilliant tech and an equally great business plan to pass muster, but, amazingly, they did just that! To date, since its founding in 2015, the Beijing startup has acquired over $400 million in investments.
As Nanalyze said of them:  "they have become the world's leading provider of advanced robotics and AI technologies applied to logistics, having successfully completed over 200 projects across four continents, deploying more than 10,000 robots."
Newbies in America
My first encounter with this newbie logistics provider with the strange name, Geek+, came at MODEX 2018. Back then, I wrote an article about them titled: Make Way for the Kiva Killers: Geek+ Has Arrived.

In a small 20×20 booth adjacent to the snack bar and the restrooms, I saw the future of logistics: A young company with a full stack of logistics hardware the likes of which no one could match. Hard to imagine that Geek+ had so much logistics gear, all self-developed robotics! Plus, they had their own software.
And I was right, they were Kiva Killers…and on a roll here early in 2021.
Three years on, the newbies adjacent to the snack bar have blossomed in North America…and South America!
As Nanalyze further comments on them: "The real potential here is something Geek+ calls "flexible infrastructure".
"The Geek+ robotic offering is an entire platform that transforms today's automated warehouse into tomorrow's flexible infrastructure. This means you can have an entirely empty warehouse one day, and then by the second day, have a fully roboticized warehouse, complete with picking stations.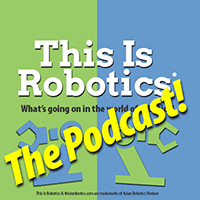 "Couple that flexibility with an 'as a service' business model and this means far less capital needs to be committed to building out warehouses. Compare this to 'mechanized warehouse automation' which requires investments in fixed infrastructure such as conveyors and automated storage and retrieval systems."
This Is Robotics had a chance to circle back to Geek+ for a podcast reunion.
Good buddy, Mark Messina, COO of Geek+ (Americas) and I had an opportunity to rendezvous at his office in San Diego for a catch-up:
Here are excerpts from that conversation. The podcast in its entirety is also on this page (note the time stamps on the excerpts):
TOM GREEN:
This crazy ecommerce world that we're in right now, I mean, even before COVID it was getting wild. And now with COVID and post COVID, it seems to be really ramping up. There are people saying that, hey, I think we need 5 billion square foot of warehouse space in the United States. And I just heard somebody say, hey, if there's a warehouse of 250,000 square feet or larger, and it happens to be the or near an Interstate, then it's not on the market. People from Prologis and CBRE are saying industrial real estate is just really hard to find. Hence, Amazon's building a 675,000 square foot warehouse. So, things are happening in this country and you're right in the heart of it, with your 20 years of experience. So, what's your take? What's the story from your end? How are you feeling about it?
MARK MESSINA:  [time stamp 5:18] 
Well, you know, I think before COVID hit, there was already a massive shift to ecomm, right.  So, more and more people have adopted the convenience of shopping online, which only continues to expand. And then, of course, when COVID hit, it just really accelerated that whole trend.
It used to be before [ecomm] you could predictably understand that around Thanksgiving you would fill up your warehouse completely full as far as it could get. And then everything would be depleted by the end of Christmas. And then it was reverse logistics. So, there was a fairly predictable cycle and planning and resource management around these cycles.  
With the introduction of COVID—the pandemic—there's a new normal, which every day is at that peak level. And that's why you see such demand for the warehouse real estate. And really strange things are happening in that market.
What you said is true, there are really no more real estate opportunities available; it's hard to come by warehouse space, and warehouses are going up very quickly. So that's driven demand for our products, because, number one, we're very flexible, we can scale, we're adaptable.
What we're seeing is automation being demanded by the customer who wants the convenience, and with COVID, the safety, or the perception of safety, of ordering online. And that's being driven by the desire for instant gratification. So, in order to respond, the network itself is physically changing.
We're seeing that it's no longer just large hubs, and then hub and spoke. Now it's down to micro fulfillment and narrow fulfillment centers where the technology continues to get closer and closer to the customer's doorstep. So that means that the technology has to be smaller, more flexible, more adaptable.
And, you know, Geek+ is seeing it as we move into the micro fulfillment space. Plus you're seeing it in terms of UAV ease, you know, delivery drones, delivery drones that are on the ground and in the air. All these things are coming, right, and it's changing the entire shopping experience.
So, as far as finding real estate, I think there's a shift happening where more and more retail space is going to be converted to micro fulfillment. It's kind of a weird thing. You know, being in New England, you probably remember Service Merchandise, right? Where they had a little stock out in their showroom; and you'd pull a ticket and out of the back room would roll your stuff. Because it was more efficient to store it, right? So here we are, we're kind of coming full circle, but with it a big tech spin. So now, the front end, if somebody wants to go to a store, it's going to be backed up by technology, a microphone and robotic technology. And that's just one element of a very quickly changing logistics landscape.
TOM GREEN:
I've been following your career for a while now. But I've also been following Geek+ for a while. I first encountered them at MODEX2018, when they had a 20 by 20 booth. And I can't tell you the amount of stuff they had stuffed in that rookie's booth that was near the men's room and the snack bar. But when you walked in, you said, these guys have got everything. They have everything you could possibly want in a logistics space, and they were newbies in the United States.
I wrote an article about them 'Here Come the Kiva Killers'. And surely, they definitely were. And now they've just sort of like expanded. And you crossed paths with Geek+, and now you're together.
As far as their equipment goes, their technology. I mean, do you see a comparable outfit in the United States?
MARK MESSINA: [time stamp 9:11]
In reality, we have a very broad spectrum of hardware. Geek+ has taken a different direction then most: We offer sort of the Swiss Army knife. We have picking robots, which are goods-to-person, which everybody's very familiar with.
We have our sorting robots, which are conveyor top or tilt tray. We've got AGVs. We have moving robots which are more geared towards factory robots. We have dog-on-a-leash, follow-me robots now, as well with our aisle-pick series.
So, we've got a pretty broad hardware offering. And then within each one of those verticals, we've got different form factors to handle pretty much any size operation, right? For example, our picking robots can handle anything from 500 kilograms to 800 kilograms. We've got different form factors, we've got one that goes down to 40 kilograms; so we can kind of fit anything.
MARK MESSINA (continued):
And that makes us very attractive to our partners. But really, sort of the secret sauce here is not so much in the hardware. I mean, that's what's very visible is the hardware, the secret sauce is that everything runs on our integrated software platforms, we've got our integrated WMS, we've got web LMS, TMS, everything.
So, we can do, we can run just the inventory management of a warehouse, or we can run a full factory on our stack. And this comes from the fact that Geek+ has been around since 2013, we've grown to 900 people. Half of that staff is dedicated to R&D. And more than half of that is dedicated to software development.
And we don't just produce this stuff, right, we have our own factory in Nanjing, China, where we can produce 30,000 robots per year. But we also run this stuff. We operate 3PLs in China.  We run our own hardware and software, we live with the pain, and in the end, the goodness of it.
And we also produce in our factory. Our factory runs on all of our systems, plus we integrate, you know, conveyor and robots from ABB that are running vision-based systems and all this. And we run it from our software.
So, in terms of maturity of hardware, I would put our hardware up against anybody else's hardware any day of the week. And then in terms of software, you know, we release 200 features per quarter, it's one of our metrics that we're internally we're measured on. And those features can be bug fixes, or feature enhancements or brand-new features. But we're dedicated to constant improvement.
TOM GREEN:
That's the vibe I got when I saw these guys. I said, now, here's a name Geek+, I mean, where'd they ever come up with this name? They must be really proud of themselves as engineers. And that's number one. It's not an acronym, it's not some fancy name, or whatever, they just call themselves Geek+. I'm looking at all this gear, and I'm looking at these guys in there. And I said: 'You know what, I bet you they can make anything; they feel like they can take on any challenge. And they can build any piece of equipment that's necessary for logistics for factories, or whatever.'
And so there must be a level of pride and workmanship and making this stuff. And it all looks cool. The product design was really nice. That's where I just got this overwhelming feeling that this was a juggernaut waiting to happen. And I'm gonna really enjoy watching it.
Little did I know, a couple years later you arrived.  And I said, this is a really good marriage here. I'm kind of really digging that. Now what? You did say something there that I thought was really important. As far as your channel partners go, you've got the big guys. But you can also deal with the small to medium enterprise too. So, if I've got a dark warehouse that's a part of a store in downtown Boston, I can avail myself of your equipment or your software or your expertise in my little place, just like the mega giants can.  That kind of spread really appeals to me. How is it for you?
MARK MESSINA: [time stamp 14:11] 
Yeah, we can't keep up with demand that we've got; we are hiring in a very fast pace. It's a good problem to have.
We do handle our dedicated channel partners since we started operations here in the States. We have done some direct sales, but we are moving now to basically everything going through our channel partners. And we support that channel partner network. They're our lifeline. 
We have our staff here fully behind them to support them as they deploy their systems. So this is actually actively happening now, we have deployments going live now. And in terms of supporting, like I said, SMEs versus major networks. We can support everything because our system is so flexible and so scalable. We've got these building blocks and they scale really well. You may have a warehouse that runs purely just goods-to-person. And that's kind of a unique situation where you don't have too much, too many other systems involved. These are quite easy to deploy.
Most commonly, you have systems that involve many other pieces of hardware. You've got our goods-to-person systems, you've got our sorting system, but then you may have shrink wrappers or stations or traditional pick pods, that sort of stuff adjacent to these technologies. And we tend to penetrate more and more of the market that way. But we scale from anything, like you said, from the single distribution center to distribution centers with many, many duplicate layouts. I think in that regard, we were very attractive. Because our software adapts very well and very, very quick to deploy.
Quite simply, how could you
NOT be impressed by this crew?