China's Retail Boom: Automation, Robots & Lingerie
Victoria's Secret may need more than a glitzy fashion show in Shanghai to score big with China's white-hot consumer marketplace
What's ahead: Off-the-charts e-commerce sales together
with a logistics bottleneck also off the charts
Return to the Tang
Sometimes it's a worthwhile exercise to temporarily swing the magnifying glass of scrutiny away from China's rapid automation and robot deployments in order to peer into the world of automation's potential beneficiaries. It helps to inform perspective as to the who, what and why driving this seemingly madcap dash to transform China's manufacturing ecosystem. Why is it so significant, so vitally important, and so necessary that not to automate ASAP will be near catastrophic?

The Great Asian Lingerie Race is a good place for consideration.

Although lingerie came into vogue during China's Tang Dynasty (618 to 907 AD), in 1949, at the founding of the Peoples' Republic, lingerie was, understandably, out of sight and out of mind for most everyone, and certainly far from being on anyone's must-have list.

Fast-forward nearly seventy years and wow, China's lingerie fashionistas have returned to the Tang with a vengeance. According to Euromonitor International, China's women's underwear market in 2016 was $21 billion and is expected to grow to $26 billion by 2022 (up 22 percent from 2016).

L Brands (LB:US), the parent of Victoria's Secret, has taken notice. Victoria's Secret did $12.5 billion in 2016. But, as Bloomberg has said of the brand's health: "Make no mistake: It has been a dismal year for L Brands…Its stock has lost more than a third of its value so far in 2017 [$96 to $36.50] as it has recorded sharply lower same-store sales and faced questions about its ability to adapt to changing consumer preferences."

In what was a very bad May, L Brands reported a nasty seven percent net loss and a whopping 38 percent net revenue drop from the year prior.

$13,700 for a ticket!
That's why getting in on China's lingerie marketplace would put a huge smile on the brand, and is reason enough for November's $20-million party in Shanghai to showcase its Victoria's Secret product line on a Chinese runway. A week earlier, Singles' Day 2017, zipping along at 256,000 sales per second, had clocked a record$25.3 billion in sales in a single day ($17.6 billion in 2016). 2017 witnessed a neat$8.6 billion in the very first hour!

No doubt, L Brands' honchos that day in Shanghai were more than enraptured over tapping into a bit of China's maelstrom of consumer purchasing. The annual Victoria's Secret Fashion Show was going Asian for the first time—with eight Asian models…up from a previous of four—prompting one Asian woman's response: "Nice to see someone who looks like me on the runway."

Tickets to the invitation-only extravaganza via Taobao started at a very heady $13,700. As a bit of perspective, Shanghai, which has the highest minimum wage in China, the monthly salary is $327 (2016). One ticket equals an epic 41.8 months of daily toil.

Worldwide, lingerie is an annual $82 billion industry, which makes it a great double hit for Asia: Asia has the largest consumer base for buying product and it's also where most of the lingerie factories are located.

Since the complexity of making lingerie precludes most present-day, ham-handed robots from the manufacturing process (e.g. assembling a bra, with its on average fifteen different pieces, takes a skilled worker up to twenty minutes to put together), millions of Asian lingerie workers are relatively safe from being automated out of work any time soon. India, Sri Lanka and Vietnam, plus the Chinese mega-lingerie centers in Foshan, Shantou and Xin Hui, will see major expansion as lingerie sales grow 22 percent.

In the Great Asian Lingerie Race, Asia wins even if Victoria's Secret doesn't.


For Victoria's Secret it's nowhere near a slam dunk getting more Chinese fashionistas to cozy up to the Victoria's Secret brand offerings. Sure, it's got a lavish, four-story, 25,850-square-foot flagship in Shanghai (opened in February), another 12,294-square-foot retail outlet in Chengdu (opened in March), with another scheduled for Beijing.  The L Brands' goal is $150 million in annual sales from all three stores.

Then again, the Singles' Day machine gun of 256,000 sales per second is the treasure trove to which all retailers aspire. Getting a piece of that, hmmmm.

Big numbers mean ecommerce, and it's with ecommerce that the dreams of giant paydays get very wobbly.

Here's the drill
The people with the money for lingerie in China are in the cities, and China has ten meg-cities full of fashionistas ready to buy. Their numbers are staggering. Dig this: There are 142 million women in China between the ages of 20 and 35, who, according to a 2016 study conducted by the Lingerie association of Canton and the lingerie maker Mielseno), annually spend $86 each on lingerie. The 20 to 35 age group accounts for better than 75 percent of all lingerie sales.

That's a mind-bending $12 billion, which makes $150 million from three Victoria's Secret stores a rounding error.

China is by far the world's largest ecommerce market: $615 billion last year(2016); that's nearly the same as Europe and the U.S. combined.

Obviously, the real game afoot is ecommerce, with its countless millions of brown boxes heading out to customers who more than expect rapid delivery. For Singles' Day orders of 812 million resulting in 1.3 billion packages, Alibaba experimented with "smart logistics" using big data, "which allows fast delivery from proximity warehouses/stores. The first order was delivered in 12.18 minutes of the purchase."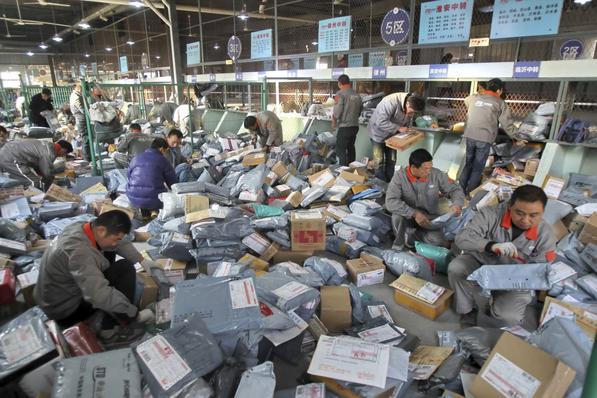 When logistics gets in the way
Ecommerce is the favored means of purchase because customers don't go to stores to buy. 
And just why is that? Well, three reasons: 1. Private car ownership is still under 4 percent, so people aren't jumping into a cars and zooming off to malls; 2. If consumers do have access to private cars, China's very traffic-clogged byways are places to be avoided; and 3. Package delivery costs are still well under $5. 
All of which makes online buying the preferred method of window shopping and purchase, which means warehouses and distribution centers better be up to the task…which they are not. China's logistics infrastructure just doesn't exist in anywhere near the capacity to fulfill China's present and future needs.

Although Alibaba, Tencent and JD.com put on an extra 10,000 workers for Singles' Day 2017 and tried mightily to show some organization, logistics is still a runaway train, which prompted the McKinsey report: China's e-commerce soft spot: Logistics.

"Alibaba, for example, has slated $16 billion for future logistics investments, both to increase its market reach and to improve the reliability and speed of delivery."

When every day is Singles' Day
By 2020, what's called the "Urban Mass", the 500 million Chinese making between $5,000 and $6,000 annually will graduate some 200 million into the "Urban Middle Class", who are today's 150 million earning $10,000 or more.  Those 350 million middle-class consumers will outnumber the total population of the U.S. What is a wonderful uplift for the millions of new middle-class Chinese will be a nightmare for logistics.

"As China's middle class grows – along with their disposable incomes – Chinese consumers are buying things at a rate never seen before."

The World Economic Forum forecasts that by 2020, Chinese spending, powered by this massive middle class, will have grown by $2.3 trillion – the equivalent of adding a consumer market 1.3 times the size of the UK – in the next three years.

McKinsey surveyed 10,000 people living in 44 cities in China for its 2016 China Consumer Report. The survey found that as incomes grow, people in China are going to be spending more on travel, leisure and looking good. Lingerie fits neatly into all three.

However, how soon will anyone get to actually try on the purchase?

Certainly the "smart warehouse" movement is well underway in China, but for every warehouse, like T-mall's Huiyang center stuffed with WiFi-equipped, self-charging robots that work non-stop for eight hours without recharging, most are not near so smart.

Most, according to a Prologis report, are brute-force boxes where humans lift and pack and stuff delivery vans the old fashioned way, packing the equivalent of "nearly half of the worldwide online retail sales," which will ring up an astounding $1.132 trillion for 2017.

Victoria's Secret and tens of thousands of other retailers are headed toward an identical future of off-the-charts ecommerce sales together with a logistics bottleneck also off the charts.

What then will Singles' Day 2020 look like when every day looks like Singles' Day 2017?