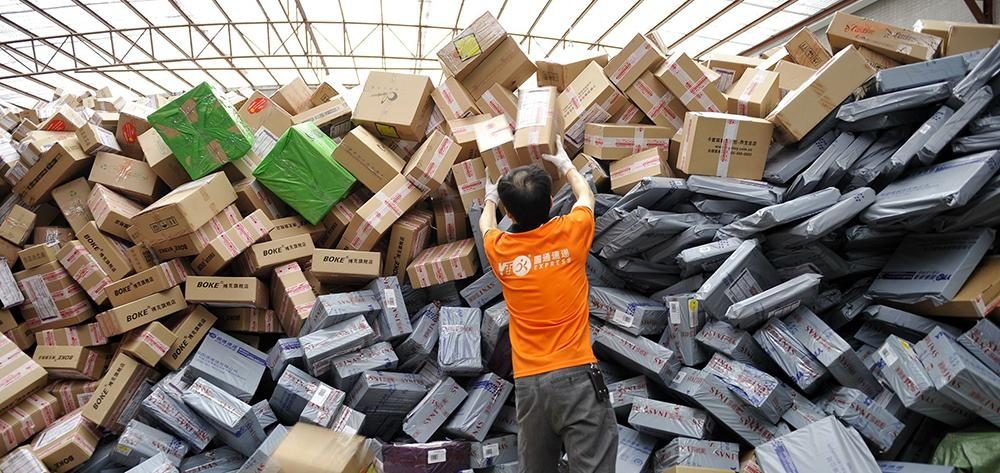 Robots and the Great Asian Warehouse Makeover
Logistics finally capitulates to robots in the West, but biggest gains to be felt in Asia. Look for 2021-2026 to be huge!
When worlds collide
"The combination of our reliance on online shopping during a pandemic
and our eagerness for online shopping during the holidays has made some e-commerce experts predict
a "
shipageddon
" in the United States — delays and chaos as parcel companies already stretched thin
also tackle a surge in holiday packages."
—New York Times
Is this any way to run a business?
Warehousing and distribution centers in Asia are far from being as competent, speedy, or cost-efficient as they should be. As such, they are losing out on billions of dollars of revenue and missing daily opportunities in e-commerce.
With 3.5 billion of the world's 7 billion people living in Asia and e-commerce soaring, Asian warehouses and distribution centers will need a complete makeover, just to meet basic demands of holding inventory and then expeditiously getting it to customers.
Asia, especially East Asia, where warehouses have the most to gain or lose with e-commerce, is particularly needy.
Jeff Bezos CEO of Amazon says that two things about shipping goods from a warehouse that will never change are: people's desire for lower prices, and faster delivery.
Bezos is accomplishing the holding inventory and delivery parts of the warehouse equation with robots. Amazon distribution centers were early adopters of robots (in 2012 Amazon acquired Kiva Systems for $775 million).
A Deutsche Bank study of Amazon's robot-driven warehouses revealed the "'click to ship' cycle used to be around 60-75 minutes when employees had to manually sift through the stacks, pick the product, pack it, and ship it. Now, robots handle the same job in 15 minutes."
Prologis, a global industrial real estate investment trust, owner of 4,700 logistics and distribution facilities across the Americas, Asia and Europe, was swift in its analysis of woeful logistics operations in both Japan and Korea:
"The vast majority of Japanese warehouses that exist today are cramped, tired spaces designed for storage and ill-suited for use as fast turnaround distribution facilities."
"It is estimated that 95 percent of the existing inventory of warehouse and distribution floor space is outdated and obsolete. South Korea's supply chain operations and practices have a long way to go to reach world-class status."
The Prologis reports are strange on the ear in that both Japan and Korea are about as high tech as countries can possible get; and doubly strange in that each has two of the highest robot to worker densities in the world: Korea first; Japan second. Most are in manufacturing and not in logistics.
Obviously, Japan and Korea might well benefit from the Bezos Amazon model.
Then there's China with the most to lose or gain in East Asian logistics: just China's middle-class e-commerce engine of 175 million is equal to the populations of Japan and Korea, combined. It's a surging middle class that's about to gain another 50 million members by 2025.
China, in a recent McKinsey study: China's e-commerce soft spot: Logistics, reports:"Consumers are buying massive amounts online, but subpar operating discipline in distribution is keeping costs high."
And McKinsey makes no exaggeration in saying that the Chinese are "buying massive amounts online." McKinsey research reports China's "package-delivery business has been growing at 30 percent a year.
"Chinese media is reporting that Alibaba's "Single's Day" sales hit $38.4 billion, surpassing last year's record of $30.8 billion for the annual November 11 online shopping extravaganza that dwarfs Black Friday. Alibaba shopping platform T-mall processed over 544,000 transactions during a single peak second (2019), 1,360 times more than the 2009 record. With the shopping done, the next challenge is delivering all these purchases.
"China's National Post Bureau forecasts some 2.8 billion parcels will be shipped between November 11-18th. While robots will do much of the heavy lifting, an average human warehouse worker will cover 26 miles per day, equivalent to a full, sweaty marathon."
"Growth is eroding margins for many e-commerce players as they struggle with the basics of moving so many goods.
Alibaba, for example, has slated $16 billion for future logistics investments, both to increase its market reach and to improve the reliability and speed of delivery.  
That's serious logistics making serious money! 
The looming shadow of Amazon's success
For years in North America and Europe, robots and logistics were elusive to bring together in any meaningful way. 
The supply chain and logistics industries generally marginalized robots in favor of arcane "people-in-the-loop" warehouse operating systems; and to be fair "robots-in-the-loop" weren't as dependable or flexible as human workers. 
That, of course, drifted into an old, tired excuse some years ago as robots powered their way into everything as robot tech got robust, dexterous and smart seemingly all at once.
It soon became patently obvious, even to the old school of "robot-avoiders" hanging onto old-school ways, that robots had arrived to claim the throne of logistics.
Just these tidbits from the Deutsche Bank/Amazon study highlight why robots took the throne:
Each of Amazon's Kiva-equipped warehouses can hold 50 percent more inventory per square foot than centers without robots. In turn, the company's operating costs have been sliced by 20 percent—or almost $22 million—per warehouse.
If Kiva robots are dispatched to all of the 110 Amazon warehouses, the tech giant could save almost $2.5 billion, according to Deutsche Bank.
Next stop: Asian logistics
It's simple. There's no denying the obvious any longer. Robots now rule logistics, and will so until they are replaced with better robots. It's a totally astounding flip-flop, and so much more of it will be in play for 2017.
Major materials handling and logistics organizations have already thrown in the towel, and are messaging to their constituencies a nearly all-robot near future.
North America is burgeoning in what's being called "logistics robotics" companies coming online led by a new breed of young robot makers—disruptors!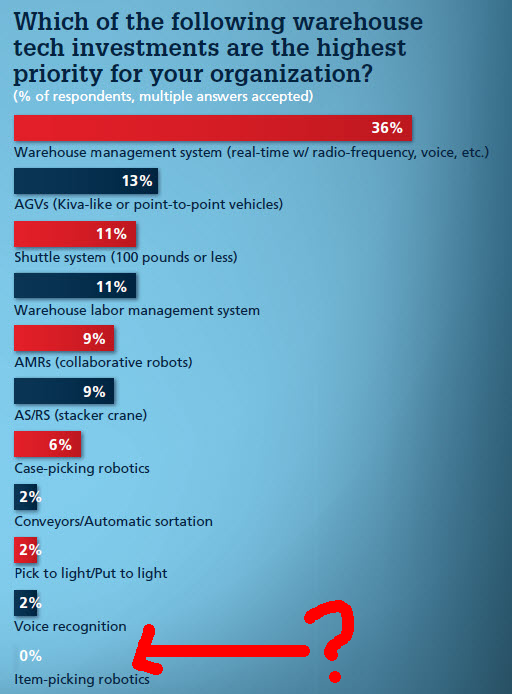 For a glimpse of this rising Chinese middle-class influence on e-commerce and logistics, the following Goldman Sachs video report by Joshua Lu paints an enormous future ahead.