Catching Up to Powerful East Asian Competition a Daunting Task
[Taiwan] Shifting from key components to full robot system design. Most companies in Taiwan's industrial robot supply chain are involved in component areas, and focus primarily on the Greater China markets: Airtac (pneumatic equipment), Delta (inverters, servo motors), Hiwin (linear motion components), Teco (motors), etc.
In recent years, these companies have been increasing their efforts to develop industrial robots in Taiwan…some companies have even come up with robot products by leveraging their capabilities in other non-robotic areas, such as Quanta Storage.                  —Daiwa Research
Lukewarm fits and starts
Taiwan is very aware of its lack of capability to deliver large-scale robot automation to its industries, as well as very mindful of the looming consequences of its inaction.
Strangely, although robotics development in Taiwan remains well behind all the countries in East Asia, it does have a potentially strong robotics supply chain sitting on top of an already well-established electronics and mechanical parts industry. If somehow Taiwan could compress the time frame suggested by Liu and merge salient aspects from its electronics and machinery industries, it might be able to meet the automation challenge that it is facing. Prospects for that sort of outcome do not look overly promising.
To catch up with its powerful East Asian competition will be a daunting quest. When Taiwan's productivity begins to lag badly, it'll then be too late.
New competitors like the suddenly resurgent Vietnam stand ready to take up any slack that Taiwan relinquishes. For example, in 2008 Vietnam exported $ 8 billion in electronics, but by 2014, that number had swelled to $32 billion, nearly half that of Taiwan's.
And it's not like Taiwan hasn't the bankroll to invest in high-end robots. "The island runs a trade surplus, largely because of its surplus with China, and its foreign reserves are the world's fifth largest, behind those of China, Japan, Saudi Arabia, and Switzerland."
Back in 2014, in an effort to try to turn things around a bit, Taiwan's Advantech and Hiwin Technologies got together to sign an agreement to partner and thereby to "foster the formation of Taiwan's robot-industry cluster in order to boost international competitiveness of Taiwan's robotic and intelligent-automation industry."
In 2015, Advantech entered into another agreement, this time with Japan's Panasonic, with the stated goal of the new relationship to develop factory automation systems. Exactly what's very much needed.
Ten years too late
However, Advantech's chairman and CEO, K.C. Liu, said that the joint partnership will help the country's robot industry makers to build robotics into Taiwan's next core industry over the next 20 years. Of course, that's a good ten years too late. 
The China connection
The November (2015) meeting in Singapore between China's Xi Jinping and Taiwan's President Ma Ying-jeou, the first handshake between the two countries in sixty-six years, might signal a way forward for Taiwan's automation needs while for China it may gain a strong high-tech ally.
Now, of course, the recent election may pose significant challenges."Tsai Ing-wen and her Democratic Progressive Party (DPP) won a convincing victory in both presidential and parliamentary elections on Saturday, in what could usher in a new round of instability with China," reported Reuters
Any robot-oriented rapprochement between the two political adversaries might begin with the free trade zone China is considering at Pingtan Island off the Fujian coast some 76 miles from Hsinchu, a city known as Taiwan's Silicon Valley (China's closest point to Taiwan).
"The mainland market is big enough to take in more of Taiwan's goods and entrepreneurs," Xi Jinping was quoted as saying when he met with Taiwanese business leaders at Pingtan.
Such a high-tech arrangement could open up a relationship that might see Chinese robots headed east while Taiwan's expertise at manufacturing parts for robots headed west.
In what could be seen as an act good faith and positive outreach on the part of Taiwan is the recent announcement by Morris Chang, the 'godfather' of Taiwan's chip industry,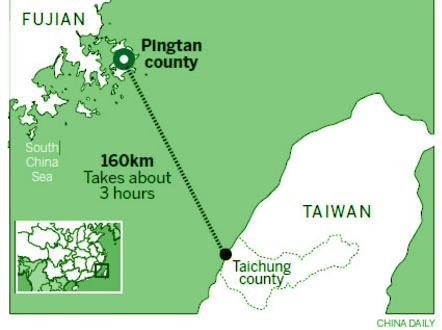 that his Taiwan Semiconductor Manufacturing Co. plans to build a $3 billion advanced chip factory in the eastern Chinese city of Nanjing.
The positive ramifications of Chang's new fab in Nanjing and the free trade zone at Pingtan will bear some scrutiny.