Industry Forecast: Robot Sales to Hit $25B by 2022
Industry forecast is for robot sales to hit $25 billion by 2022.
As a consequence of Korea's attention to robotics it has realized itself as a world leader in the density of robots in its domestic manufacturing and general industrial operations, even though it narrowly lags Japan, Germany and the U.S. in robots for the automotive industry.
More is needed to help the economy
With the need for automation, especially robot-driven automation, to dramatically increase productivity as well as to leap from high-level domestic use of robots to robots as a significant source of export revenue, Korea embarked in 2014 on a new initiative:  Development of a Fully Fledged Robotics Industry through Convergence with Other Industries.
The plan to catch up: "While the 1st master plan (2009-2013) focused on catching-up through infrastructure building, production development and promotion, the 2nd master plan focuses on expansion of the robotics industry into other manufacturing and service sectors, acknowledging advancements in robotics technology and the convergence of key industries."
"The government aims to produce quality robots by shifting its R&D focus to existing industrial demand, reported Korea Joongang Daily. "It believes such a move can give robots a central role in the nation's economy."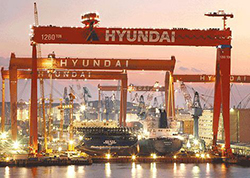 Korea will invest $2.5 billion into the plan. "The Ministry of Trade, Industry and Energy said that Korea should follow the global trend of integrating robot technologies in existing manufacturing industries in the short term and invest in robots that solve social problems in the longer term, meaning rescue robots, health care robots and advanced manufacturing robots."
Although the Ministry's former plan from 2008 through 2012, produced practical AI, surgical and cleaning robots, the eventual market for such robotics netted only $600 million while the world market grew to $13.3 billion.
"However, industry members said…they still lack R&D projects on source technologies, a decent robot parts industry and a stable overseas market."
Exporting robots to replace low-wage workers
The Ministry of Trade, Industry and Energy's recent deal (October 2015) with Samsung illustrates the kinds of government investments that may well lead to increased exports of Korean robots and robot parts (robot parts have long been dominated by Japan).
A $14.8 million investment with Samsungwill produce robots that would help manufacturers compete with cheap labor in China by replacing low-wage Chinese workers.
The robots will assemble products such as mobile phones and other consumer electronics that almost always require a level of precision possible only by human assemblers.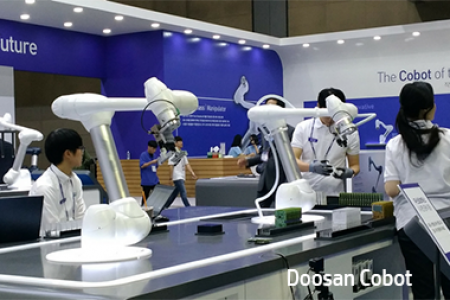 For Samsung's part, it will develop high-precision robots to replace these assemblers (completion date 2018); such robots are "currently expensive and often imported from abroad."
Additionally, Samsung will get into the parts business as well by building precision speed reducers, motors, controllers and sensor encoders.
Many Smartphone manufacturers such as Samsung utilize cheap Chinese labor to manufacture and assemble their products. However, rising wages in China have narrowed profit margins, "making the development of more automated factories a priority."
Alternatively, contract electronics manufacturers like Taiwan's Foxconn have elected to move further west in search of cheaper labor. Foxconn recently "signed a memorandum of understanding with Maharashtra [India] to invest the money [$5 billion] in coming years on operations that would employ 50,000 people, said Subash Desai, Maharashtra's industries minister.
The people solution: It takes human assemblers 41 distinct steps over several days to put an Apple iPhone together, which represents a total cost of $200 to $247 in parts and labor. With iPhone 6 models retailing for between $649 and $849 without a contract, it is easy to see that the profits are there if the cheap labor is as well. To give a sense of the profits involved, in the first three days of availability 13 million iPhone 6 and iPhone 6 Plus units were sold.
However, chasing labor is not likely a long-term solution for any manufacturing or assembly operation. The advent of the Industrial Internet of Things (IIoT) will eventually automate all those functions into what will lead to "smart factories," which is the Ministry of Trade, Industry and Energy's ultimate goal.
If government interventions to aid the development of a larger robots are successful, industry forecasts that overall Korean robot sales could hit $25 billion by 2022, including an enormous opportunity in the ASEAN community of Southeast Asia.
​