Paris Air Show, Jeju Island & $87 Billion Bode Well
Connecting the dots from Boeing's huge sales day to Korea hosting the AIIB to $20 billion in upgrades for the robotics marketplace
It's been 20 years now—July 1997—since the great Asian financial crisis swept through the South China Sea wreaking havoc that took ten years of recovery. Here, two decades on at the summer solstice 2017, Asia is taking on and doing well with its greatest challenge ever: automation.

 When it comes to the future of Asia's automation revolution, even seemingly unrelated events taking place thousands of miles apart can have great significance.


Here's a trifecta of charts and facts and predictions that more than hint at what's ahead for Asia.

All air routes lead to Asia
The Paris Air Show (June 19 to 25). FlightGlobal showed a Chinese buying spreefor Boeing aircraft. Chinese Avolon, a leasing company, ordered 75 for $8.4 billion; China Development Bank Leasing another 52 aircraft, plus eight 787 Dreamliners. Other Chinese buyers included China Aircraft Leasing, Tibet Financial Leasing, BOC Aviation and Okay Airways. Overall, Boeing took orders for 767 aircraft; Airbus another 229.

The reason?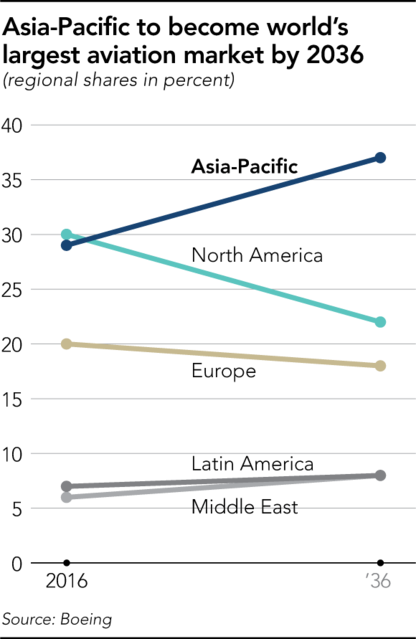 And here's why it'll become the largest aviation market:

The International Air Transport Association (IATA) projects the five fastest-growing markets in terms of additional passengers per year over the forecast period (2016-2036). Four out of the top five are guess where?
China (817 million new passengers for a total of 1.3 billion)
US (484 million new passengers for a total of 1.1 billion)
India (322 million new passengers for a total of 442 million)
Indonesia (135 million new passengers for a total of 242 million)
Vietnam (112 million new passengers for a total of 150 million)
​Burying the TPP at Jeju Island
When the National Congress of the Communist Party meets this fall, China's President Xi Jinping might be getting measured for a bronze statue of himself. Not since Mao Zedong and Deng Xiaoping has a Chinese leader stacked up so many first-rate, mega-accomplishments.

None of his many successes, especially the political and diplomatic ones, would be more impressive than presiding over the burial of the years-in-the-making, ill-fated TPP or Trans-Pacific Partnership, while, at the same time, maybe gently coaxing some or all the TPP crew into joining his Asian Infrastructure Investment Bank or AIIB.

On Korea's resort island of Jeju, 2,500 participants from 77 member countries will discuss the future direction of the AIIB. For Korea's newly elected leader, President Moon Jae-in, Jeju could well be his first bigtime opportunity to display his new direction for Korea (he took office on May 10). Although Xi took part in the inaugural meeting of AIIB in Beijing last year, it's unclear if he'll be in Jeju. On stage with President Moon would be a coup of sorts, especially with the Japanese finally leaning favorably toward membership.

Toshihiro Nikai, secretary-general of Prime Minister Shinzo Abe's Liberal Democratic Party, has let out that his boss has reversed himself and is now interested in the massive Chinese-led project. Both Japan and the U.S. hurried representatives to the One Belt, One Road summit in May.
Nikai also mentioned that Abe would like a serious chat with both South Korean President Moon Jae-in and Chinese President Xi Jinping on the sidelines of the Group of 20 summit in Germany in July.
As the Japan Times reported: "Reversing his position, Prime Minister Shinzo Abe has indicated that Japan is ready to cooperate with China's "One Belt, One Road" (OBOR) initiative for cross-continental infrastructure development under certain conditions. He is also now willing to consider Japan joining the China-initiated Asian Infrastructure Investment Bank (AIIB) — of which Japan, along with the United States, sat out when it was set up in 2015."
Burying the TPP at Jeju would be the perfect prelude to the Group 20 summit.
One Belt, One Road: Proposed by Xi in 2013, the program is an estimated $5 trillion infrastructure spending spree that spans 60-plus countries across Asia, the Middle East, Europe, and Africa.
There's something for everyone in the One Belt, One Road mix, especially automation and robotics. Here's how all that cash will be spent.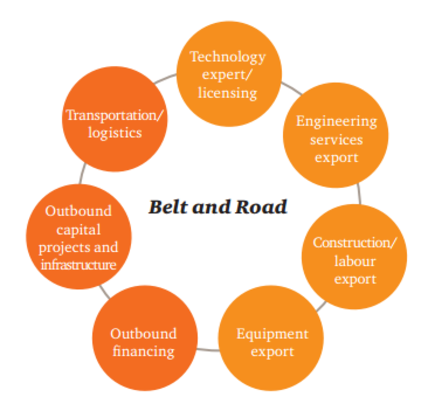 Adding an extra $20 billion
My good buddies over at the Boston Consulting Group (about six miles from this keyboard) have reexamined their forecast for the robotics marketplace for 2025 and as a result have added an extra $20 billion to their tally. "Soaring consumer demand" accounts for most of the whopping increase.
Mel Wolfgang and Alison Sander now project the global robot marketplace as an $87 billion industry; in 2014, they had forecast $67 billion for 2025. Their recent article, Gaining Robotics Advantage, the great, consumer robot surge of 2016.
Their summation of what's taken place over the intervening three years since their last forecast in 2014 is the phenomenon that we've all been watching in rapt wonderment:
"New capabilities and applications are driving the shift to robotics. Today's robots have voice and language recognition, access to large amounts of data, algorithms to process information independently, learning capability, greater mobility and dexterity, advanced sensors, and the ability to interact with their environment.
"They have gained flexibility, speed, and finesse, clearing the way for a generation of precision robots that can slice meats, sort and fill prescriptions, pick and pack warehouse orders, or harvest fruits and vegetables—far more quickly and accurately than human hands can.
"The combination of advancing technology and retreating prices is making robots more widely accessible for a multitude of new uses—and entrepreneurs are taking note."
Here's one of their charts. Look at the growth of "Consumer". Yikes!
Come the Tokyo Olympics in 2020, they may well have to revisit this chart once again for an upward revision. By then it could well be the Amazon Tokyo Olympics with Alexa doing the PA announcements for all the events as fleets of Peppers hawk beers and sushi in the stands.