Advanced Robotics to Grow...Rapidly
New Decade, New Vibe: Robotics 2020
Cobots and mobile robotics to lead. Legacy, industrial robotics in for rough ride unless it has a "cobot moment" or two
The Roaring Twenties not for everyone
A growing number of consultancies and research houses are painting a rather gloomy 2020 for the sales of industrial robots. The reasons are many, and they go well beyond the slowdown in the auto and electronics industries or the Sino-American trade war as a drag on sales.
The rising stars of robotics these days are two: cobots and mobile robots. And the overarching companion term for both is "smart". Industrial automation has got to be smart or it's not automation; and that's a bit of what has happened to industrial robotics.
Go no further than the AUTOMATICA 2020 website to see it in all its glory; the big daddy of EU tech events bills itself as: The Leading Exhibition for Smart Automation and Robotics. Notice, smart.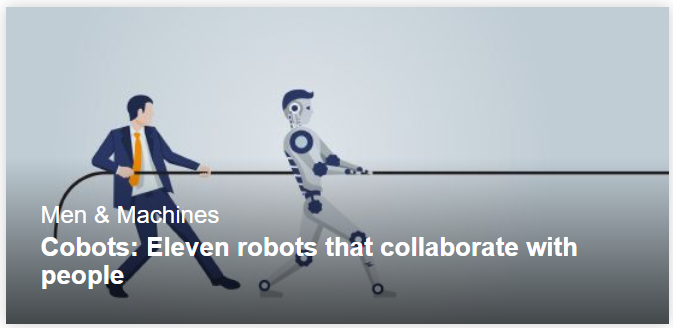 More than likely, and probably more so than AUTOMATICA 2018, the high-tech big top in Munich will be dominated by cobots and mobile yet again, only this time bigger and bolder than 2018.
Click on over to the site's Welcome to the automatica industry portal, and guess what gets top billing? Cobots.
Integrating the Sensor Show into the main body of AUTOMATICA 2020 is another idea whose time has come: "Sensors enable data collection in production and are therefore an important component on the way to the intelligent factory. The Sensor Show connects the entire sensor supply chain," so say the organizers.
So, who are the main targets of that messaging? Cobots, mobile, and grippers; the part of the tech ecosystem that is currently loading up on digitalization of production, artificial intelligence, and edge computing.
Legacy industrial robotics not so much, if at all.
McKinsey has grippers and EOATs doubling: "By 2023, grippers and EOATs will reach an estimated market size of about $5 billion—more than twice the 2017 amount."
BTW: Check out the labeling of the top five portal topics under the heading of Men & Machines.  In this new age of inclusion, wouldn't a simple People & Machines look at bit better? Men & Machines will do little to ingratiate the event to high-tech's women.
What are they saying about us?
So, who are the gloom merchants for legacy industrial robotics in 2020 and what are they saying?
#1: SALES SLOW TO RECOVER FROM 2019, PRAY FOR 2021…2022!
Interact Analysis: Industrial Robots – Slowing But Still Growing – With Significant Changes in the Market to Come
"The growth of industrial robot revenues slowed in 2019 but is forecast to pick up again towards late 2020 and accelerate in 2021."
The International Federation of Robotics (IFR): The World Robotics Report 2019: "The IFR expects little or no growth in the number of industrial robots sold globally this year [2019]. The IFR's longer-term outlook shows that the ongoing automation trend and continued technical improvements will result in double-digit growth – with an estimate of about 584,000 units in 2022."
#2: CHEAPER ROBOTS, BETTER PLATFORMS, AND BACKWARD COMPATIBILITY
McKinsey & Company: Industrial robotics: Insights into the sector's future growth dynamics
Challenges and roadblocks from customers of industrial robots: "cost of robots, lack of homogeneous programming platforms/interfaces, and lack of integrators working across OEMs/geographies/ industries. For electronics and pharma, another important aspect is the lack of retrofit options/compatibility with existing equipment."
ABI Research: 54 Technology Trends to Watch in 2020: Predictions for What Will– and What Won't –Happen in The Year Ahead
"The established industrial robotic vendors have posted dismal financial results throughout 2019…This decline in fortunes is heavily linked to wider challengers in the global manufacturing environment and, in particular, challenges for automotive manufacturers…But the macroeconomic environment is not the only reason for legacy industrial robotic vendors to watch out.
"Despite developing alternative robotic systems like mobile robots and Collaborative Robots (cobots), these vendors have not achieved success outside the purview of traditional articulated arms, Selective Compliance Assembly Robot Arm (SCARA), parallel, and linear robots. They have largely missed the chance to gain leadership in nascent robotic fields and are, thus, going to be playing a less central role for the industry from now on, and smaller industrial vendors and third-party technology providers could even be consolidated as this mature market begins to run out of growth opportunity."
#3: MANUFACTURERS NEED LEGACY INDUSTRIAL ROBOTICS TO PROVIDE "ADVANCED" ROBOTS TO HELP WITH COMPLEX PRODUCTION ENVIRONMENTS.
Boston Consulting Group (BCG): Advanced Robotics in the Factory of the Future (Boston Consulting Group:
So, what are these "wider challenges in the global manufacturing environment" from the BCG report?  "Producers see advanced robotics as a way to address the increasing complexity of their manufacturing operations.
"In recent years, the number of product variations, the frequency of new product launches, and demand for customized products have increased dramatically. In this more complex operating environment, the ability of conventional automation to meet producers' requirements for transparency, productivity, and flexibility has reached its limit. At the same time, labor shortages and higher labor costs have increased the pressure on producers to automate tasks that human workers currently perform manually.
"Leverage AI and advanced analytics to create integrated learning loops in which machines use continuous feedback to act, learn, and adapt on their own—without the bottleneck of human intervention."
DEMAND FOR "ADVANCED ROBOTICS" IS GROWING…RAPIDLY (see chart below)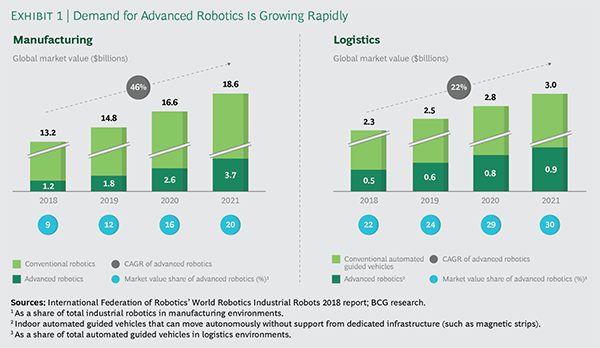 Can legacy robotics create a "cobot moment"
Almost a decade back in January of 2012, when I was editor in chief of Robotics Business Review, we decided to create an ongoing award program that would recognize and honor the best tech advances in robotics from the previous year. We called the program The Game Changer Awards; the first edition of which would be awarded at our annual RoboBusiness conference in 2013.
Universal Robots' UR5 was nominated that year in the category of Human/Robot Interaction. The word cobot was new on the ear back then. What this new, little robot was good for and who would buy one wasn't too clear, either. One integrator thought the nomination kind of dumb, blasting the cobot as a C-suite fantasy from execs out of touch with the reality of robotics.  Others opined that it was too light weight, too slow and not tough enough—doomed to certain failure.
Would our first-year award program become a laugher if this "cobot thing" won an award?
One thing for sure was the "cobot moment" that all of us on the editorial team had had with just one look at the machine. One look told us that the UR5 was more than just an award winner, this cobot was going to change everything. Hey, a game changer!
Our six judges from The International Journal of Advanced Robotic Systems (IJARS) and two VCs from the business community also had "cobot moments".
They gave a unanimous thumbs up for Universal Robots to get the award for Human/Robot Interaction. Of course, they were singing to the choir; done deal.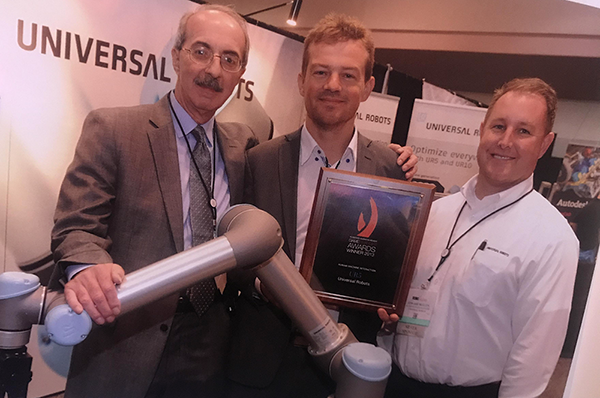 Amazingly, the UR5 at RoboBusiness 2013 was just cranking up at handing out "cobot moments": The Universal Robots booth was mobbed by attendees, many of whom were end users with definite uses for the sleek, space-saving, little arm. Users—a/k/a people in search of new, useful tools—not integrators—had a "cobot moment" and then ended up igniting the cobot revolution.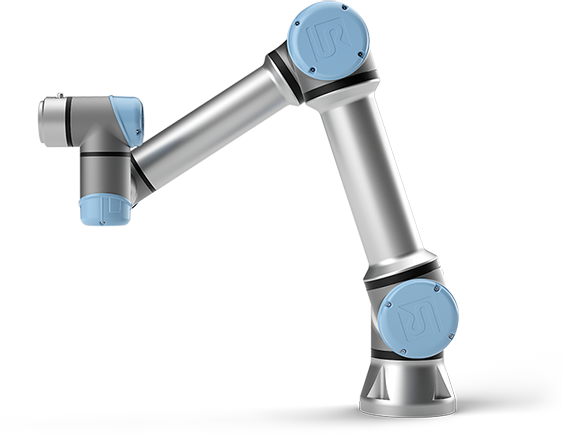 It's never too late
In an article in SEISANZAI Japan titled Industrial robot industry in a phase of change, Junji Tsuda, chairman of Yaskawa Electric (and past president of The International Federation of Robotics), admitted that "conditions are really severe. They were predicted to be like this a little while ago, though."
The solution, he says, "requires fresh ways of thinking." So much so, Yaskawa has gone outside the firm for help, retaining Tokyo-based, AI consultancy Cross Compass Ltd. FANUC has also made a similar outreach.
"When production engineers of end users become able to handle AI," says Tsuda, "the robot market's base will expand. We aim to develop easy-to-use applications for industrial engineers who use robots for the first time. Applications are rapidly being developed, and it's a really interesting situation."
That's something that cobotics has been supplying to end users since day one.
Seems the legacy, industrial robot business is finally having a "cobot moment" of its own.
And it's very much needed. Successfully automating the factory of the future will require from the FANUCs, Yaskawas, ABBs and others of legacy robotics a few brilliant ideas made into brilliant machines.
Sooner rather than later would be very much appreciated.
Okay, 2020 is here: On your mark, get set…
Happy New Year
Tom Green