50-Plus Vendors Vying for the Prize
Update: Warehouse Automation
The Market, Its Tech & Its $27B Future
Future of Warehouse Automation
Kiva's robots and inventory management system were disruptive technologies in 2011-12 and it was on its peak when Amazon acquired the firm for $775m. Amazon rebranded it as Amazon Robotics and strategically withdrew Kiva robots from general sales to maintain and develop its advantage. That is why Amazon is ahead of 10-15 months as compared to any of its competitor in the Retail sector as far as warehouse efficiency and effectiveness is concerned. At present, Amazon has deployed more than 150,000 mobile robots to handle its daily operations. If we consider the average price of a mobile robot at $20K then it automatically let us know the importance and significance of this $775m invest from Amazon.
At the same time, it created an opportunity for other players in the market to innovate a similar but new product for other warehouse end-users as well. Companies like 6 Rivers Systems, Fetch Robotics, Lucas Robotics, Magazino, MiR, IAm Robotics, InVia Robotics, etc. launched their own AMR (Autonomous Mobile Robots) including pick assistance facility with the help of LiDAR and Cobots. On the other hand, players like Geek+, Grey Orange, Quicktron (Flashhold), HikVision, Swisslog, Balyo, Scallog, etc. had a similar product like Kiva Robotics to accelerate the market.
Apart this, we have also seen some new technology innovations like Automated Storage and Retrieval System (ASRS), Automated Guided Vehicles (AGVs – working with other navigation methods like Optical Tapes, Sensors) and Picking Systems (Pick by Voice, Pick by Vision, Pick by Light) to make the warehouse more effective so that customer expectation to deliver the product within 12/24 hours can be met.
There are many leading players in warehouse automation across different functions like Material Handling, AMRs, Sensors & Control, AIDC and WMS. LogisticsIQ™ has also created a Market Map for such players as depicted below.
LogisticsIQ™
The latest market research study "Warehouse Automation Market By Technology (AGV/AMR, AS/RS, Conveyors, Sortation, Order Picking, Automatic Identification and Data Capture, Palletizing & Depalletizing, Overhead Systems, MRO Services and WMS/WES/WCS), By Industry (E-commerce, General Merchandise, Grocery, Apparel, Food & Beverage, Pharma, 3PL), By Functions (Inbound, Picking, Outbound), By Geography – Global Forecast to 2025", estimates that the global Warehouse Automation Market will grow more than 2x from $13 Billion in 2018 to $27 billion by 2025, at a CAGR of 11.7% between 2019 and 2025.

As per LogisticsIQ™ market study, AGV/AMR market is expected to cross $4B mark by 2025 and AMR (without any external support of optical tape, sensor or vision) is going to be main contributor in retail warehouses due to high demand in e-commerce sector and its flexibility to deploy the robot without any major change in the existing warehouse infrastructure. However, it is a bit slow in terms of pick rate per hour as compared to ASRS but is preferred in small and medium warehouses due to lower cost and quick deployment. LogisticsIQ™ market study estimates that AGVs/AMRs are going to have more than 15% market share in overall warehouse automation led by players like Dematic, SSI-Schaefer, Geek+, GreyOrange and HikVision.
The eMarketer estimates that the global retail market will reach $25.038 trillion in 2019, an increase of 4.5% and slight acceleration in growth w.r.t to last year. At the same time, it represents a marked decline from the five years preceding that, when global retail sales grew between 5.7% and 7.5% each year.
This consumer spending slowdown over the past two years reflects growing economic uncertainty and a dampening economic environment across many corners of the globe. Despite of this declining trend, eMarketer estimates that global ecommerce will rise 20.7% in 2019 to $3.535 trillion.
Despite its obviously strong growth rate, 2019 will experience a decline from the previous two years when ecommerce grew 28.0% in 2017 and 22.9% in 2018. By 2021, global ecommerce is supposed to reach $5 trillion, though growth rate would not be as attractive as 20% in coming years.
Also, it is expected that Mobile Robots will help the companies to lower down their increasing labor cost. It is getting popular in countries where LPI score is high but there are some exceptions like China where demand is too high due to e-commerce wave and disruption in the Automotive and Manufacturing Sector. Quicktron, HikVision, and Geek+ are leading the market in China and has more than 70% market share in AMR space. If we do consider AGV, AMR and Picking Robots combine market then they are expected to have more than 40% market share in Warehouse Automation Market by 2025.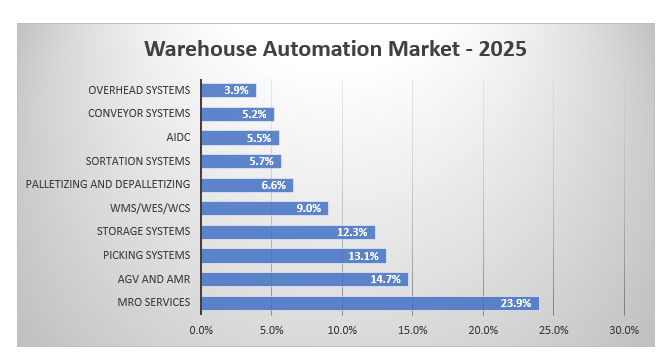 As per our initial discussion with different suppliers, there are mainly 3 business models for AMR/AGV
Direct Buy: End-customer is doing the due-diligence at its end with the help of consultancy or advisory parties to analyse the requirement and is approaching the supplier directly to buy the AMR/AGV.
ROI can be expected in a shorter time as compared to other models
Maintenance/services cost must be added as a part of OPEX
Employees need to be trained to perform the function and monitoring part
RaaS – Robotics as a Service: End-customer can lease the product/equipment and can contact System Integrators to deploy the robot as a part of Monthly expense.
No Capex required. It can be taken care as a part of OPEX
ROI might be achieved in a long timeframe
Employees need to be trained to perform the function and monitoring part
PPP – Pay Per Pick: In this model, end-user is charged based on the # items picked or # picks. It is linked with the performance of leased product or equipment.
ROI cannot be analysed as it may vary as per the efficiency of the product
Fully Managed solutions including optimization, maintenance and engineering support
Overall costlier as compare to other models but can be good move for newcomers and SMEs
Considering the challenges of the current market scenario including high customer expectations, players don't have any other option left than deploying these disrupting technologies in their warehouses and fulfillment centres to be part of this race. In the last 2-3 years, more than 30 young companies have been started including an investment of approximate $350M. in 2017, $178M fund was raised for AMR/AGV start-ups and is expected to more than $5B by 2025.
Key Facts and Drivers for Warehouse Automation Market
Order Fulfilment in E-commerce sector is the biggest factor driving the adoption of warehouse automation technologies
High warehouse rents, shortage of skilled warehouse staffs and increasing staff costs are driving even higher adoption
AGV/AMR, ASRS and Order Picking Solutions to have the highest market share of warehouse automation market in 2025
Last Mile Delivery, Micro Fulfillment centres and Urban Warehouses drive the need for reduced warehouse space and more automation
10 start-ups operating and >$5B investment will flow into this space by 2025

Contact Here to download the ToC and sample PDF of LogisticsIQ™ Warehouse Automation study
Hashtag – #WarehouseAutomation #AutomatedWarehouse #Intralogistics #MaterialHandling #AGV #ASRS #AMR #LogisticsAutomation #AutomatedGuidedVehicles #MobileRobots #LastMileDelivery #OrderFulfillment #Warehousing #WMS #WarehouseManagementSystem #Logistics