Korea Showcases Its Robot Innovations at the Olympics
Show of solidarity and engineering prowess will be on display daily for 80,000 attendees and 3 billion TV viewers
Long before the Closing Ceremony arrives, eighty-five Korean service robots will have helped thousands of attendees to a better experience at the Winter Olympics in PyeongChang, where attendance is expected to be upwards of 80,000.
New Guinness category?
That's got to be some kind of Guinness World Record. Where else and when have that many robots hobnobbed with that many humans?
Plus, the automatons are not there for a beauty contest, they are all working service robots with jobs to do. They were handpicked for that very reason; and also to show the world—over 3 billion TV viewers will tune in—that Korea is long and deep in advanced robotics technologies. With the whole world watching, mostly with a critical eye for robot fails, Korea is betting on its tech to bring smiles of approval, maybe a few cheers, and possibly a huge attitude adjustment from a world leery of robots. Many may want to take one home from PyeongChang.
Lee Hee-Beom, the organizing committee president, is trying to pull off the most high-tech Olympics in history. "We have many advanced companies (think, LG, etc.) and other venture companies," said Lee, "so we are developing state-of-the-art technologies in the area of information technology, and we will use state-of-the-art technologies including robots." Korea's Ministry of Trade, Industry, and Energy (MTIE) oversees the overall robot initiative at the Games.
Part of the IT infrastructure will be the use of fifth-generation (5G)mobile tech from Korean telco KT. The company's "360° VR" will provide real-time, multi-channels, allowing home viewers to see the Games in the direction and angle of their choosing.
Eight companies, splitting $1.5 million in sponsorship from the Korean government, have been working on projects for the games since 2016. The Korean robot makers will have their robots cleaning floors or making deliveries or offering advice, guidance and general information in four languages (Korean, Chinese, Japanese, and English).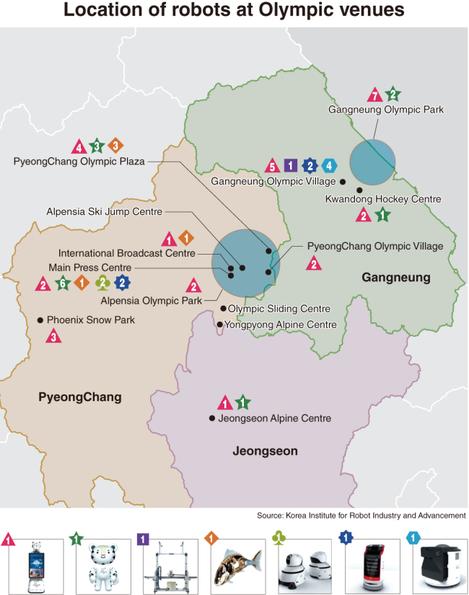 United front
Every army needs a general, and this diverse band of Olympic robots has its in Oh Jun-ho, professor of mechanical engineering at Korea Advanced Institute of Science & Technology(KAIST). Oh and his team were the creators of HUBO, the Korean entry that easily won $2 million at the DARPA Robotics Challenge in California in 2015. There's a new HUBO version, DRC-HUBO+, that was one of the bearers of the 2018 Olympic flame.
With the whole world watching, Oh admits to being stressed…yet excited.
The Games' autonomous robots will be on their own in highly visible roles interacting with the public, he says. Maneuvering through crowded Olympic venues to help while avoiding problems will be a significant challenge. The robots have been tested and retested, but there's no substitute for the real look and feel of tens of thousands of humans rushing from venue to venue and then into shops, restaurants and hotels, or looking for transportation.
"The Olympics are an excellent opportunity to promote Korea's robotics technology to the world," said Oh.
"In deciding which robots to deploy, we chose to exclude robots which are already familiar to the public and instead focused on those able to deliver practical and useful services during the Olympics."
Robots as Olympic contestants is also on tap for the Winter Games. In what will be the world's first robot Olympic ski tournament, the MTIE, in partnership with the Korea Institute for Robot Industry Advancement (KIRIA), is holding a humanoid robot ski tournament on the sidelines of the Olympics. Eight teams from local universities and tech firms are set to compete in the inaugural event.