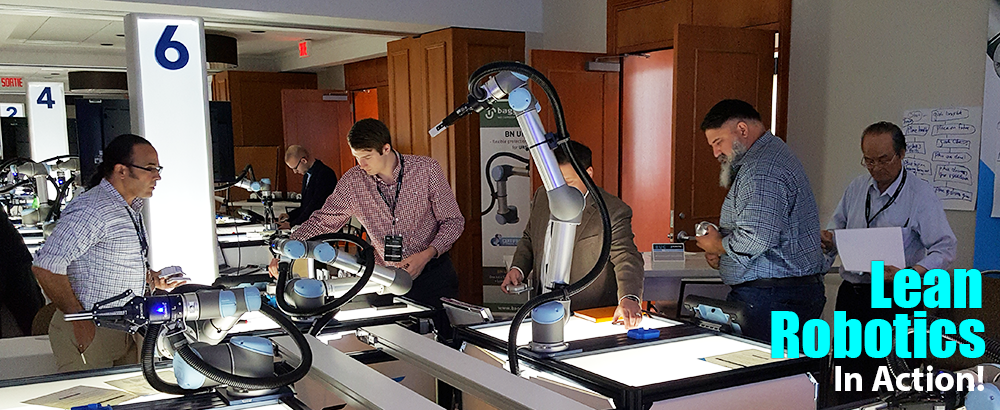 Robotiq User Conference "Revisited"
Lean Robotics: Factory in a Hotel Ballroom
Robotiq User Conference launched "Lean Robotics" and put forty cobots to work getting "lean"
"Lean Robotics is based on our experience in supporting thousands of manufacturers worldwide,
many of them first-time robot users, while they successfully deployed robots."
—Sam Bouchard, co-founder and CEO, Robotiq
At last year's Robotiq User Conference, the company transformed a fancy hotel ballroom into a factory floor of eight work stations of five robots each; a total of forty robots tasked with eight differing assembly operations.  Conference attendees were recruited to role-play customers transforming each of the eight different manual processes into eight, multi-cobot work cells.
It's all about communication
Switching out a manual fabrication process in favor of an automated robot cell is fast, easy, and cost effective, if done right. All too frequently, however, and rather quickly, fast can become lethargic, easy become frustratingly difficult, and cost effective become cringingly expensive.
Sam Bouchard, the co-founder and CEO of Robotiq, the well-known Canadian manufacturer of robot grippers, has too often witnessed robot cell deployments go awry when they need not have.
Lean Robotics
Sam Bouchard was determined to change the process, so he invented Lean Robotics "a systematic way to complete the robotic cell deployment cycle, from design to integration to operation." Lean Robotics is a guide to fool-proofing robot cell deployments by removing the usual angst and unnecessary cost overruns, with the hope of making the purchase and implementation of cobots a lot more user-friendly to everyone involved.
Sam has even put out a book on the topic, appropriately titled Lean Robotics.
He announced the launch of the Lean Robotics movement, as well as the newly published book, at the company's annual Robotiq User Conference (RUC), September 11-13 in Quebec, Canada.
In fact, he turned the second day of the conference into a demo on the Lean Robotics process by setting up an eight-cell, forty-robot factory floor in the conference hotel's ballroom.
He did what!?
Yes, he turned a hotel ballroom into a factory floor full of Universal Robots' UR5s, with the attendees, broken up into teams, acting out roles of applying Lean Robotics techniques to the typical changeover from manual to automated assembly processes.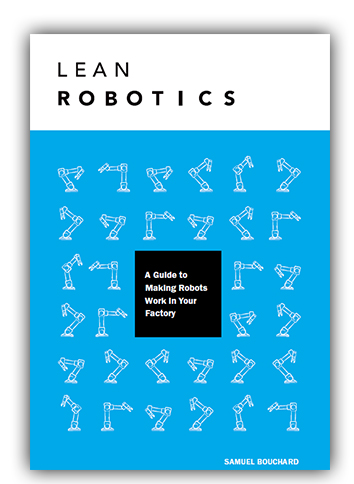 According to the Lean Robotics playbook, the changeover is a three-step process: Design, Integrate, Operate. The critical commonality with all three steps comes down to communication between a cobot buyer with a manual process that's selected for automation and the Robotiq automation team.
Good communication in translating the manual cell process to an automated process helps the conversion operation to run smoothly, save production time, eliminate cost overruns, and improve ROI.  
Facilitating that conversion is Robotiq's Blueprint, a free, online service that helps to document the Design process by "maping out" each and every step or task in the manual cell process with the corresponding steps or tasks that will be taken on by the cobots in the robot cell.
Once the Design phase is complete Lean Robotics moves into the Integrate phase, whereby the new automated line is installed and a team trained to operate the new, automated robot cell. The third or Operate phase cranks the cobots into operation and then monitors the performance of the robot cell.
Assisting the robot cell during the Operate phase—and thereafter under standard operation—is Robotiq's newest software release, appropriately called Insights.
According to the Robotiq press release on the new software, Insights optimizes—in real time—the performance of Universal Robots' cobots.  "Insights is a web application that takes robot cell deployment to another level, letting users find out how productive their robotic operation is in any given period of time."
A quick look back at the Robotiq User Conference 2017
The 40-cobot factory
Role playing the Design, Integrate, Operate phases were eight teams of RUC attendees who "battled it out to see which of teams could create the best set up—from scratch!—for 5 automated cells capable of transmission assembly.
"The teams had 5 Universal Robots cobots fitted with Robotiq Grippers to play with. They used Lean Robotics principles, which means going through the three main phases: Design, Integrate, Operate."
It was definitely not a run-of-the-mill conference day strolling around observing machines getting demoed booth after booth. Day two was totally participatory, and the attendee teams were looking forward to the challenge. Other conferences might be well served to take note and throw in a day or two of "doing" things together.