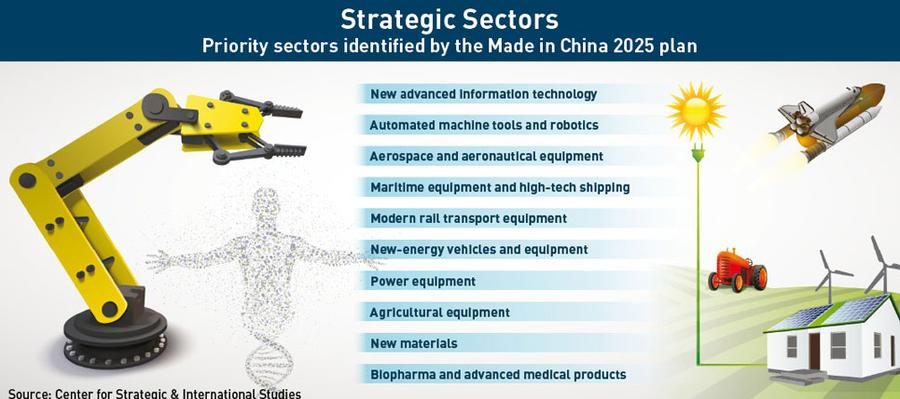 Asia's Rendezvous with the Future Is Arriving Fast
The world's showcase and continent-wide laboratory for robot-driven automation in this The Fourth Industrial Revolution
Workload and opportunities both colossal
The residential air conditioner division (China manufactures 80 percent of the world's air conditioners), according to Midea, it plans "to cut 6,000 of its 30,000 workers by the end of 2015, and another 4,000 by 2018. Midea invested $121.4 million between 2011 and last year to install automated systems with some 800 robots. It plans to spend up to $136.5 million to add another 600 robots this year."
To their credit, the Chinese aren't just driving up to a factory with a truck full of robots and dumping them off. They are integrating the robots into the workflow and optimizing their effectiveness. In many cases the integration creates a totally new workflow, which will go a long way to improving productivity.
"Domestic robot manufacturers and systems integrators advertise themselves as better than multinationals for the China market in part because of their expertise in assembly line processes, particularly for computer, telecommunication and consumer electronics manufacturing," said Deng Qiuwei, general manager at Shenzhen-based Rapoo Robotics Applications Co. Ltd.
"Deng said his company built a robot system for a client's remote-control device assembly line with the goal of integrating the entire process, not just for replacing workers. 'We actually used the robots as a platform for realigning the production line,' he said."
The churn of converting factories to robot-driven automation has benefited manufacturers as China's indigenous robot manufacturers, with lower cost to manufacturer and lower prices for their robots, have forced multinationals like ABB to lower their prices in order to compete.  ABB, for example, more than halved the price of one model from $76K to $30K.
China is looking to its homegrown robots to produce 50 percent of the country's needs by 2025 (in 2014, 16,000 of China's 56,000 robot purchases were from Chinese robot manufacturers). When China's tens of thousands of SOEs (state-owned enterprises) begin to automate, both homegrown as well as multinational robots, if competitively priced, are in for a revenue bonanza.
The ascent of robots that began in 2011 has skyrocketed since…  and will continue for the foreseeable future.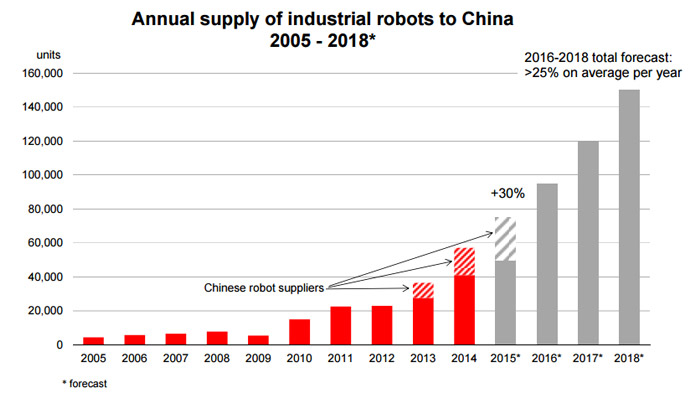 The group's stunning 56-page report, Judgement day: Returning to industry frontlines for deeper insight, is a deep and insightful examination of robots and automation in China.
Spectacular is CLSA's summation of automation's future in China. Here's a small sample:
"Industrial robot demand in China should grow about 15% YoY in 2016 in unit terms. We anticipate an increase of just about 5% YoY in demand in the automotive industry, but investment in robotics, automation and automation equipment should go up, as electronics manufacturers increasingly focus on automating the assembly process, which remains largely manual. Electronics industries appear to offer the highest upside in the longer run. We also expect strong demand from other non-automotive industries."
"From our perspective, automation continues to be an attractive long-term investment theme and we believe that China is the market with most upside in the long run.
"China is without doubt one of the, if not the, world's most important markets for automation equipment. According to data compiled by the International Federation of Robotics (IFR), China has become the world's largest robotics market, accounting for 32% of global annual robotics demand… [and]…ranked No.3 in the world in terms of installed base.  
"The IFR estimates that the Chinese robotics equipment market was worth US$2.7 billion in 2014, up 44% YoY. In value terms, China accounted for one quarter of the global market (estimated at US$10.7 billion) in 2014.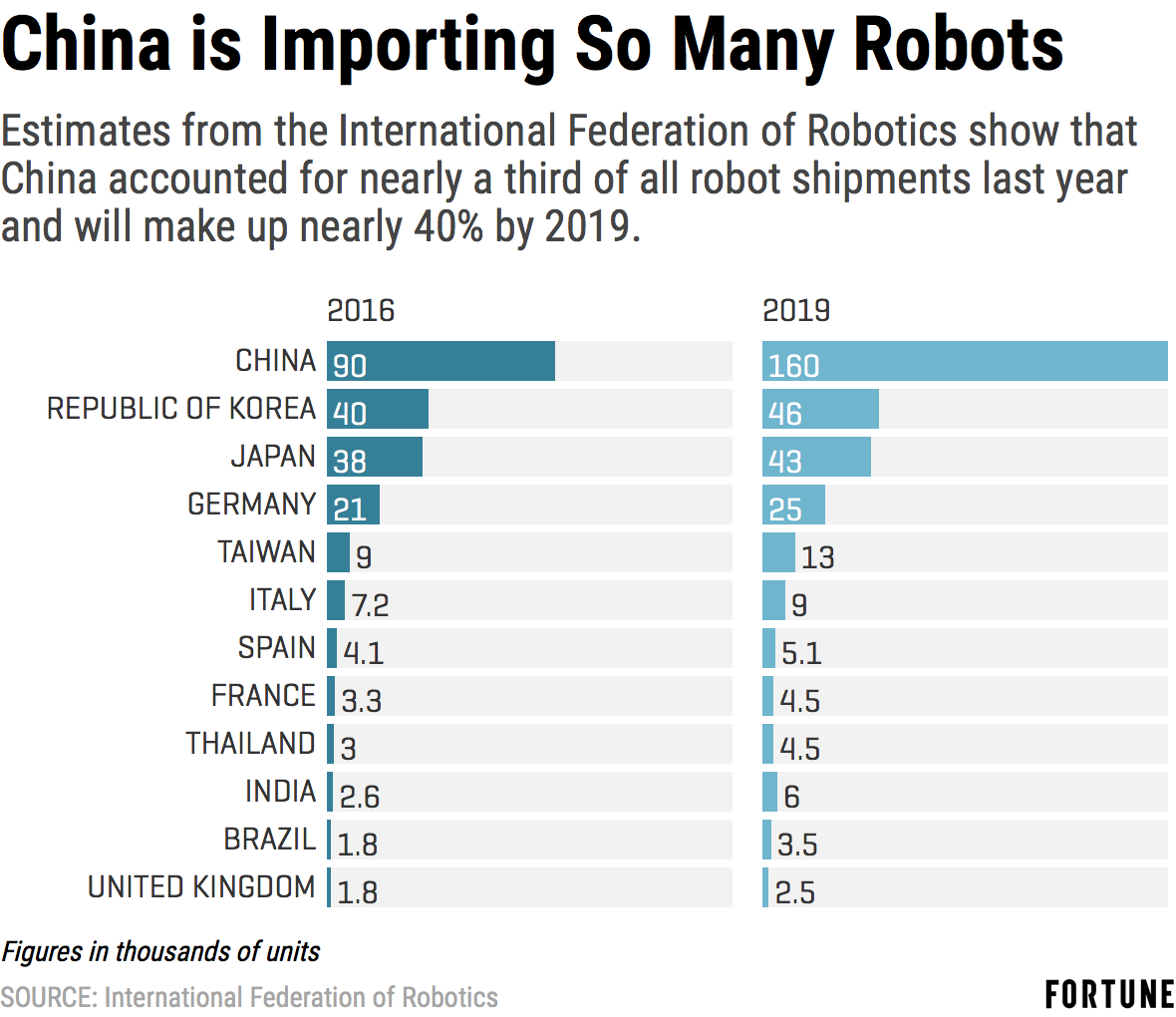 "The above market figures are for robot arms only and do not include software, tooling, sensors, safety and system integration costs. Including these, the robotics industry is estimated at $30-35 billion." 
Just so it's not lost on anyone, here are those staggering numbers once again: $30 to $35 billion for industrial robotics.

However, amid all that drive toward automation and the potential revenue involved, there are some glaring omissions that China has overlooked. Mobile robots for logistics needs is one that stands out, especially automated ground vehicles AGVs for warehouse automation. Secondly, co-robots that work alongside human workers, which to fabricate need sensors industry that is at present just a nascent capability among homegrown robotics manufacturers.

Stepping out of the realm of industrial automation for a glimpse at the civilian population, there are some 138 million middle-class consumers waiting to become a part of the robot revolution. Ecovacs, China's premier robot vacuum cleaner manufacturer, sold $47 million worth of vacuums on a single day in November: Singles Day 2015.

In short, robotics is in play everywhere and every day in China, and will be for a long time to come.

If China can pull off all that it says it's going to do to advance manufacturing and productivity through robot-driven automation—which, make no doubt about it, is a colossal task—it will have, by its own timetable, orchestrated the largest deployment of robots in the history of the planet

If successful, the prestige of it all will earn China top-dog position in Asia as a robust leader with a future vision. The kind of vision that will certainly attract admirers.