This Is Robotics: Radio News
Are personal/home robots headed for a major restart?
Is Amazon at it again?
To see Amazon's new personal or home robot Astro rolling across a floor has prompted some to dismiss the diminutive machine as useless or just a fancy "Alexa on wheels".  Watching the slick but lame promotional videos of Astro straining mightily to look useful seem only to reinforce what the skeptics are saying.
However, could we be witnessing a return to 2012 and 2015, when Amazon shocked robotics with the purchase of Kiva and then introduced Alexa (née Echo); two events that quickly shot Amazon to leadership in robotics and a firm place in millions of homes worldwide?
This time around, the e-commerce behemoth may have its sights set once again on the home front, which has proven to be a very nasty place for home robots to get in the door, take hold and flourish. Most have failed miserably at becoming a member of the family. In fact, home or personal robots have been mighty scarce in the six years since Alexa successfully stormed the front doors of millions.
Amazon's test launch of Astro at a big discount, with the intention of plumbing customer feedback, may be its first toe dip into the market.
Will Astro, like all the others buried on robotics Boot Hill of personal robots, also miss the mark?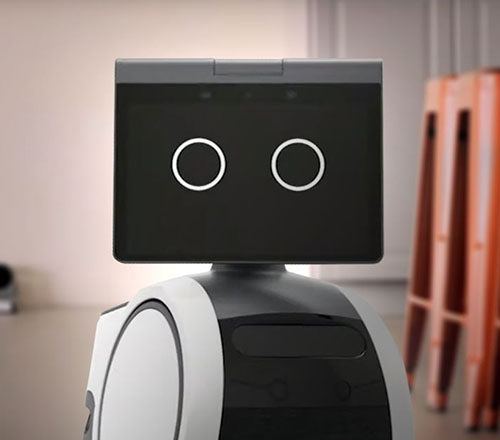 And oh BTW, what does a home robot need to be to be successful? So many have failed. Amazon may well be the one that finally cracks the code…and then reaps a massive profit because of it.
Sound like a familiar Amazon strategy? Let's take a look.
There's huge demand for personal/home robots, not including cleaning robots that dominate the category. For the $51 billion forecast for personal/home robots through 2028, over $35 billion is for cleaning robots, according to Emergen Research.
The $16 billion difference covers in-home companion robots, educational robots, assistance, security, and entertainment robots. Astro could well realize a sizeable chunk of that difference.
One advantage that Amazon can readily see is that Astro does not have much competition. When Alexa got going in 2015 (first launched in November of 2014) and was welcomed into millions of homes, it all but shredded the personal robot industry, which, with a few exceptions, has been underground ever since.
Back in 2015, a VentureBeat headline, full of expectation, seemed to say it all: 2015 could be the year of the personal robot.  Well, it looked that way until Alexa showed up.
Just to get a sense of the demand for personal robots in 2015, we conducted a survey. Turned out that 45 percent of the respondents said they would buy one; and get this, over 25 percent said that they would be willing to spend between $7,000 and $15,000 for a personal robot.
In 2016, I wrote an article ahead of CES 2016 titled: Sweet 16 for 2016, which profiled sixteen personal robots that looked like they had a super chance at success. In short order, 90 percent were soon thereafter either dead or moribund. Again, Alexa.
And at $180 for the tower and $50 for the Dot form factor, Alexa's price to performance ratio was unbeatable.
By November of 2019, when Alexa turned five years old, the Alexa website said it all: "Customers already use Alexa on more than 100 million devices from Amazon and third-party device manufacturers, as well as the Alexa app on iOS and Android. With the release of new devices like Echo Auto, Echo Buds, Echo Frame, and Echo Loop, it's even easier for customers to talk to Alexa no matter where they are. Customers can now also automatically invoke skills using Alexa Routines based on time of day, location, and other triggers."
None of my Sweet 16 for 2016 could ever dream of matching that kind of firepower…ever!  Now, here in 2021, all that Alexa connectivity is rolling around on the floor…with a few added doodads like a 10-inch HD screen with touch input, a 5-megapixel camera, and a periscope camera that is 1080p with a 132-degree field of view, including three Qualcomm processors on-board as well as Amazon's own AZ1.
In some respects, Astro is the return of the earlier jettisoned visual and kinetic elements code name Project C that Lab126 (Amazon's development laboratory) always wanted to include in the original Alexa release, but were rejected by management. Stripped of its screen and wheels, Project C became Project D and then named Alexa (née Echo).
In Astro, Project C has returned. But, do we really need what Astro has to offer?
Is the 2-foot-tall, 20-pound robot what's needed?
But does anyone need Astro?
Wired has an interesting headline to that point: Amazon's Astro Is a Robot Without a Cause.
As Lauren Goode points out in her article: "The company has been working on this for nearly four years, and it has plans for Astro. It's just not quite sure exactly what those are yet, so it's…hoping thousands of early customers can help define what it's for."
"Amazon's hardware chief Dave Limp identified a few potential use cases in an interview with WIRED, including eldercare and home security. But ultimately, Limp says, the company wants to get it into customers' hands so it can identify unique use cases for the bot."
The personal robot's industry is not totally wanting for success. SONY's AIBO was one big success. The $2900 autonomous robot dog has sold 150,000 units since it hit the market in 1999. That's $435 million! It was a big hit at the 2001 Canton Toy Fair, where it helped the "Robotic Virtual Pets" sub-category of the toy market to jump from $5 million to $159 million in a single year. AIBO still has a long-lived, intensely loyal, near-maniacal fan base.
Interestingly, AIBO was the deft combination of great engineering and great design, as artist Hajime Sorayama shared his talents with engineer Toshitada Doi, who also invented the Compact Disk, to create the winning AIBO final design.
Just maybe personal robotics needs more of that dual input.
Artists and designers weighing in on personal robots may well be key to their ultimate success in people's homes.
Guy Hoffman, in his IEEE dirge on the passing of Anki, Jibo and Kuri, thinks design is definitely a missing element.  "There is a long-standing tradition of design research," writes Hoffman, "but the social robotics industry (and academia) only flirts with it in a cursory manner. Our industry is still dominated by engineers and, sadly, too many engineers think that design is something you can just add on at the end to make your product more attractive."
With Amazon Studios and Amazon Games in the house, Astro could be very well-served with creativity in story, art and design, if Limp widens his feedback loop.
After all, it wasn't a bunch of engineers who concepted Disneyland; it was Walt Disney, who then gathered together engineers who shared his vision.
Broadening Astro's skillset
Of course, if Astro does on wheels the same things that Alexa does siting on a tabletop, then Limp's feedback is going to be highly unremarkable.
My simple wish is for some sort of meaningful digital assistant—robot, tabletop smart device, or even a drone, to hang out with me, help organize my life, and save me money. A machine with something to say would be nice as well.
Is that so much to ask? There's room in my home for some sort of AI-imbued, 5G, cloud-connected digital automaton that could make my busy life a lot better off; and I've got budget space as well to buy a home bot.  I'd rather have the machine wracking its circuitry to discover a nifty new way to pay down my mortgage. Now that's a chore with meaning, not dusty carpeting.
Simply put, modern life is difficult…and needs help
I need a robot to fit my lifestyle and perform worthwhile tasks like browsing liquor store websites for the best wine deals, suggesting best buys to me, then ordering and having them delivered. Or, maybe do the same shopping for food each week, based upon the household inventory that the robot keeps watch over.
In the future, I'll have every stranger coming to my condo first check in with and get screened by my robot. Plumber, electrician, police with a warrant, Jehovah Witnesses, no matter who, it'd be mandatory. My own live-in doorman! At the very least it would be good for record keeping.
It could also be my in-home tutor when I want to learn Mandarin, or anything else; or maybe watching TV together, it could act as my go-to authority in pointing out fake news, "deepfakes", and famous fakers; or my household guard dog when I'm away, enabling me to see through its eyes using my cell phone. All of which are so much more important to me than awkwardly scrambling eggs or trimming crab grass. I want my home robot to do things that matter.
I'm waiting for a robot that will read aloud to me with my choice of book and my choice of actor's voice. How about dialing in the Journals of Lewis and Clark and then dialing in the voice of Orson Wells to do the reading, with the passages about Sacagawea read by Lauren Bacall, even though both Wells and Bacall are long dead? With technology anything is possible. Or, for a bit of humor, Mad Magazine read by Ronald Reagan?
Practical and fun is how I want my home robot.
Sadly, Astro is neither…for now. Com'on Amazon, let's get going!