Tomorrow's Robots and Handling Systems
Will Identify and Examine Objects on Their Own
and Ultimately Handle Them Autonomously.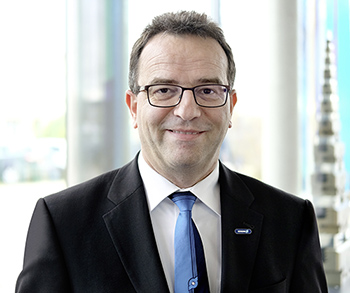 "Industrial handling will be reinvented in the coming years," says Prof. Dr. Markus Glück, Managing Director Research & Development, CINO at SCHUNK GmbH & Co. KG in Lauffen am Neckar, Germany.
In the past, each step was elaborately programmed. However, tomorrow's handling solutions will act far more independently.
"The market is already demanding gripping systems that are quick and easy to set up and that automatically adapt to varying gripping situations.
"Also, collaboration between humans and robots as well as communication between the components involved in the production process are rapidly becoming more important. Intelligence, networking and collaboration are becoming the drivers of production automation," says Glück.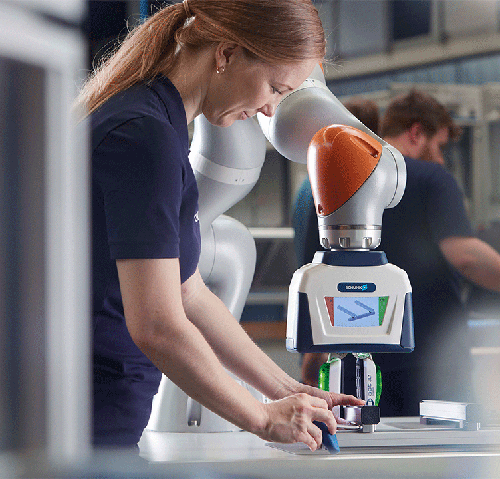 Why Would Any Cobot Want to Lift 450 Newtons?

That's Why There's Hall 17, Stand B40
at Hannover Messe 2019.
At Hannover Messe, SCHUNK will unveil a DGUV-certified gripper for collaborative applications that has a gripping force of 450 N, which far exceeds what was previously customary and possible.
In this way, the company is opening up the collaborative application market to accommodate handling weights well beyond those of small parts assembly.
Above all, the automotive supplier industry and the automotive industry itself will benefit from taking a closer look at this innovation.
Moreover, SCHUNK will showcase a flexible mechatronic gripper with a long stroke for a wide variety of industrial applications. This gripper is controlled via PROFINET and positions its fingers extraordinarily fast.
Networking, Machine Learning, and Autonomy
Once again, SCHUNK will provide a glimpse on tomorrow's handling solutions by presenting its technology studies at Hannover Messe.
With the help of machine learning, the handling solutions of the future will be able to recognize patterns and derive appropriate responses based on existing databases and algorithms.
SCHUNK's smart gripping solutions use data from multiple sensors in order to obtain new information through use of data correlation, thereby making intelligent decisions.
The gripping system specialist expects a trend towards autonomous gripping in the near and distant future.
By interacting with 2D and 3D cameras, grippers will be able to avoid collisions, know how to grip workpieces, and work with the overall handling system to develop the optimum gripping strategy.
Ultimately, gripping systems will be able to handle parts autonomously and further refine the underlying algorithms on their own.